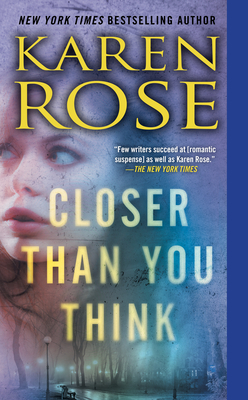 Closer Than You Think (The Cincinnati Series #1) (Paperback)
Berkley, 9780451466730, 688pp.
Publication Date: February 3, 2015
* Individual store prices may vary.
Description
A woman on the run must confront her dark past at her family's home in Cincinnati in this thrilling novel of romantic suspense from New York Times bestselling author Karen Rose. 

Psychologist Faith Corcoran is desperate to escape the stalker who's made her life a nightmare for the past year—desperate enough to run to the one place that has been her nightmare far longer. Her recent inheritance of her grandmother's old house in Cincinnati offers sanctuary in which she can start her life anew, but requires that she face the dark memories that still resonate to this day. But she has no idea how close to home her fears still are...

Two college girls have gone missing in the area, and FBI Special Agent Deacon Novak is called to work on the case. When his inquiry unexpectedly leads him to Faith, he finds a beautiful and brave woman he can't help but fall for. Soon they'll discover that this seemingly simple investigation is anything but. Reaching back decades into Faith's own past, it will shatter everything she believes to be true and will give terrifying new meaning to flesh and blood.
About the Author
Karen Rose is the award-winning, #1 international bestselling author of some twenty novels, including the bestselling Baltimore and Cincinnati series. She has been translated into twenty-three languages and her books have placed on the New York Times, the Sunday Times (UK), and Germany's der Spiegel bestseller lists.
Praise For Closer Than You Think (The Cincinnati Series #1)…
Praise for Closer Than You Think
 
"A chilling, enthralling read that succeeds on every level."—Kirkus Reviews

"The mesmerizing Deacon and vulnerable Faith are complex, compelling characters who draw readers into Rose's latest thriller. Her enthralling storytelling style and intricately layered plot—combined with palpable tension and a powerful attraction between Deacon and Faith—keeps readers hooked. A sinister villain takes the thrills to another level."—RT Book Reviews

More Praise for Karen Rose and her novels

"The queen of romantic suspense"—Crime and Publishing

"An excellent example of how far-reaching and varied romance can be. The plot is complex, the characterization sound and the boundaries of the genre pushed...tremendously sexy."—The New York Times

"Karen Rose delivers the kind of high-wire suspense that keeps you riveted."—Lisa Gardner, #1 New York Times bestselling author

"From the first rousing chapter to the last...intense, complex, and unforgettable."—James Patterson, #1 New York Times bestselling author

"Rose writes blistering, high-octane suspense that never lets up."—Karen Robards, New York Times bestselling author

"Takes off like a house afire. There's action and chills galore in this non-stop thriller."—Tess Gerritsen, New York Times bestselling author