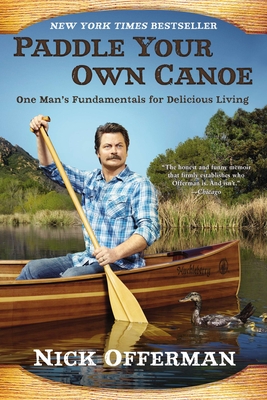 Paddle Your Own Canoe: One Man's Fundamentals for Delicious Living (Paperback)
One Man's Fundamentals for Delicious Living
New American Library, 9780451467096, 340pp.
Publication Date: September 2, 2014
Description
When it comes to growing a robust mustache, masticating red meat, building a chair, or wooing a woman, who better to educate you than the always charming, always manly Nick Offerman, best known as Parks and Recreation's Ron Swanson? Combining his trademark comic voice and very real expertise in carpentry, Paddle Your Own Canoe features tales from Offerman's childhood (born, literally, in the middle of an Illinois cornfield) to his theater days in Chicago to the, frankly, magnificent seduction of his wife, Megan Mullally. Offerman also shares his hard-bitten battle strategies in the arenas of manliness, love, styles, and religion, and invaluable advice on getting the utmost pleasure out of woodworking, assorted meats, outdoor recreations, and other palatable entrees.
About the Author
NICK OFFERMAN is an actor, humorist, and woodworker. He is married to the most beautiful and talented actress working today, Megan Mullally. They live in Los Angeles, California, with their poodles and an impressive collection of assorted wood clamps.
Praise For Paddle Your Own Canoe: One Man's Fundamentals for Delicious Living…
Praise for Paddle Your Own Canoe

"[Offerman] not only explores his Paul Bunyan–like image with tongue-in-cheek lessons on manliness, complete with illustrations and advice, but also offers poignant memories of his childhood growing up in Illinois and hilarious anecdotes from his career."—Entertainment Weekly

"Offerman touches on everything from his days as a break-dancing, football-playing farm boy in Minooka (about 50 miles southwest of the Loop) to his freewheeling, hedonistic 20s in Chicago to the inevitable Hollywood struggles that followed. But he doesn't gloss over embarrassing moments, including his two trips to jail during college at the University of Illinois—one for shoplifting Ronnie Milsap cassettes from Kmart as a joke; the other, he says, a convoluted case of mistaken identity. Between anecdotes, he delivers impassioned pleas and rants…"—Chicago magazine

"Thought-provoking, profane, and frequently hilarious…getting to know Offerman through his stumbling courtship with Megan Mullally and Kabuki theater training is well worth the price of admission."—Publishers Weekly

"Ron Swanson is a mustachioed, breakfast-food-loving, woodworking red-meat connoisseur. Nick Offerman is a mustachioed, breakfast-food-loving, woodworking red-meat connoisseur but, more important, also a real person—a grateful, gracious, bemused actor in love with his wife, Megan Mullally, and the earnest simplicity of his not-so-Hollywood existence. Not only does he recall his life, but he also offers chuckle-worthy anecdotes, diagrams, even a haiku (about—what else?—bratwurst) to help his readers find their own ways toward delicious living. Ron Swanson would be proud."—Booklist

"Equal parts memoir and advice for grabbing life by the gonads. It's funny, highly nostalgic, and will make you seriously contemplate taking up carpentry. It's sort of like reading Garrison Keillor if he wrote for Playboy…it's fun, it's visceral, and I learned things. When I finished the tome I had to take a long walk to soak everything in. We should all be so lucky to one day drink with this man, or at least purchase a table from him."—ManCave Daily

"Offerman's funny advice book offers practical tips about living more successfully, with the sort of dry and laconic delivery that comes through in his role on Parks and Recreation."—Time Out New York

"Uniquely honest and consistently hilarious…Fans of Offerman may not be surprised by his candor, however this book is not specifically written for the fans. [It] will be enjoyed by many, specifically those who have the capacity and the will to wonder, and to want more out of life, while maintaining a degree of simplicity and happiness; just like Nick Offerman."—Rare

"A hilarious walkabout…teeming with tasteful vulgarity, self-deprecating hilarity and a most humble wisdom bordering on sage-like. It's rare to find a memoir that is all at once touching, funny as sh*t, and capable of schooling you in basic modi operandi: like not being a total ass…"—Newcity Lit

"Offerman is a funny man…But what is special about Paddle Your Own Canoe is the ability it gives Offerman to reveal himself as more than just the character he plays. He believes, and has always believed, in nonconformity. He believes in humility, honesty, hard work, and loyalty — values he attributes to his parents and two favorite teachers. He believes those qualities are what truly define 'manliness,' but that any person, regardless of gender, should aspire to them. Paddle Your Own Canoe is a delight."—TheManual.com

"You don't have to be able to properly work a table saw (I can't) or be in the market for a custom-made chair (I'm not) to buy what Parks and Recreation star/woodshop owner Nick Offerman is selling in his memoir…[a] modulated and admirable concept of what it means to live well and be a man. Offerman writes hilariously and honestly about boyhood chores and collegiate shenanigans, Chicago theater dues-paying and sobbing 'for, like, 20 minutes' when receiving the call about landing the Parks and Rec job…[he] offers a vivid look at how he charted the course for real happiness. It's nothing if not inspiring."—RedEyeChicago
Advertisement