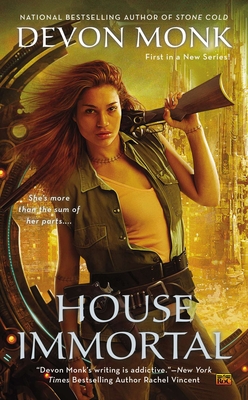 House Immortal (Mass Market Paperbound)
Ace Books, 9780451467362, 368pp.
Publication Date: September 2, 2014
Description
One hundred years ago, eleven powerful ruling Houses consolidated all of the world's resources and authority into their own grasping hands. Only one power wasn't placed under the command of a single House: the control over the immortal galvanized....
Matilda Case isn't like most folk. In fact, she's unique in the world, the crowning achievement of her father's experiments, a girl pieced together from bits. Or so she believes, until Abraham Seventh shows up at her door, stitched with life thread just like her and insisting that enemies are coming to kill them all.
Tilly is one of thirteen incredible creations known as the galvanized, stitched together beings immortal and unfathomably strong. For a century, each House has fought for control over the galvanized. Now the Houses are also tangled in a deadly struggle for dominion over death--and Tilly and her kind hold the key to unlocking eternity
The secrets that Tilly must fight to protect are hidden within the very seams of her being. And to get the secrets, her enemies are willing to tear her apart piece by piece....
FIRST IN A NEW SERIES
About the Author
Devon Monk has one husband, two sons, and a dog named Mojo. She writes the Allie Beckstrom urban fantasy series, including Magic on the Line, Magic Without Mercy, and Magic For a Price, and the Age of Steam steampunk series, including Dead Iron, Tin Swift, and Cold Copper. She also knits silly things and lives in Oregon.
Praise For House Immortal…
Praise for the novels of Devon Monk

"A must read."—New York Times bestselling author Keri Arthur

"The action is superb, the stakes are sky-high, and the passion runs wild...Devon Monk rocks—her unique setting and powerful characters aren't to be missed!"—New York Times bestselling author Ilona Andrews

"Beautifully written and brilliantly imagined."—New York Times bestselling author Rachel Vincent

"Loved it. Fiendishly original and a stay-up-all-night read. We're going to be hearing a lot more of Devon Monk."—#1 New York Times bestselling author Patricia Briggs

"Powerful and action-packed, Monk's pacing is hypnotic.…Keenly crafted characters and a deftly depicted landscape make this an absolute must read."—Publishers Weekly (starred review)
Advertisement