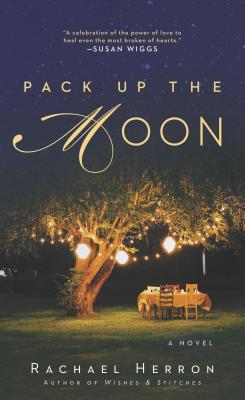 Pack Up the Moon (Paperback)
New American Library, 9780451468604, 355pp.
Publication Date: March 4, 2014
* Individual store prices may vary.
or
Not Currently Available for Direct Purchase
Description
A poignant novel about loss, lies, and the unbreakable bonds of family.
Three years after a horrible tragedy took her son and tore her family apart, artist Kate Monroe is beginning to pick up the pieces of her life and move on. At a gala showcasing her triumphant return to the art world, Kate's world is rocked again when the daughter she gave up for adoption twenty-two years ago introduces herself.
Pree is the child Kate never knew and never forgot. But Pree has questions that Kate isn't sure she's ready to answer. For one thing, she never told Pree's father, her high school sweetheart and ex-husband, Nolan, that they had a daughter. For another, Kate hasn't spoken to Nolan for three years, not since the accident which took their nine-year-old son from them. But to keep Pree from leaving forever, Kate will have to confront the secrets that have haunted her since her son died and discover if the love of her family is strong enough to survive even the most heartbreaking of betrayals...
Conversation Guide Included
About the Author
Rachael Herron received her MFA in English and Creative Writing from Mills College, and writes the popular website, Yarnagogo.com. Her previous titles include the Cypress Hollow romance novels, Wishes and Stitches, How to Knit a Heart Back Home and How to Knit a Love Song, and the memoir, A Life in Stitches. She is an accomplished knitter, and lives in Oakland with her wife, Lala, and their menagerie of cats and dogs.
Praise For Pack Up the Moon…
Praise for the works of Rachael Herron

"A warmhearted hug from a talented author….The story will stay in your heart long after the last page is turned."—Susan Wiggs, #1 New York Times bestselling author of The Apple Orchard

"Insightfully genius, A Life in Stitches makes me grateful that Rachael Herron put down her needles long enough to pick up a pen."—Josh Kilmer-Purcell, New York Times bestselling author of The Bucolic Plague

"Rachael Herron seamlessly blends romance, friendship and laughter."—Barbara Bretton, USA Today bestselling author of A Soft Place to Fall

"A charming story whose characters captivate your heart."—Book Loons

"A riveting tale."—Booklist

"An emotional story of two people discovering who they really are."—RT Book Reviews

"Wishes & Stitches will take you home to a place you'll never want to leave."—Christie Ridgway, USA Today bestselling author of Bungalow Nights
Pree's first real question to Kate is "Why did you give me away?" Kate says she didn't have any other options. Is this true? What different roads could Kate have taken? How would her life be different now?
The neurological condition of synesthesia can present itself in many forms: some people see colors in numbers, see time three-dimensionally, or hear music when they look at letters. The author of this book sees gender and color in letters and numbers, which inspired her to give Kate and Pree their own form of this condition. What does Kate and Pree's shared synesthesia mean about them as characters? Do you have any form of it yourself, or know anyone who does?
Kate feels guilt about not telling Nolan about Pree the first time she sees him again as an adult. How much guilt do you think she should feel, given that she and Nolan weren't together when she gave up the baby for adoption? How does the fact that they had another child together change this?
What effect does Kate's mother, Sonia, have on her? How has it shaped her own experience of motherhood?
Nolan has formed a new road crew family in the time since he got out of prison. How does this shape his character throughout the book?
How would Kate's life have been different if both Nolan and Robin had died that day?
What is Pree really looking for during the course of the book?
Can you forgive Kate for using the search window she confesses to opening?
Related to the last question, can you forgive Nolan for his decision in the garage?
Do you think Kate will be able to move forward now? Do you see the ending as happy or sad? Or something else?
Should Kate and Nolan have answered the e-mails Nolan received? What should they do next?
Advertisement