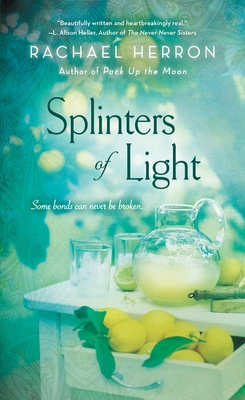 Splinters of Light
Paperback

* Individual store prices may vary.
Other Editions of This Title:
Hardcover, Large Print (9/9/2015)
Description
From the acclaimed author of Pack Up the Moon comes a poignant and beautiful novel about love, loss, and the unbreakable bonds of family—particularly those between mothers, daughters, and sisters.

Ten years ago, Nora Glass started writing essays about being a single mother of a six-year-old daughter. Her weekly column made her a household name, and over the years, her fans have watched Ellie grow from a toddler to a teenager.

But now Nora is facing a problem that can't be overcome. Diagnosed with a devastating disease that will eventually take away who she is, she is scared for herself, but even more frightened about what this will mean for her sixteen-year-old daughter.

Now Nora has no choice but to let go of her hard-won image as a competent, self-assured woman, and turn to the one person who has always relied on her: her twin sister, Mariana. Nora and Mariana couldn't be more different from one another, and they've always had a complicated relationship. But now the two sisters will have to summon the strength to help them all get through a future none of them could have ever imagined, while uncovering the joy and beauty that was always underneath.
Praise For Splinters of Light…
"A poignant, profound ode to the enduring and redemptive power of love. Very much like Lisa Genova's Still Alice (although the writing here is better!), this title is sure to resonate with fans of...Jodi Picoult and Genova and will have the book clubs lining up."—Library Journal

"Beautifully written and heartbreakingly real, Splinters of Light is a compelling examination of how the bonds between women—sisters, mothers, daughters—are tested by tragedy. The Glass family women will have you smiling in recognition and then grieving, laughing and (consider yourself warned) sobbing along with them right up to the heartfelt ending."—L. Alison Heller, author of The Never Never Sisters
 
"In Splinters of Light, Rachel Herron gives her audience an awesome book that grabs the reader by the heartstrings and wrings emotions from the soul in the form of tears as she expertly slices up the reality of life as seen through the eyes of a teenager, a mother and a sister."—Carolyn Brown, New York Times bestselling author of Long, Hot Texas Summer
 
"With this profoundly moving, compelling tale of a woman who is on the verge of losing everything, Rachael Herron will break your heart and then mend it again, leaving you stronger than before."—Holly Robinson, author of Beach Plum Island
Berkley, 9780451468611, 464pp.
Publication Date: March 3, 2015
About the Author
Rachael Herron received her MFA in English and Creative Writing from Mills College, and is the author of Pack Up the Moon and the Cypress Hollow romance novels, as well as a memoir. She is an accomplished knitter, and writes the popular Web site RachaelHerron.com. Rachael lives in Oakland with her wife, Lala, and their menagerie of cats and dogs.
How are Nora and Mariana similar as the book opens? How are they different? How do their arcs change as the story unfolds?
Nora sleeps with Harrison for the first time before she's diagnosed. Why do you think it took so long for them to get together, and what changes after her diagnosis?
What is the relationship between Mariana and Ellie like at the beginning of the book? By the last page, how has this changed?
This is a book about the relationships between female family members. What is the role of men in Splinters of Light?
Nora spends time writing lessons to her daughter (about lipstick, flirting, responsibility). What did she leave out? What would you want your own daughter to know?
What do you think Mariana believes most about motherhood?
Ellie wants to, and does, have sex during the course of the book. How is this part of growing up for her? How much does it mean to her?
At Nora's darkest moment, she almost loses her sister. What does Mariana's revelation to her about their relationship mean to how the sisters will work together in the future?
Do you think Ellie should be tested for the disease her mother has?
Beach glass is a central metaphor in Splinters of Light. Is there something in your own house that you could consider a similar metaphor?
or
Not Currently Available for Direct Purchase