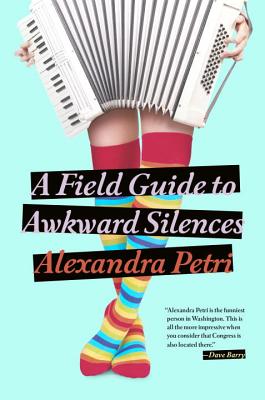 A Field Guide to Awkward Silences (Hardcover)
Berkley, 9780451469601, 320pp.
Publication Date: June 2, 2015
Other Editions of This Title:
Paperback (6/7/2016)
* Individual store prices may vary.
Description
Washington Post columnist Alexandra Petri turns her satirical eye on her own life in this hilarious new memoir...

Most twentysomethings spend a lot of time avoiding awkwardness.

Not Alexandra Petri.

Afraid of rejection? Alexandra Petri has auditioned for America's Next Top Model. Afraid of looking like an idiot? Alexandra Petri lost Jeopardy! by answering "Who is that dude?" on national TV. Afraid of bad jokes? Alexandra Petri won an international pun championship.

Petri has been a debutante, reenacted the Civil War, and fended off suitors at a Star Wars convention while wearing a Jabba the Hutt suit. One time, she let some cult members she met on the street baptize her, just to be polite. She's a connoisseur of the kind of awkwardness that most people spend whole lifetimes trying to avoid. If John Hodgman and Amy Sedaris had a baby…they would never let Petri babysit it.

But Petri is here to tell you: Everything you fear is not so bad. Trust her. She's tried it. And in the course of her misadventures, she's learned that there are worse things out there than awkwardness—and that interesting things start to happen when you stop caring what people think.
About the Author
Some people are born awkward. Some achieve awkwardness. Some have awkwardness thrust upon them. Alexandra Petri is all three. She is a Washington Post columnist and blogger, an International Pun Champion, a playwright, and a Jeopardy! loser, and she's been on your TV a couple of times. She is also a congressman's kid, if that will make you buy this book! When she remembers, she does stand-up comedy too, but she's been locked in her apartment for the past nine months making this book for you and hissing when exposed to sunlight.
Praise For A Field Guide to Awkward Silences…
Praise for Alexandra Petri and A Field Guide to Awkward Silences
 
"Alexandra Petri is the funniest person in Washington. This is all the more impressive when you consider that Congress is also located there."—Dave Barry
 
"Alexandra Petri is so hilarious and brilliant, she's like the love child of Oscar Wilde and Dorothy Parker."—Megan Amram, author of Science…For Her!

"How awkward is Alexandra Petri? I know a man who, in the presence of others, once slammed a car door on his own head. Compared to Petri, he is Astaire. I'm just saying."—Gene Weingarten, Pulitzer Prize-winning columnist for the Washington Post
 
"These tales of surviving spectacular awkwardness are endearing and hilarious. Petri is the brunch date we want every Sunday. We loved this book!"—Lisa Scottoline and Francesca Serritella, co-authors of Does This Beach Make Me Look Fat?

"The Post's go-to writer for laughs."—Washingtonian 

"Washington Post columnist Petri nails the travails of being a young adult by saying it feels like you're a group of cats in a coat pretending to be a person. She brings her distinctive voice—honest, relatable, and laugh-out-loud funny—to this collection of essays that read like missives from your best friend...She's able to tackle serious issues like feminism with a fine balance of humor and sharp-eyed commentary. This is not only a memoir but also a rousing call to young adults to shake themselves out of their ironic torpor and actually try to do something—no easy trick, of course, if you happen to be a heap of cats in a coat."—Booklist