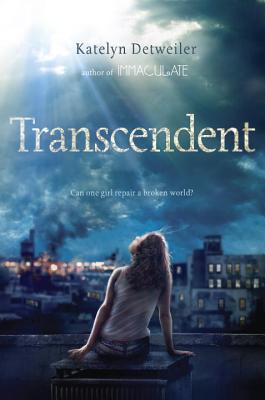 Transcendent (Hardcover)
Viking Books for Young Readers, 9780451469632, 448pp.
Publication Date: October 4, 2016
* Individual store prices may vary.
Description
A timely work of contemporary magical realism, about a world plagued by violence, and the girl called upon to be a hero.
 
When terrorists bomb Disney World, seventeen-year-old Iris Spero is as horrified as anyone else. Then a stranger shows up on her stoop in Brooklyn, revealing a secret about the mysterious circumstances surrounding Iris's birth, and throwing her entire identity into question. Everything she thought she knew about her parents, and about herself, is a lie.
 
Suddenly, the press is confronting Iris with the wild notion that she might be "special." More than just special: she could be the miracle the world now so desperately needs. Families all across the grieving nation are pinning their hopes on Iris like she is some kind of saint or savior. She's no longer sure whom she can trust—except for Zane, a homeless boy who long ago abandoned any kind of hope. She knows she can't possibly be the glorified person everyone wants her to be… but she also can't go back to being safe and anonymous. When nobody knows her but they all want a piece of her, who is Iris Spero now? And how can she—one teenage girl—possibly heal a broken world?
About the Author
Katelyn Detweiler (katelyndetweiler.com) was born and raised in Pennsylvania, living in a centuries-old farmhouse surrounded by fields and woods—a setting that fueled her childhood imagination and, many years later, inspired her YA debut, Immaculate. Katelyn is a writer by night (and weekend) and a literary agent by day, representing books for all ages and across all genres. She currently lives, works, and writes in Brooklyn. Find her on Twitter @katedetweiler.
Praise For Transcendent…
"Transcendent is a beautiful and lovingly-written book about the power of hope. You'll lose yourself in its pages. And when you emerge, you will see the miracles that surround you, and the ones you can create."—Francisco X. Stork, author of The Memory of Light

"This uplifting book begins with a terrible tragedy and ends with a blessing. After Detweiler gracefully eases the reader into her astonishing "What if?" she explores the life-affirming power of hope and the soul-healing nature of forgiveness."—Todd Strasser, author of Give a Boy a Gun

"Iris's tale is one of of faith, courage, and connection. But the miracle in Transcendent isn't just the miracle of Iris's birth. It's the everyday miracles we are all capable of performing—love, compassion, understanding. Ultimately it's a story about the miracle of humanity."—Jennifer Brown, author of Hate List

"Lovely and lyrical and frighteningly believable. This book will stay with me for a good long time."—Jenn Marie Thorne, author of The Wrong Side of Right

"[Explores] the chilling plausibility of the actions and reactions of an America dealing with the murders of thousands of children."—Kirkus Reviews

"Deals with issues of faith, accepting oneself, and how much a single person can affect the world around her."—VOYA

"A timely but tough read that will bring up recent memories of violence worldwide."—Booklist

"An inspirational story about finding the strength to believe in oneself.... An excellent addition to any high school or public library, this book will attract readers of contemporary fantasy."—School Library Journal


Praise for Katelyn Detweiler's Immaculate

"A sincere, romantic, and secular story of birth, young motherhood, and new love."—Publishers Weekly

"Detweiler's smart writing moves quickly and entertains, particularly with Mina's appealingly bright voice. Even as the story probes its mystical underpinnings, the focus remains firmly on Mina right through to the end. Detweiler's ambitious debut takes an intriguing premise and executes it well."—Kirkus Reviews

"Immaculate is a bewitching and thought-provoking story about the strength and faith required to face a contemporary miracle. This one begs for a sequel."—National Book Award Finalist Deb Caletti

"Katelyn Detweiler has accomplished something exceptional—a poignant novel that balances delicate issues of religious heresy and bullying with heartwarming moments of faith, love, and personal strength. With a protagonist who is smart, honest, and surprisingly relatable given her circumstances, Mina's story will guide readers down a path of introspection and force us to consider how we, too, might react to a modern-day miracle."—Marissa Meyer, The New York Times bestselling author of the Lunar Chronicles

"Katelyn Detweiler's Immaculate is a vividly-imagined story about magic, faith, and family. In a lovely and uplifting twist, Immaculate gives us girls who believe in themselves and each other, girls who move forward—in spite of extremely difficult circumstances—to create joy, love, and new life."—Rachel DeWoskin, author of Blind and Big Girl Small

"[The] message is more about faith in general than a specific set of beliefs. A unique page-turner mixing humor and heart, this is a thought-provoking take on miracles and motherhood."—School Library Journal
or
Not Currently Available for Direct Purchase