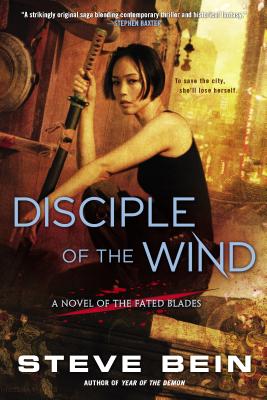 Disciple of the Wind (A Novel of the Fated Blades #3) (Paperback)
Ace, 9780451470201, 528pp.
Publication Date: April 7, 2015
Other Editions of This Title:
Mass Market (3/1/2016)
MP3 CD (6/21/2016)
* Individual store prices may vary.
Description
LETHAL JUSTICE

When Tokyo falls victim to a deadly terrorist attack, Detective Sergeant Mariko Oshiro knows who is responsible, even if she doesn't have proof. She urges her commanding officers to arrest the perpetrator—an insane zealot who was just released from police custody. When her pleas fall on deaf ears, she loses her temper and then her badge, as well as her best chance of fighting back.

Left on her own, and armed with only her cunning and her famed Inazuma blade, Mariko must work outside the system to stop a terrorist mastermind. But going rogue draws the attention of an underground syndicate known as the Wind. For centuries, they have controlled Japanese politics from the shadows, using mystical relics to achieve their nefarious ends—relics like Mariko's own sword and the iron demon mask whose evil curse is bound to the blade. Now the Wind is set on acquiring Mariko.

Mariko is left with a perilous choice: Join an illicit insurgency to thwart a deadly villain, or remain true to the law. Either way, she cannot escape her sword's curse. As sure as the blade will bring her to victory, it also promises to destroy her….
About the Author
Steve Bein teaches philosophy at Texas State University. He has a PhD in philosophy, and his graduate work took him to Nanzan University and Obirin University in Japan, where he translated a seminal work in the study of Zen Buddhism. He holds black belts in two American forms of combative martial arts and has trained in about two-dozen other martial arts over the past twenty-odd years.His short fiction has been published in Asimov's, Interzone, Writers of the Future, and has been anthologized for use in college courses alongside the works of such figures as Orson Scott Card, Larry Niven, Isaac Asimov, and H.G. Wells. His Novels of the Fated Blades include Daughter of the Sword, Year of the Demon, and Disciple of the Wind.
Praise For Disciple of the Wind (A Novel of the Fated Blades #3)…
PRAISE FOR THE NOVELS OF THE FATED BLADES

"Amazingly well-crafted."—Diana Rowland, author of Touch of the Demon

"There's no doubting the authenticity of Bein's creation as he elegantly binds all the elements together."—Kirkus Reviews

"A noir modern Tokyo overwhelmed by the shadows of Japanese history…a compelling multifaceted vision of a remarkable culture, and a great page-turner."—Stephen Baxter, author of Iron Winter

"An authentic and riveting thrill ride through both ancient and modern Japan. Definitely a winner."—Kylie Chan, author of Heaven to Wudang

"Bein's gripping debut is a meticulously researched, highly detailed blend of urban and historical fantasy set in modern Tokyo.…Bein's scrupulous attention to verisimilitude helps bring all the settings to life, respectfully showcasing Japan's distinctive cultures and attitudes."—Publishers Weekly (starred review)
or
Not Currently Available for Direct Purchase