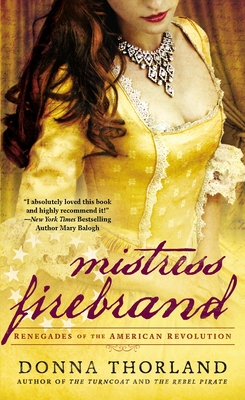 Mistress Firebrand (Renegades of the American Revolution #3)
Paperback

* Individual store prices may vary.
Description
British Occupied Manhattan, 1777
.  With her witty comedies, American actress Jennifer Leighton has been packing the John Street Theater, but she longs to escape the provincial circuit for the glamour of the London stage. When the playwright General John Burgoyne visits the city, fresh from a recent success in the capitol, she seizes the opportunity to court his patronage.  But her plan is foiled by British intelligence officer Severin Devere. 
Severin's mission is to keep the pleasure-loving general focused on the war effort…and away from pretty young actresses. But the tables are turned when Severin himself can't resist Jennifer Leighton…
Months later, Jenny has abandoned her dreams of stage glory and begun writing seditious plays for the Rebels under the pen name "Cornelia," ridiculing "Gentleman Johnny" Burgoyne and his army—and undermining the crown's campaign to take Albany. By the time Severin meets up with Jenny once again, she is on a British hanging list, and Severin is ordered to find her—and deliver her to certain death. Soon, the two are launched on a desperate journey through the wilderness, toward a future shaped by the revolution—and their passion for each other…

READERS GUIDE INCLUDED
Praise For Mistress Firebrand (Renegades of the American Revolution #3)…
Praise for Mistress Firebrand  

"Held me spellbound…I absolutely loved this book and highly recommend it!"—Mary Balogh, New York Times bestselling author of Beyond the Sunrise and Longing

"Thorland's most amusing, clever, adventurous and thought-provoking novel yet…Vivid descriptions, fascinating historical events and dynamic characters alongside a powerful love story."—RT Book Reviews, 4 ½ Stars

"Donna Thorland is an author I adore, and I loved Mistress Firebrand every bit as much as her first two books, The Turncoat and The Rebel Pirate…Stunning, sensual stories you cannot put down."—Jennifer McQuiston, New York Times and USA Today bestselling author of What Happens in Scotland

Praise for The Rebel Pirate
 
"Fast-paced, soundly researched historical intrigue…a compelling read."—New York Times bestselling author Madeline Hunter
 
"A richly romantic adventure that's hard to put down."—New York Times bestselling author Susanna Kearsley
Berkley, 9780451471017, 416pp.
Publication Date: March 3, 2015
About the Author
Graduating from Yale with a degree in Classics and Art History, Donna Thorland managed architecture and interpretation at the Peabody Essex Museum in Salem, MA, for several years. She then earned an MFA in film production from the University of Southern California School of Cinematic Arts. She has been a Disney/ABC Television Writing Fellow and a WGA Writer's Access Project Honoree, has written for the TV shows Cupid and Tron: Uprising, and is a writer on the WGN drama Salem. The director of several award-winning short films, her most recent project aired on WNET Channel 13. Her fiction has appeared in Alfred Hitchcock's Mystery Magazine. She is the author of the Renegades of the American Revolution series, including The Turncoat, The Rebel Pirate, Mistress Firebrand, and The Dutch Girl.
What did you most enjoy about Mistress Firebrand? Do you find the action or the characters most entertaining?
Discuss the life choices that Jenny and Severin have made before they meet each other. How do their choices change once they fall in love? Who changes more?
Donna Thorland contrasts two men in positions of power—General John Burgoyne and George Washington. She clearly considers Washington to be the superior man. Do you agree? How do these men stack up against Severin Devere, Courtney Fairchild, and John Andre?
Severin has mixed feelings for Angela Ferrers. Discuss how those feelings seem to shift during the novel. What does he think about her in the end? What do you think about her?
Washington believes that Jenny's seditious plays can play an important role in rallying the populace to the Rebel cause. Do you think the written word, whether in a play, a newspaper, or online, has the power to change public opinion today? Why or why not?
At the end, Jenny and Severin find a new way to contribute to the American cause. Do you have causes that you believe in? How have you chosen to contribute to them? What sacrifices are you willing to make?
In Mistress Firebrand, loyalties to the British and Rebel causes are constantly shifting, and many in the populace play both sides. Many of those fighting for the Rebels are as ruthless as those fighting for the British. Compare this picture of the American Revolution with the one you were given in school. Has the book changed your perception of the war, and of our country's origins?
Were you surprised to learn how unstable New York's city government was during this period? Talk about the challenges that ordinary people might have faced living there. Have you ever lived in a place with an unsettling political instability?
Knowing that her illness would shorten her life, Frances Leighton deliberately returned to the Colonies from England to "rescue" Jenny from her hometown and bring her to New York, where her talent for acting and writing might flourish. But she also agrees to send Jenny to John Burgoyne, knowing that Burgoyne will expect sexual favors in return for his patronage. Why is Frances willing to let Jenny sacrifice herself? Do you approve of her decision? And what do you think of Frances' choices in her own life?
Discuss the role of Native Americans in the novel. Did anything about Donna Thorland's depiction of them, and especially of Severin's family, surprise you?
Does reading Mistress Firebrand make you curious to learn more about the American Revolution, or to read the other books in the series? How does the novel compare to other books, TV shows or movies about the American Revolution that you've read or seen?
If you lived in New York during the time of the novel, whose side would you be on—Rebel or British
or
Not Currently Available for Direct Purchase