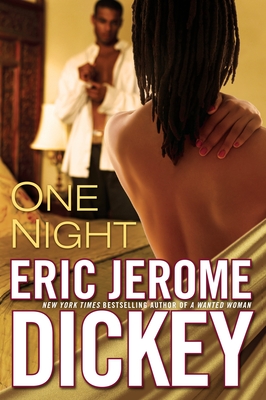 One Night (Paperback)
Dutton, 9780451471710, 368pp.
Publication Date: April 5, 2016
Other Editions of This Title:
Digital Audiobook (4/20/2015)
Hardcover (4/21/2015)
Hardcover, Large Print (5/20/2015)
* Individual store prices may vary.
Description
From New York Times bestselling author Eric Jerome Dickey, a pair of strangers has twelve hours to relish the night of their lives in a novel that "has taken the anonymous one-night-stand relationship into the realm of art" (Publishers Weekly, starred review).

On a cold and rainy night during the Christmas season, a woman who has suffered great personal loss and a successful businessman from Orange County meet by chance at a gas station in Los Angeles County. They have nothing in common, but as they engage in conversation and move from con games to assault to robberies, within hours they end up sequestered in an upscale hotel room. During intimacy, they continue to confide in each other and try to come to grips with their problems and their seasonal loneliness. For one night, their passion is boundless, but with every tick of the clock, their separate pasts close in. They push the limits of time, devotion, and even the law as they attempt to catch a glimpse of the future. They need each other for a lifetime but will have only one night.
About the Author
Eric Jerome Dickey is the New York Times bestselling author of more than twenty previous novels as well as a six-issue miniseries of graphic novels featuring Storm (X-Men) and the Black Panther. Originally from Memphis, Dickey now lives on the road and rests in whatever hotel will have him.
Praise For One Night…
Praise for One Night

"Must-read romance . . . A cerebral, sometimes sensual, sometimes suspenseful, and quite a memorable ride." –USAToday.com's Happy Ever After
 
"Best-selling author Eric Jerome Dickey's work is known for its erotic situations, edge-of-your-seat twists, and relatable relationships. . . . The writer delivers all that and more in his latest novel. It's likely that after reading this romantic adventure, you'll see the one-night stand in a whole new light." –BET.com
 
"If I wore a hat, I would take it off for Eric Jerome Dickey... Dickey ratchets up the plot in ways that are both risqué and rewarding. He uses the power of dialogue to give us greater shades of a character's motivation." –Essence
 
"What's special is the dialogue in One Night—the back and forth between Jackie and the man from Orange County, their give and take on what it means to be black in contemporary America, to be rich and poor in contemporary America." –Memphis Flyer
 
"[With] lyrical use of repetition and dynamic imagery . . . Dickey has taken the anonymous one-night stand into the realm of art." –Publishers Weekly, starred review
 
"Palpably intense." – Booklist
 
Praise for Eric Jerome Dickey and his novels:

"There's a cinematic vibe here with James Bond fantastic escapes mixed with Game of Thrones Red Wedding."
— Library Journal on A Wanted Woman

"Another fine performance...Not your typical thriller about a hired killer, but an immensely readable hard to put down tale." 
— Booklist on A Wanted Woman

"Dickey's fans flock to his readings. . . . He's perfected an addictive fictional formula."
—The New York Times

"Dickey has a rare ability. . . . Right away the reader is forewarned: You are in for a hard-boiled, fast ride."
—Seattle Post-Intelligencer on An Accidental Affair

"Eric Jerome Dickey brings to life the heartache of betrayal with the skill of a master crafter. . . . Dickey's imagery, the word choices, the rhythm of the sentences, his ability to create a vibrant, tormented sea in which Nia and her support cast bob along make this book one for the keeper shelf."
—USAToday.com's Happy Ever After on Decadence

"It's hard to top his earlier works, but Dickey doesn't disappoint."
—Ebony on An Accidental Affair