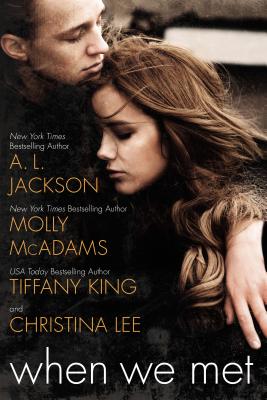 When We Met (Paperback)
Berkley Books, 9780451471925, 400pp.
Publication Date: November 4, 2014
* Individual store prices may vary.
Description
Today's premier New Adult authors combine their talents to tell four original stories from inside one house. When four girls decide to live off campus together as juniors at a college in Michigan, they expect it to be their best year yet. Little do they know, it's a year that will change the rest of their lives. BEHIND HER EYES by A.L. Jackson
Unable to live down her ex-boyfriend's deception, Misha is determined to avoid betrayal. When, the new guy next door, Darryn starts to get under her skin, her defenses start to crumble. But trusting Darryn seems impossible, especially if he's not sure he can trust himself. SAVING ME by Molly McAdams
On the outside, Indy is always ready for a party--but inside she's breaking. Kier makes a weekly routine of saving the girl next door from herself on Saturday nights... but when will she be ready to remember him on Sunday morning? FOULING OUT by Tiffany King
Working at a sports bar, Courtney has become a pro at sidestepping propositions from arrogant jocks--which makes her a more elusive catch for campus basketball star Dalton than he expected. But when he falls for the saucy waitress, Dalton will have to rethink his game plan to prove he's not the jerk Courtney expects. BENEATH YOUR LAYERS by Christina Lee
In order to ace her fashion internship, Chloe must team up with local college dropout and set builder, Blake--much to her chagrin. But after some "hands-on" experience, Chloe will have to ask herself if Blake factors into her carefully laid plans...
About the Author
A.L. Jackson is the New York Times bestselling author of Take This Regret and Lost To You, as well as other contemporary romance titles, including Pulled and When We Collide. She lives in Southern Arizona with her husband and three beautiful children. Molly McAdams lives in Texas with her husband. She is the author of four titles, including New York Times bestsellers Forgiving Lies, From Ashes, and Stealing Harper. USA Today bestselling author Tiffany King has written a number of young adult titles and is also the author of the New Adult series The Woodfalls Girls, including No Attachments and Misunderstandings. She lives in Deltona, Florida. Christina Lee lives outside of Cleveland with her husband and son. She is the author of All of You and Before You Break. Reading has always been her favorite pastime, so creating imaginary worlds has become a dream job. She also owns her own jewelry business, where she hand-stamps meaningful words or letters onto silver for her customers. She loves to hear from her readers.
Praise For When We Met…
PRAISE FOR THE AUTHORS OF WHEN WE MET…
 
A.L. Jackson
"Exquisite, beautiful, poignant—A.L. Jackson is in a league of her own!"—#1 New York Times Bestselling Author S.C. Stephens
 
Molly McAdams
"Kicks off with a bang and holds nothing back. You'll be enthralled, romanced by the wonderfully spun tale of love and acceptance."—#1 New York Times Bestselling Author Jennifer L. Armentrout
 
Tiffany King
"Funny, real, moving and passionate…a MUST-READ for New Adult contemporary romance fans."—New York Times Bestselling Author Samantha Young
 
Christina Lee
"Pure NA goodness…turns the classic model on its head, making it new and oh-so compelling."—New York Times Bestselling Author Jasinda Wilder
 
 
or
Not Currently Available for Direct Purchase