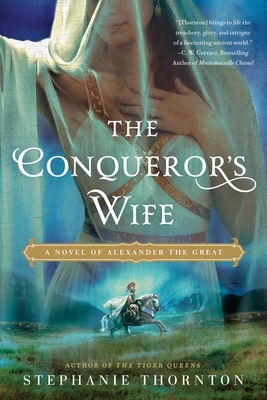 The Conqueror's Wife
Paperback

* Individual store prices may vary.
Description
A novel from the acclaimed author of The Tiger Queens, for readers looking for "strong and determined female protagonists" (Historical Novel Society) and "a sprawling historical saga" (Renee Rosen)...

We are the women who loved Alexander the Great.  We were lovers and murderers, innocents and soldiers.
And without us, Alexander would have been only a man.
Instead he was a god.

330s, B.C.E., Greece: Alexander, a handsome young warrior of Macedon, begins his quest to conquer the ancient world. But he cannot ascend to power, and keep it, without the women who help to shape his destiny.

His spirited younger half-sister, Thessalonike, yearns to join her brother and see the world. Instead, it is Alexander's boyhood companion who rides with him into war while Thessalonike remains behind. Far away, crafty princess Drypetis will not stand idly by as Alexander topples her father from Persia's throne. And after Alexander conquers her tiny kingdom, Roxana, the beautiful and cunning daughter of a minor noble, wins Alexander's heart…and will commit any crime to secure her place at his side.

Within a few short years, Alexander controls an empire more vast than the civilized world has ever known. But his victories are tarnished by losses on the battlefield and treachery among his inner circle. And long after Alexander is gone, the women who are his champions, wives, and enemies will fight to claim his legacy…

CONVERSATION GUIDE INCLUDED
Praise For The Conqueror's Wife…
"Through the eyes of the fascinating and fierce women in Alexander's life, Thornton enchants the reader with a fresh new look at an ancient hero. Her accessible and energetic writing brings the ancient world to life while giving voice to the voiceless in this vivid tale of the women in the shadow of Alexander's glory. What a talent!"—Stephanie Dray, bestselling author of Lily on the Nile
 
"Stephanie Thornton boldly goes where other historical novelists might fear to tread. In her recounting of Alexander the Great's epic quest of conquest, as told through the eyes of the shrewd, ambitious and dangerous women surrounding him, she brings to life the treachery, glory, and intrigue of a fascinating ancient world."—C.W. Gortner, bestselling author of Mademoiselle Chanel
 
"A conqueror slices through the ancient world on pages that writhe with ambition and danger, yet the reader is swept in by unexpected heroines. This gritty epic is voiced by the tenacious women who surrounded Alexander the Great, proving he would've been nothing of the sort without them."—Marci Jefferson, author of Girl on the Golden Coin
Berkley, 9780451472007, 512pp.
Publication Date: December 1, 2015
About the Author
Stephanie Thornton is a history teacher and the author of novels about the forgotten women of history: The Tiger Queens, Daughter of the Gods, and The Secret History. She lives with her husband and daughter in Alaska.
Which characters did you most like and which did you dislike? Who will you remember?
At first glance the title, The Conqueror's Wife, seems to belong to Roxana, but several characters could actually lay claim to such a title. Who do you think is best described as the "conqueror's wife?"
Many of the main characters—Roxana, Drypetis, and Thessalonike—have siblings who support them in various ways, while Hephaestion and Alexander consider themselves as close as brothers. Discuss how these siblings both support and hinder each other throughout the novel.
Alexander's character is synonymous to fire throughout much of the story. Discuss who and what tempers that fire, and to what extent they also fan his flames.
Were you familiar with the history before reading the book? What did you find particularly interesting or surprising about it?
What do you think of Roxana and Olympias, two women who kill to get what they want? Do you find them sympathetic? How do they differ from each other?
Alexander conquers the world with the expectation that he'll become heroic and live forever in memory, song, and lore. Compare ancient and modern understandings of immortality, and how it can be achieved. Is Alexander like someone today who commits mass murder with the intention of becoming famous?
Many of the characters suffer gruesome deaths. Discuss ancient and modern capacities for violence.
What are some of the strategies the women characters use to stay one step ahead of events that threaten to turn against them?
Discuss Hephaestion's comment: "After a battle, you bed a woman to forget what has happened. You bed a man because he knows exactly what you're trying to forget."
What do you consider to be Alexander's lasting legacy?
or
Not Currently Available for Direct Purchase