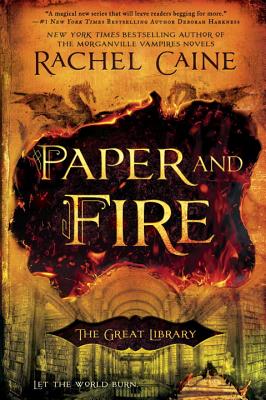 Paper and Fire (The Great Library #2)
Hardcover

* Individual store prices may vary.
Other Editions of This Title:
Digital Audiobook (7/4/2016)
Paperback (5/9/2017)
Prebound (8/18/2017)
Paperback (7/21/2016)
Description
THE NEW YORK TIMES BESTSELLER

In Ink and Bone, author Rachel Caine introduced a world where knowledge is power, and power corrupts absolutely. Now, she continues the story of those who dare to defy the Great Library—and rewrite history...
 
With an iron fist, The Great Library controls the knowledge of the world, ruthlessly stamping out all rebellion, forbidding the personal ownership of books in the name of the greater good.
 
Jess Brightwell has survived his introduction to the sinister, seductive world of the Library, but serving in its army is nothing like he envisioned. His life and the lives of those he cares for have been altered forever. His best friend is lost, and Morgan, the girl he loves, is locked away in the Iron Tower and doomed to a life apart.
 
Embarking on a mission to save one of their own, Jess and his band of allies make one wrong move and suddenly find themselves hunted by the Library's deadly automata and forced to flee Alexandria, all the way to London.
 
But Jess's home isn't safe anymore. The Welsh army is coming, London is burning, and soon, Jess must choose between his friends, his family, or the Library willing to sacrifice anything and anyone in the search for ultimate control...
Praise For Paper and Fire (The Great Library #2)…
Praise for Ink and Bone
 
"Rachel Caine transports the reader to an imaginary future world where a Great Library controls all knowledge and the private ownership of printed books is a radical, dangerous practice…Ink and Bone launches a magical new series that will leave readers begging for more."—Deborah Harkness, #1 New York Times Bestselling Author
 
"Dark, riveting, heart-in-the-throat storytelling, with characters who caught me up and hold me even now. A don't-miss read!"—Tamora Pierce, New York Times Bestselling Author

"Caine's elegantly detailed descriptions bring Jess's world to vivid life in a fast-paced, action-oriented plot that will leave readers breathlessly anticipating not just the next page but the next book in the Great Library Series."—Publishers Weekly (starred review)
 
"A thrill-a-minute adventure. . . This first entry into the Great Library series has pieces that mirror the excitement and bitterness of the Hunger Games series and contains some of the psychological elements of the Harry Potter books."—Booklist (starred review)
 
"Fans will fall in love with Jess and want the next book out immediately."—USA Today
 
"A strong cast of characters and nail-biting intensity make for a promising start to this series."—School Library Journal
 
"A modern masterpiece. . . . Fellow bibliophiles, expect to be some variation on struck—awestruck, dumbstruck, starstruck, maybe even thunderstruck. . .a new series to thrill every bookworm's heart!"—Christian Science Monitor
 
"Caine's world where books and libraries dominate is not for the faint of heart...What's not to love? Imagine Harry Potter where the real magic is found within the pages of ancient texts. This book proves the adage that knowledge is power."—RT Book Reviews (4 1/2 stars, Top Pick)
Berkley, 9780451472403, 368pp.
Publication Date: July 5, 2016
About the Author
Rachel Caine is the New York Times, USA Today, and international bestselling author of more than forty novels, including the Great Library series, Prince of Shadows, the Weather Warden series, the Outcast Season series, the Revivalist series, and the Morganville Vampires series.
Jess Brightwell seems to be doing well in his new army career. Why do you think he fits in so well, given that he didn't expect to like it?
How far would you go to rescue a friend in danger? What would you risk?
Morgan is unwilling to accept her fate as an Obscurist, and is angry at Jess for cooperating in her capture in Ink and Bone. Jess feels guilty about it, too. Is he really guilty, or did he not have a choice?
In Paper and Fire, you see quite a lot of Rome—a very different Rome from what we see today—with all the wonders of the ancient world preserved (and some added). You also get to see the tomb of Alexander the Great. Of the Seven Wonders of the Ancient World, what is the only one we can still visit today?
Why would the Library develop different kinds of automata (the lions of London, the lions of Rome, the Spartans, the sphinxes)?
Who do you think is the most heroic character in this book? Why?
What danger do you think the group will find in Philadelphia? How do you think the next book's Philadelphia will be different from the actual one?
If you could change one thing that happens in Paper and Fire, what would it be? Why? What aspects of the book would your change alter?
or
Not Currently Available for Direct Purchase