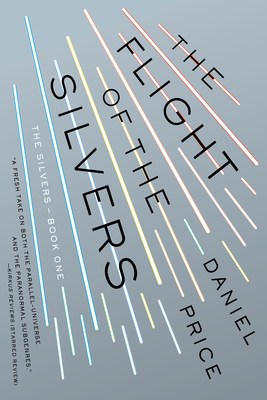 The Flight of the Silvers
The Silvers Book One (The Silvers Series #1)
Paperback

* Individual store prices may vary.
Other Editions of This Title:
Digital Audiobook (2/3/2014)
Description
For fans of Blake Crouch, the propulsive first book in the genre-bending Silvers trilogy, in which six ordinary people become extraordinary when they find themselves the sole survivors of an apocalypse that lands them on an Earth far different from our own—one on which they have X-Men-like powers to manipulate time. 

Without warning, the world comes to an end. The sky looms frigid white. The electric grid falters. Airplanes everywhere crash to the ground, and finally, the sky comes down in a crushing sheet of light, taking out everything and everyone with it—except for Hannah and Amanda Given. Saved from destruction by three fearsome and powerful beings who adorn them each with an irremovable silver bracelet, the Given sisters suddenly find themselves on a strange new Earth where restaurants move through the air like flying saucers and the fabric of time itself is manipulated by common household appliances.

Upon arrival to this alternate America, Hannah and Amanda are taken to a science laboratory where they meet four other survivors from their world, all of whom wear matching silver bracelets—a mordant cartoonist, a shy teenage girl, a brilliant young Australian, and a troubled ex-prodigy. While being poked and prodded by scientists who may be friends or enemies, the group discovers that it's not only their world that is different—they are different. Each has the power to manipulate time with their bare hands…a power they can't always control. With no one but each other to trust, "the Silvers" must find out what exactly happened to their world and why it was that they were spared. But with unexpected new enemies emerging from around every corner, their quest for answers will quickly become a cross-country quest for survival.
Praise For The Flight of the Silvers: The Silvers Book One (The Silvers Series #1)…
Praise for The Flight of the Silvers
Nominated for a Goodreads Choice Award for Best Science Fiction Novel
An io9 "Can't Miss" Science Fiction Pick

"VERDICT: This first volume in a planned trilogy is fascinating sf; Price's strong, engaging characters and fast-moving plot will keep readers on their toes. Highly recommended for fans of apocalyptic and dystopian fiction."—Library Journal (starred review)

"An absorbing adventure with a fresh take on both the parallel-universe and the paranormal subgenres. You'll get pulled in."—Kirkus Reviews (starred review)

"The cast is engaging (it includes a 16-year-old Australian boy, a girl who's been separated from her entire family, and an affable cartoonist), and the author has created an alternate-reality world that is both bewilderingly different and reassuringly familiar....A highly imaginative exercise in world building that also features characters it's very easy to care about."—Booklist

"I could list the wonders of this new world for a while, but I'd rather let you discover them for yourself when you read the book. You should read this book! I loved The Flight of the Silvers. I found it very difficult to put it aside to deal with my own life…It really is an amazing book."—SF Crow's Nest

"A mind-bending work of science fiction, Flight of the Silvers pairs an excellently paced plot with well-written and fully realized characters. If you're new to the science fiction world, Daniel Price's chunkster might just be the book to draw you into the genre....It's really the characters that make Flight of the Silvers worth reading. Price took his time carefully constructing and molding each of the main characters. These people leap off the page, with all of their flaws and ugly bits; they're so incredibly realistic and three dimensional. Even though they're not perfect, readers will enjoy getting to know each of these characters and understanding them. They are what carry the narrative; as the reader becomes emotionally invested in these characters, it becomes crucial that they survive their ordeals....This is a novel that will impress fans of science fiction, but the great characters will appeal to readers in all genres. You should absolutely plan on picking it up as soon as possible."—S. Krishna's Books blog

"Daniel Price has given readers the first installment of what promises to be a well-wrought sci-fi saga, colored by intriguing ideas and complex characters adrift in a wonderfully weird world. The Flight of the Silvers is thought-provoking, cinematic in scope...and very, very good."—The Maine Edge

"Price deserves credit for creating immediately relatable characters whose motivations are understandable even when not so commendable. But he deserves out-and-out praise for doing so while constantly upping the temporal ante. The reader's uncertainty concerning the rules of this new world may well mirror that felt by the protagonists, but the shared confusion never ruins the immersion. As a result, any hours spent reading The Flight of the Silvers will be time well spent."—BookPage

"In The Flight of the Silvers, Daniel Price's time-bending X-Men travel through an alternative America that is both alien and disturbingly familiar. Fast-paced, poignant, and absorbing."—Emily Croy Barker, author of The Thinking Woman's Guide to Real Magic
Blue Rider Press, 9780451472762, 624pp.
Publication Date: January 6, 2015
About the Author
Daniel Price is the author of Slick, The Flight of the Silvers, The Song of the Orphans, and The War of the Givens. He lives in Gilbert, Arizona, with his partner, Nancy. He cannot actually manipulate time.
or
Not Currently Available for Direct Purchase