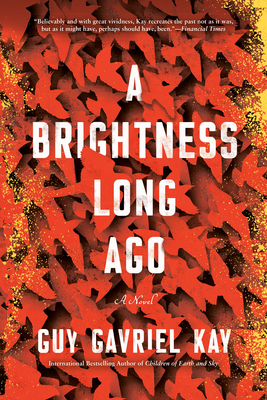 A Brightness Long Ago
Paperback

* Individual store prices may vary.
Other Editions of This Title:
Digital Audiobook (5/13/2019)
Hardcover (5/14/2019)
Description
International bestselling author Guy Gavriel Kay's latest work is set in a world evoking early Renaissance Italy and offers an extraordinary cast of characters whose lives come together through destiny, love, and ambition.

In a chamber overlooking the nighttime waterways of a maritime city, a man looks back on his youth and the people who shaped his life. Danio Cerra's intelligence won him entry to a renowned school even though he was only the son of a tailor. He took service at the court of a ruling count—and soon learned why that man was known  as the Beast.

Danio's fate changed the moment he saw and recognized Adria Ripoli as she entered the count's chambers one autumn night—intending to kill. Born to power, Adria had chosen, instead of a life of comfort, one of danger—and freedom. Which is how she encounters Danio in a perilous time and place.

Vivid figures share the unfolding story. Among them: a healer determined to defy her expected lot; a charming, frivolous son of immense wealth; a powerful religious leader more decadent than devout; and, affecting all these lives and many more, two larger-than-life mercenary commanders, lifelong adversaries, whose rivalry puts a world in the balance.

A Brightness Long Ago offers both compelling drama and deeply moving reflections on the nature of memory, the choices we make in life, and the role played by the turning of Fortune's wheel.
Praise For A Brightness Long Ago…
"A thoughtful read, full of heart. As with any Kay book, there is beauty of language and intelligent observations. This is a book to be savored...This is a book that I will continue to think about for days to come."—Robin Hobb, New York Times bestselling author of Assassin's Fate

"A Brightness Long Ago is, like all of Kay's work, exquisitely crafted and deeply moving.  By turns beautiful and bittersweet, it tells the story of small people caught in the current of world-shattering events, and of the ripples they make that are sometimes—but not always—lost in the flow of history. His most compelling characters are those found lingering near the frame of a famous portrait, or rendered, almost as an afterthought, in glass and stone. Guy Gavriel Kay has written a masterpiece, yet again."—Nicholas Eames, author of Kings of the Wyld

"A beautiful meditation on how seemingly small choices can have such great consequences, and on how people who come into our lives, even briefly, can change them."—Jessica Day George, New York Times bestselling  author of Silver in the Blood

"Strong historical research and worldbuilding, a vast cast of characters, world-changing events... An epic tale filled with characters compelling enough to bear the weight of the high stakes."—Kirkus Reviews

"Kay's eye for historical details and traditions imbues A Brightness Long Ago with a realism that is seldom seen in works of speculative fiction… Kay demonstrates yet again that he is a master storyteller in complete control of his craft."—Pat's Fantasy Hotlist

"A Brightness Long Ago is a masterpiece; perhaps the finest work of one of the world's greatest living storytellers…This story is shocking, devastating, and beautiful. Kay's language is elegant in its simplicity, yet painstakingly profound as it cuts to the core of what makes us think, and act, and remember."—Fantasy Book Review

Praise for Guy Gavriel Kay

"[Read] anything by Guy Gavriel Kay....His strengths are strong characters and fantastic set pieces."—The New Yorker

"History and fantasy rarely come together as gracefully or readably as they do in the novels of Guy Gavriel Kay."—The Washington Post Book World

"Kay is a genius. I've read him all my life and am always inspired by his work."—#1 New York Times bestselling author Brandon Sanderson

"Guy Gavriel Kay has a wonderful talent. He tells stories in an invented world that is so rich in historical echoes that I found myself smiling with pleasure as I heard the echoes, while engrossed in the story. Warmly recommended."—Edward Rutherfurd
"Kay is peerless in plucking elements from history and using them to weave a wholly fantastical tale that feels like a translation of some freshly unearthed scroll from a time we have yet to discover."—The Miami Herald
Berkley, 9780451472991, 448pp.
Publication Date: May 5, 2020
About the Author
Guy Gavriel Kay is the international bestselling author of the Fionovar Tapestry series, Tigana, The Last Light of the Sun, Under Heaven, River of Stars, and Children of Earth and Sky. His works have been translated into more than twenty-five languages.