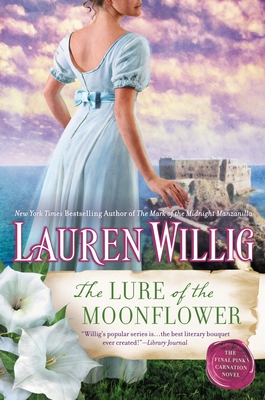 The Lure of the Moonflower (Pink Carnation #12)
Paperback

* Individual store prices may vary.
Other Editions of This Title:
Digital Audiobook (8/3/2015)
Description
In the final Pink Carnation novel from the New York Times bestselling author of The Mark of the Midnight Manzanilla, Napoleon has occupied Lisbon, and Jane Wooliston, aka the Pink Carnation, teams up with a rogue agent to protect the escaped Queen of Portugal.
 
Portugal, December 1807. Jack Reid, the British agent known as the Moonflower (formerly the French agent known as the Moonflower), has been stationed in Portugal and is awaiting his new contact. He does not expect to be paired with a woman—especially not the legendary Pink Carnation.
 
All of Portugal believes that the royal family departed for Brazil just before the French troops marched into Lisbon. Only the English government knows that mad seventy-three-year-old Queen Maria was spirited away by a group of loyalists determined to rally a resistance. But as the French garrison scours the countryside, it's only a matter of time before she's found and taken.
 
It's up to Jane to find her first and ensure her safety. But she has no knowledge of Portugal or the language. Though she is loath to admit it, she needs the Moonflower. Operating alone has taught her to respect her own limitations. But she knows better than to show weakness around the Moonflower—an agent with a reputation for brilliance, a tendency toward insubordination, and a history of going rogue.

READERS GUIDE INCLUDED
Praise For The Lure of the Moonflower (Pink Carnation #12)…
Praise for the Novels of Lauren Willig
 
"Willig's series gets better with each addition."—Booklist
 
"Jane Austen for the modern girl."—New York Times Bestselling Author Christina Dodd
 
"This genre-bending read…has it all: romance, mystery, and adventure. Pure fun!"—New York Times Bestselling Author Meg Cabot

"Fans can rejoice in finding the outstanding features they've come to count on: intriguing historical details, double-crossing deceptions, complex characters, and plenty of romance."—Library Journal (starred review)
Berkley, 9780451473028, 528pp.
Publication Date: August 4, 2015
About the Author
Lauren Willig is the award winning, New York Times bestselling author of the Pink Carnation novels, set in the Napoleonic Era, as well as other historical novels, including The Ashford Affair and That Summer. She received a graduate degree in English history from Harvard University and a J.D. from Harvard Law School, though she now writes full-time. Willig Lives in New York City.
Even before they had a chance to work together, Jack and Jane had already formed fairly solid judgments about each other's characters. What do you think this says about the power of reputations? Was there some truth to their assumptions? How are their assumptions about each other proven wrong by their actions?
Discuss the role that societal norms and class play in the book, and how the main characters are affected by their perceived status.
Jack and Jane are both very determined individuals who prefer being in control of a situation, rather than sharing the reins of power. Do you think that either of them had the upper hand at the beginning of the book? What moment (if there is one) brings about a shift in the power dynamic between them? How does this shift affect their relationship going forward? How do you think things might have been different if they shared the decision making from the start?
Talk about Jane's resistance to conventions such as manners, marriage, and mores. How might her life have been different if she'd lived in a more modern era? Do you think she still would have become a spy? How would that have been different?
What characteristics do you think make Jack and Jane good spies? What about them makes them good partners—and lovers? Are the characteristics the same?
How do you think Jack's childhood—his mother's suicide, his strained relations with his father, his outside status as a half-caste—shaped his character and the way he views himself and the decisions he made?
Was it surprising to you that Colin's great-aunt was a spy? Do you think it is fitting that the descendants of the Selwicks would still carry on spying in the modern world?
What name do you think Jack and Jane should finally settle upon for their pet donkey?
Did you know much about Portugal during the Napoleonic era before reading The Lure of the Moonflower? Did you learn anything new about this period in time? Do you prefer learning about history through fictional characters or through narrative nonfiction accounts?
If you were Jane, would you have chosen Jack or Nicolas? Discuss the merits and shortcomings of each of them.
Out of all the characters in the Pink Carnation books, which one would you choose to take out for a cup of tea? Who was your favorite couple? Discuss why.
or
Not Currently Available for Direct Purchase