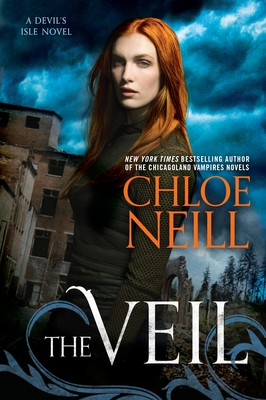 The Veil (A Devil's Isle Novel #1) (Paperback)
Berkley, 9780451473349, 352pp.
Publication Date: August 4, 2015
* Individual store prices may vary.
Description
A brand new series from New York Times bestselling author Chloe Neill.  
Seven years ago, the Veil that separates humanity from what lies beyond was torn apart, and New Orleans was engulfed in a supernatural war. Now, those with paranormal powers have been confined in a walled community that humans call the District. Those who live there call it Devil's Isle.
 
Claire Connolly is a good girl with a dangerous secret: she's a Sensitive, a human endowed with magic that seeped through the Veil. Claire knows that revealing her skills would mean being confined to Devil's Isle. Unfortunately, hiding her power has left her untrained and unfocused.
 
Liam Quinn knows from experience that magic makes monsters of the weak, and he has no time for a Sensitive with no control of her own strength. But when he sees Claire using her powers to save a human under attack—in full view of the French Quarter—Liam decides to bring her to Devil's Isle and the teacher she needs, even though getting her out of his way isn't the same as keeping her out of his head.
 
As more and more Sensitives fall prey to their magic, and unleash their hunger on the city, Claire and Liam must work together to save New Orleans, or else the city will burn…
About the Author
Chloe Neill was born and raised in the South, but now makes her home in the Midwest—just close enough to Cadogan House and St. Sophia's to keep an eye on things. When not transcribing Merit's and Lily's adventures in the Chicagoland Vampires Novels (Blood Games, House Rules, Biting Bad, Wild Things), she bakes, works, and scours the Internet for good recipes and great graphic design. Chloe also maintains her sanity by spending time with her boys—her favorite landscape photographer and their dogs, Baxter and Scout.
Praise For The Veil (A Devil's Isle Novel #1)…
Praise for Chloe Neill's Chicagoland Vampires Novels:
 
"These books are wonderful entertainment."—#1 New York Times Bestselling Author Charlaine Harris
 
"Neill creates a strong-minded, sharp-witted heroine who will appeal to fans of Charlaine Harris's Sookie Stackhouse series and Laurell K. Hamilton's Anita Blake."—Library Journal
 
"Between the high stakes, the intense romance, and the fabulous cast of characters, I cannot recommend this book any higher!"—A Book Obsession
 
"Chicagoland Vampires is one of my favorite series, and with each installment, I'm reminded why I keep coming back for more."—All Things Urban Fantasy
 
"Delivers enough action, plot twists, and fights to satisfy the most jaded urban fantasy reader."—Monsters and Critics