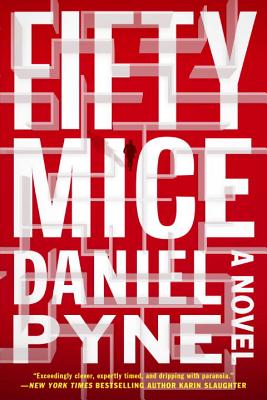 Fifty Mice (Paperback)
Berkley Books, 9780451473950, 304pp.
Publication Date: December 1, 2015
Other Editions of This Title:
Hardcover (12/30/2014)
* Individual store prices may vary.
Description
An electrifying thriller that asks the question: What if a man is taken into the Federal Witness Protection Program against his will? And what if he doesn't even know what he's supposed to know? Jay Johnson is a thirtysomething guy with a job in telephone sales, a regular pickup basketball game, and a devoted girlfriend he seems ready to marry. Then he's abducted, tranquilized, and interrogated, and his entire life history is obliterated. He is now officially in witness protection. What did he see? What terrible crime--or criminal--is he keeping secret? It must be something awfully big. Unfortunately, Jay has no clue what it is. Convinced that the government has made a colossal mistake, Jay is involuntarily relocated to a community on Catalina Island, which turns out to be inhabited mainly by other protected witnesses. Isolated in a world of strangers, Jay begins to realize that the only way out is through the twisted maze of lies and unreliable memories swirling through his own mind. If he can locate--or invent--a repressed memory that might satisfy the Feds, maybe he can make it back to the mainland and his wonderful, empty, unexamined life....

About the Author
Dan Pyne is a screenwriter whose credits include the remake of The Manchurian Candidate, Pacific Heights, and Fracture.
or
Not Currently Available for Direct Purchase