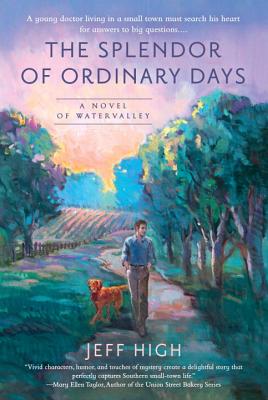 The Splendor of Ordinary Days
Paperback

* Individual store prices may vary.
Description
Readers of Jan Karon's Mitford series and Patrick Taylor's Irish Country series will fall in love with Jeff High's funny, heartfelt Watervalley series. The pastoral charm of small-town Watervalley, Tennesse, can be deceptive, as young Dr. Luke Bradford discovers when he's caught in the fallout of a decades-old conflict... After a rocky start as Watervalley's only doctor, Luke Bradford has decided to stay in town, honoring the three-year commitment he made to pay off his medical school debts. But even as his friendships with the quirky townsfolk deepen, and he pursues a romance with lovely schoolteacher Christine Chambers, several military veterans' emotional wounds trigger anger and unrest in Watervalley. At the center of the clash is the curmudgeonly publisher of the local newspaper, Luther Whitmore. Luther grew up in Watervalley, but he returned from combat in Vietnam a changed man. He fenced in beautiful Moon Lake, posting "Keep Out" notices at the beloved spot, and provokes the townspeople with his incendiary newspaper. As Luke struggles to understand Luther's past, and restore harmony in Watervalley, an unforeseen crisis shatters a relationship he values dearly. Suddenly Luke must answer life's toughest questions about service, courage, love, and sacrifice. CONVERSATION GUIDE INCLUDED
Berkley Books, 9780451474100, 432pp.
Publication Date: October 6, 2015
About the Author
After growing up on a farm in rural Tennessee, Jeff High attained degrees in literature and nursing. He is the three-time winner, in fiction and poetry, of an annual writing contest held by Vanderbilt Medical Center. He lived in Nashville for many years, and throughout the country as a travel nurse, before returning to his original hometown, near where he now works as an operating room RN in open-heart surgery. He is the author of the Watervalley novels, including More Things in Heaven and Earth and Each Shining Hour.
What did you most enjoy about The Splendor of Ordinary Days? What made you laugh?
What made you cry? Will anything about the book stay with you and become a part of
who you are?
Name the characters who give Luke advice, wanted and unwanted, whenever he faces a
dilemma. Do they help or hinder him? When is it right to step in to help advise a friend,
and when is it better to stand back?
Luther Whitmore and Eli Yoder both want to keep pure the memory of Ellie Yoder, and
decide not to reveal that she is the mother of Jacob and the grandmother of his children.
In their situation, would you have made the same choice?
Is the Mr. Wonderful that Christine writes about in her journal an unrealistic romantic
idealization or a way of defining what qualities she considers most important in the man
she marries? What did you write about in your teenage diary?
What was your response to Leyland Carter? What does he impart to Luke that Luke could
not have learned any other way?
Luke feels compelled to resolve conflicts between people in town. Discuss the many
ways in which he tries to bring about better understanding and reconciliation. Do you
consider him a busybody who should mind his own business or a model for how the rest
of us should behave?
Luke and Christine spend much of their courtship sitting and talking on her family's front
porch. When was the last time you whiled away a summer evening sitting outside
watching night fall? Does Watervalley's slower pace appeal to you, or would it leave you
bored? How much time do you spend outside enjoying the natural world?
Luke and Christine decide to abstain from physical intimacy until they're married. What
do you think about that? What are some of the pros and cons of their decision? Does
Christine's medical condition change that in your mind?
Discuss the various ghosts in Watervalley. Have you ever experienced an unexplained
supernatural phenomenon? Or have you heard local stories about the supernatural? How
do you explain the prevalence of such tales?
The Mennonite community in Watervalley lives largely apart, and sometimes tensions
arise between it and the general population over their differing beliefs—regarding
pacifism versus military service, for example, and over the role of government
organizations such as the fire department. Is there a group of people in your community
that lives largely separate from the whole? If tensions exist, what have people done to
resolve them?
Discuss Karen Davidson's reception by the town and what it takes for the situation to
turn around.
Watervalley reveres its military veterans but doesn't always know how to meet their
needs. Do you know a vet who could use some help? What are some of the factors that
might complicate your community's efforts to help?
Will Fox has love troubles, but he finds a way to overcome his disappointment. Do you
have any stories to share about youngsters you've known who have dealt with romantic
complications?
Do you think Luke will leave Watervalley? Discuss the advantages and disadvantages of
staying.
or
Not Currently Available for Direct Purchase