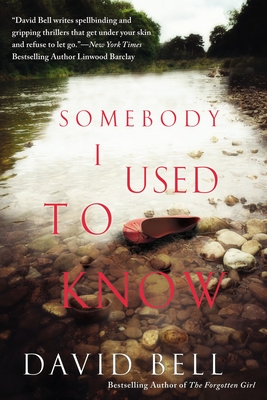 Somebody I Used to Know (Paperback)
Berkley, 9780451474209, 432pp.
Publication Date: July 7, 2015
Other Editions of This Title:
Paperback (12/31/2018)
* Individual store prices may vary.
Description
The bestselling author of Somebody's Daughter and Cemetery Girl, "one of the brightest and best crime fiction writers of our time" (Suspense Magazine) delivers a pulse-pounding thriller about a man who is haunted by a face from his past...

When Nick Hansen sees the young woman at the grocery store, his heart stops. She's the spitting image of his college girlfriend, Marissa Minor, who died in a campus house fire twenty years earlier. But when Nick tries to speak to her, she acts skittish and rushes off.

The next morning the police arrive at Nick's house and show him a photo of the woman from the store. She's been found dead, murdered in a local motel, with Nick's name and address on a piece of paper in her pocket.

Convinced there's a connection between the two women, Nick enlists the help of his college friend Laurel Davidson to investigate the events leading up to the night of Marissa's death. But the young woman's murder is only the beginning...and the truths Nick uncovers may make him wish he never doubted the lies.
About the Author
David Bell is a USA Today bestselling, award-winning author whose work has been translated into multiple foreign languages. He's currently an associate professor of English at Western Kentucky University in Bowling Green, Kentucky, where he directs the MFA program. He received an MA in creative writing from Miami University in Oxford, Ohio, and a PhD in American literature and creative writing from the University of Cincinnati. His novels include Somebody's Daughter, Bring Her Home, Since She Went Away, The Forgotten Girl, Never Come Back, The Hiding Place, and Cemetery Girl.
Praise For Somebody I Used to Know…
Praise for Somebody I Used to Know

"Distinctive characters and a smartly crafted plot."—Publishers Weekly
 
"Filled with twists and turns that will have you forgetting everything you are supposed to do until you reach the very last page…David Bell sure knows how to rope the reader in."—Fresh Fiction
 
"A well-written, well-timed, steady-paced mystery."—Shelf Addiction
 
"Bell has a knack for writing suspenseful crime fiction with strong emotional, human elements, and his latest, Somebody I Used to Know, is no exception…A perfect read for fans of dark mysteries and crime thrillers mixed with poignant family drama."—Book of Secrets

More Praise for David Bell

"One of the brightest and best crime fiction writers of our time."—Suspense Magazine 

"A natural storyteller and a superb writer."—#1 New York Times Bestselling Author Nelson DeMille

"David Bell writes spellbinding and gripping thrillers that get under your skin and refuse to let go."—New York Times Bestselling Author Linwood Barclay
Nick is hung up on Marissa twenty years after her presumed death. Do you believe that someone could still have feelings for a college love after so much time? Do we ever forget our first real loves? Do you think part of the reason Nick hasn't been able to move past his relationship with Marissa is that he has idealized her and/or their relationship since she supposedly died?generic viagra price canada
Nick gets a great deal of happiness from his relationship with his stepson, Andrew. Do you think Nick has a significant role to play in Andrew's life?generic viagra price canada
Nick relies a great deal on Laurel. Do you think they have an equitable relationship in which they both benefit? Or is Nick taking advantage of Laurel?generic viagra price canada
Do you think the police handled the initial investigation of Marissa's death appropriately? Or did they make assumptions and overlook obvious clues?generic viagra price canada
Why do you think Nick and Heather maintain their on-again, off-again relationship? What is each of them getting from the other? Do you trust Heather's motives for being with Nick?generic viagra price canada
What do you think of the reason for Marissa's family disappearing? Do you think her parents did the right thing? How far would you go to protect your child from legal jeopardy?generic viagra price canada
The Maberrys lost a child and never really received justice for it. Do you empathize with them? Do you understand why they behave the way they do?generic viagra price canada
Jade has been through a great deal: the pregnancy, the accident, and then the adoption of her child. Do you think she can ever move on from these things and have a normal life?generic viagra price canada
Roger Kirby plays a pivotal role as a friend of the Minor family. Did you know or suspect he was covering up for them the whole time?generic viagra price canada
Were you surprised that Marissa was still alive? Do you think she's gotten off easy over the years, since she was able to have a normal life and raise her own children?generic viagra price canada
What do you think of Riley, Nick's dog? Were you surprised that he played such a heroic role at the end of the story?generic viagra price canada
What do you think is going to happen when Nick travels to see Marissa? Will they be able to resume their relationship after twenty years? What challenges will they face as they try to pick up where they left off?generic viagra price canada