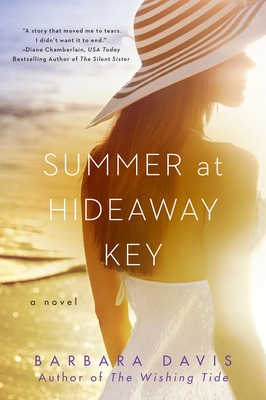 Summer at Hideaway Key (Paperback)
Berkley Books, 9780451474582, 416pp.
Publication Date: August 4, 2015
Description
From the author of The Wishing Tide comes a stunning new novel about two summers, one journal, and the secrets that can break and open our hearts.... Pragmatic, independent Lily St. Claire has never been a beachgoer. But when her late father leaves her a small house on Hideaway Key--one neither her mother nor she knew he owned--she's determined to visit the sleepy spit of land along Florida's Gulf Coast. Expecting a quaint cottage, Lily instead finds a bungalow with peeling shutters and mountains of memorabilia. She also catches a glimpse of the architect who lives down the beach.... But it's the carton of old journals in the front room that she finds most intriguing. The journals were written by her mother's sister, an infamous beauty whose name has long been banned from the St. Claire home. The journals tell a family tale Lily has never heard, of her mother and her aunt as young girls in Tennessee and the secrets that followed them into adulthood. As she reads, Lily gains a new understanding: about her family and about herself. And she begins to open her heart--to this place, these people, and the man next door. But can she ever truly learn to trust, to believe that love is not a trap but a harbor? And is it true that hearts, even broken ones, can be forged anew?
About the Author
After spending more than a decade in the jewelry business, Barbara Davis decided to leave the corporate world to pursue her lifelong passion for writing. She is the author of The Wishing Tide and The Secrets She Carried. She currently lives near Raleigh, North Carolina with the love of her life, Tom, and their beloved ginger cat, Simon.
Mt. Zion Missionary Poor Farm was fictional but depicted conditions prevalent in many poor farms in the United States during the twentieth century. Before reading Summer at Hideaway Key, had you ever heard the term poor farm? If so, from whom, and in what context?generic viagra price canada
In the first of Lily-Mae's letters, she mentions Catherine Earnshaw, the tragic heroine of Emily Brontë's Wuthering Heights, comparing her life with Catherine's. If you have read Wuthering Heights, in what ways do you see Lily-Mae's life mirroring Catherine's?generic viagra price canada
When Lily and Dean first meet they appear to be polar opposites and rather ill suited, but as their individual stories unfold, parallels begin to appear. How do their differences and similarities work together to help each become more self-aware, and ultimately embrace change?generic viagra price canada
On the bureau in Lily-Mae's bedroom stands a jar containing forty-seven shells. What did the shells symbolize for Lily-Mae, and how did that symbolism ultimately come full circle by the end of the book?generic viagra price canada
Throughout the novel we see Lily pondering the question of finding her North Star, a seed planted early in her life by her father. What do you think Roland meant when he encouraged Lily to seek it, and why do you feel her finding it was so important to him?generic viagra price canada
Sometimes we need a friend to help us see where we've gone off course. Discuss the ways Sheila helps Lily see herself more clearly and eventually face the fact that it's time to make some changes in her life. Discuss how Lily does the same for Sheila.generic viagra price canada
The theme of forgiveness recurs heavily throughout the book. Discuss the role forgiveness plays in each of the main characters' stories, and how it ultimately allows them to finally move toward happiness.generic viagra price canada
It is said, one cannot forgive without first learning to forgive oneself. In your experience, is this true, and why? Discuss the various ways each of the main characters were holding themselves back because of an inability to forgive and move on.generic viagra price canada
Another predominant theme in the book is the self-inflicted damage we do when we continually run away from the things scares us. By the end of the book we see Lily-Mae admit that many of her woes stem from her tendency to run rather than stand and fight. What do you see as the defining moments for both Lily and Dean in learning to stand and fight?generic viagra price canada
In the novel, Lily-Mae willingly sacrifices herself to spare the people she loves. In your opinion, when does sacrifice cross the line from nobility into martyrdom? Are there people in your life for whom you would make such sacrifices in spite of their ingratitude?generic viagra price canada
In what ways do Lily's and Lily-Mae's stories mirror each other? What insights do you feel Lily-Mae's journals provide in helping foster Lily's emotional growth over the course of the novel?generic viagra price canada
In your opinion, what would have to happen for Lily to forgive Caroline for all the years of lies and deception? Do you believe forgiveness of such grievous deeds is even possible?generic viagra price canada
Discuss the ways Lily has grown as a person by the end of the novel. What factors do you feel contributed to this growth?generic viagra price canada
Advertisement