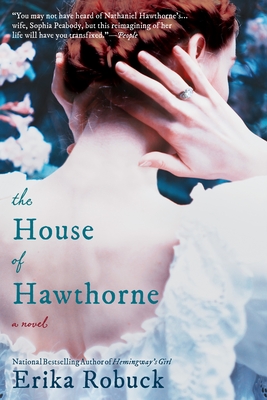 The House of Hawthorne
Paperback

* Individual store prices may vary.
Other Editions of This Title:
Compact Disc (5/3/2016)
MP3 CD (5/3/2016)
Compact Disc (5/5/2015)
Compact Disc (5/5/2015)
Compact Disc (5/5/2015)
Hardcover (5/5/2015)
Description
From the bestselling author of Hemingway's Girl comes a novel that explores the unlikely marriage between celebrated novelist Nathaniel Hawthorne and accomplished artist Sophia Peabody—a forgotten woman in history who inspired one of the greatest writers of American literature.

As a sensitive, artistic young woman, Sophia Peabody is discouraged from pursuing a woman's traditional roles of marriage and motherhood. But from their first meeting, she and Nathaniel Hawthorne begin an intense romantic partnership. Together, they cross continents, raise children, and experience all the beauty and tragedy of life fully lived. Sophia's vivid journals and masterful paintings inspire Nathaniel's writing. But their children's needs and personal losses fuel a perennial tug-of-war between Sophia's domestic duties and her own desires.

Spanning the years from the 1830s to the Civil War, and moving from Massachusetts to England, Portugal, and Italy, The House of Hawthorne explores the story of a woman, forgotten by history, who inspired one of the greatest writers of American literature...

Includes a Readers Guide
Praise For The House of Hawthorne…
Praise for The House of Hawthorne

"Fascinating."—The New York Times Book Review

"You may not have heard of Nathaniel Hawthorne's...wife Sophia Peabody, but this reimagining of her life will have you transfixed."—People

"The timeless questions of identity and creative self-expression facing women today are explored in this richly imagined novel of the marriage of Nathaniel and Sophia Hawthorne. Insightful and transportive."—Christina Baker Kline, #1 New York Times Bestselling Author of Orphan Train 

"Robuck's sure storytelling brings accomplished artist Sophia Peabody into the light and into your heart. Luminous, vivid, enchanting."—Lynn Cullen, bestselling author of Mrs. Poe

"Brings the brooding author and the idealistic artist brilliantly to life."—Amy Belding Brown, author of Flight of the Sparrow 

"Erika Robuck brings the mid-19th century vividly to life. Her prose is lush but not burdened by unnecessary details. She has a real knack for capturing the dreamy voice of Sophia...it is a pleasure to see how much in love [Sophia and Nathaniel Hawthorne] were with each other."—Historical Novel Society

"Finding and giving voice to extraordinary women in the literary world is where Robuck's talents lie....The lovely writing and beautiful romance make for an absorbing read."—RT Book Reviews
Berkley, 9780451474650, 432pp.
Publication Date: May 3, 2016
About the Author
Erika Robuck is the national bestselling author of The House of Hawthorne, Fallen Beauty, Call Me Zelda, Hemingway's Girl, and Receive Me Falling. She is a contributor to the fiction blog Writer Unboxed, and she maintains her own blog, Muse. She is a member of the Hawthorne Society, the Hemingway Society, the Historical Novel Society, and the Edna St. Vincent Millay Society. She lives in Annapolis, Maryland, with her husband and three sons.
What did you enjoy most about The House of Hawthorne?
What do you find unusual, appealing, and perplexing about Sophia and Nathaniel's courtship?
Do you see their marriage as a practical partnership, as a union of soul mates, or as something else altogether?
Why do you think Sophia largely gives up her pursuit of art after marrying Nathaniel? Is her sacrifice still to some extent inevitable for women who have children? What might her life have been like if she hadn't married him?
Talk about the Hawthornes' many losses of family and friends to ill health and accidents. Discuss how modern medicine has tended to change our own perception of death. What blind spots have we perhaps developed as a result?
In what ways might the Hawthornes be considered a modern family? Do you think Sophia and Nathaniel are good parents?
In the years leading to the Civil War, Sophia and Nathaniel disagree with many family members over their belief that war should be avoided at all costs, and that slavery will die a natural death over several generations. How might U.S. history have been different if events had gone as the Hawthornes wished?
What kind of relationship do you have with the natural world, and how does it compare to Nathaniel's and Sophia's? What has been lost and gained in our understanding of nature in the decades since they lived?
Of the many artists, writers, and philosophers the Hawthornes get to know, whom do you find the most interesting and why?
Has reading the book made you want to read, or reread, Nathaniel's novels? What do you think of his work?
What do you think is more important: the accomplishments we leave behind or a life well lived? How might the two differ? Which do you think Nathaniel and Sophia achieve?
or
Not Currently Available for Direct Purchase