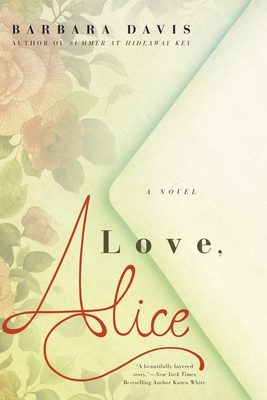 Love, Alice
Paperback

* Individual store prices may vary.
Description
A sweeping southern women's fiction novel about forgiving the past one letter at a time—from the author of When Never Comes.

A year ago, Dovie Larkin's life was shattered when her fiancé committed suicide just weeks before their wedding. Now, plagued by guilt, she has become a fixture at the cemetery where William is buried, visiting his grave daily, waiting for answers she knows will never come.

Then one day, she sees an old woman whose grief mirrors her own. Fascinated, she watches the woman leave a letter on a nearby grave. Dovie ignores her conscience and reads the letter—a mother's plea for forgiveness to her dead daughter—and immediately needs to know the rest of the story.

As she delves deeper, a collection of letters from the cemetery's lost and found  begins to unravel a decades-old mystery involving one of Charleston's wealthiest families. But even as Dovie seeks to answer questions about another woman's past—questions filled with deception, betrayal, and heartbreaking loss—she starts to discover the keys to love, forgiveness, and finally embracing the future...
Praise For Love, Alice…
Praise for Love, Alice

"Love, Alice is part romance and part mystery, but at its heart is a beautifully layered story about surviving tragedy and discovering new connections in surprising and unexpected ways. The emotional journeys of the three main characters are made more engrossing by the descriptive language of Ms. Davis's writing and by the Charleston setting that is as much a character as the living, breathing ones."—Karen White, New York Times bestselling author

"Love Alice is a masterfully told tale of secrets, lies, and regrets. Wrapped up with a good dollop of southern life, it is a powerful story about how families both hurt and heal one another. I loved every word!"—Barbara Claypole White, award-winning author of The Perfect Son

"There are few things as delicious as settling down to read a new Barbara Davis novel, and Love, Alice is every bit as intriguing and emotional a story as I'd anticipated. Heartfelt and beautifully written, Love Alice may be Barbara Davis's finest work yet."—Diane Chamberlain, USA Today bestselling author

More Praise for the Novels of Barbara Davis
 
"Davis's writing is heartfelt and effective."—Kirkus Reviews
 
"[Davis's] characters shine with wit and charm."—Erica Marks, author of The Last Treasure
 
"Davis is genuinely proving herself to be one of the strongest new voices of epic romance."—RT Book Reviews (4½ stars)
Berkley, 9780451474810, 432pp.
Publication Date: December 6, 2016
About the Author
After spending more than a decade as an executive in the jewelry business, Barbara Davis decided to leave the corporate world to finally pursue her lifelong passion for writing. She is the author of When Never Comes; Love, Alice; Summer at Hideaway Key; The Wishing Tide; and The Secrets She Carried. She currently lives in Rochester, New Hampshire, with her husband Tom, and their beloved ginger cat, Simon, and is working on her next book.
1. Blackhurst Asylum for Unwed Mothers was a fictional institution but depicted conditions prevalent in many so‑called "Magdalene laundries" across the U.K., U.S., and Australia. Before reading Love, Alice, had you ever heard of Magdalene laundries? If so, what had you heard? What was your reaction to learning the last of the asylums was still operating so recently?
2. A predominant theme in Love, Alice is the unbreakable bond between mother and child. It was that bond, and the need to right a forty-year-old wrong, that brought Dora Tandy from Cornwall to Charleston. In what other ways did the mother-child bond play out in the novel to bring about understanding and, ultimately, forgiveness in many of the characters?
3. In times past, suicide has carried a certain stigma or air of taboo. It has been referred to as "the mark of disgrace" or "a sign of the evil eye." Do you think suicide carries as much of a stigma today? What do you think causes these perceptions and how do you think society can better understand the issue?
4. Each of the main characters in Love, Alice is dealing with grief in some form or another, and most are having trouble moving past it. Have you ever known someone, yourself included, who experienced the kind of grief that just couldn't be shaken? Do you feel it's possible to hold on to grief too long, to become so mired in loss that the line is crossed from normal grieving into something less healthy? Or, for you, is grief such a personal thing that there simply are no lines?
5. In the novel, we learn Alice's story through letters written to a child she is unlikely to ever meet. Have you ever considered writing a letter you knew would never be read, and if so, what did you hope to accomplish by writing it? Did you actually write the letter? Was it helpful?
6. Denial is a coping mechanism we've all used from time to time, though it is rarely successful. How does denial play a role in both Dovie's and Austin's past relationships, and how does each of them help the other eventually forgive themselves and move on?
7. The theme of complicity by avoidance is brought up several times throughout the novel, both with Dovie and with Austin. Have there been times in your life when you chose to turn a blind eye rather than face an uncomfortable truth? In retrospect, can you now see how facing that truth head‑on might have saved you a lot of heartache?
8. Another issue touched upon in Love, Alice is the fallout that occurs when we allow what others think to govern our life choices. Discuss the ways society's rigid roles and mores affected Alice, Dovie, and William. Have you ever been at a place in your life in which you've had to risk a relationship with a parent or partner in order to stand your ground? If so, how did you handle it?
9. The notion of secrets kept, for better or worse, appears throughout the novel. Do you personally believe honesty is always the best choice? Or do you believe there are some secrets that are better kept from a loved one—and if so, under what circumstances?
10. Forgiveness is hard. Sometimes impossible. And yet Alice finds a way to forgive both Gemma and Dora after seemingly unforgivable deeds. What specifically do you feel causes her change of heart by the end of the novel?
11. In times of deep grief nothing is more sustaining than true friendship. As unlikely as the relationship seemed to some, Josiah Ramsey was a friend to Dovie when she badly needed one. How do you feel his life experiences and personal brand of wisdom helped Dovie better understand her grief and eventually move through it?
12. At the end of Love, Alice, Dovie hints at the possibility that Alice might have been responsible for orchestrating the events that lead to the novel's happy ending. Do you believe it's possible for a deceased loved one to provide guidance in times of trouble or nudge us in the direction of happiness? Have you ever felt that kind of guidance in your own life?