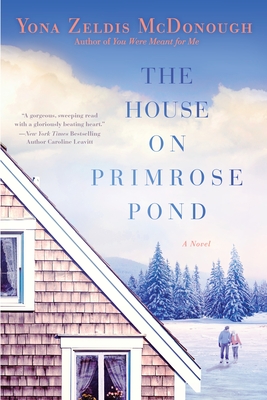 The House on Primrose Pond
Paperback

* Individual store prices may vary.
Description
A compelling novel about one woman's search for the truth from the author of You Were Meant For Me.
 
After suffering a sudden, traumatic loss, historical novelist Susannah Gilmore decides to uproot her life—and the lives of her two children—and leave their beloved Brooklyn for the little town of Eastwood, New Hampshire.
 
While the trio adjusts to their new surroundings, Susannah is captivated by an unexpected find in her late parents' home: an unsigned love note addressed to her mother, in handwriting that is most definitely not her father's.
 
Reeling from the thought that she never really knew her mother, Susannah finds mysteries everywhere she looks: in her daughter's friendship with an older neighbor, in a charismatic local man to whom she's powerfully drawn, and in an eighteenth century crime she's researching for her next book. Compelled to dig into her mother's past, Susannah discovers even more secrets, ones that surpass any fiction she could ever put to paper...
Praise For The House on Primrose Pond…
"An intricate story full of family mysteries, heart, and hope. Every time I closed this book I couldn't wait to open it again."—Amy Sue Nathan, author of The Good Neighbor and The Glass Wives  
 
"Prepare to be beguiled. The House on Primrose Pond proves that the past—warmest memories to darkest secrets—can be the key to unlock the lost treasures of the present. McDonough writes of the heart's ability to love beyond betrayal, death, and all of history's storytelling."—Sarah McCoy, New York Times and international bestselling author of The Mapmaker's Children
 
"Filled with characters as beautifully-drawn as their New England setting, The House on Primrose Pond offers a fascinating and tender journey of a recently-widowed woman who returns to the landscape of her youth for comfort, only to face a family mystery that may turn her already topsy-turvy world upside down even further. Atmospheric and deeply romantic, McDonough's latest is exactly the sort of novel I long to lose myself in."—Erika Marks, author of The Guest House and It Comes In Waves
 
"Pulls you into the charm of small town New England where Susannah Gilbert is a single mom trying to start again while she handles it all. Filled with secrets, history, gossip, friendships, and sexy romance—pour yourself a cup of cocoa and get lost and found again on Primrose Pond!"—Marci Nault, author of The Lake House
 
"A beautifully written story about loss, the power of family ties, and finding love in places you'd least expect. Once caught in the emotional currents of her story, you'll not be released until the last, satisfying page."—Kellie Coates Gilbert, author of A Woman of Fortune
 
"Compelling and richly crafted, The House on Primrose Pond is the story of one woman's quest to unravel an intricate web of secrets and lies that threaten to undo everything she holds dear.  An unforgettable story of love and redemption and finding your way back to what matters most, this perfect combination of mystery, history, and romance will keep you guessing until the very last page, and then regretting that you've reached the end."—Roberta Gately, author of Lipstick in Afghanistan
 
"Totally engaging. The House on Primrose Pond challenges its heroine's sense of self-identity as she peels back layers of a mystery that will redefine her. A well-crafted and compelling read."—Daphne Kalotay, author of Russian Winter and Sight Reading
 
"How well do we really know our own histories or those of the people we love? In a blazingly original novel, McDonough uncovers the mysteries of marriage, connection—and possible murder—and the tug of the past on the present.  A gorgeous, sweeping read with a gloriously beating heart."—Caroline Leavitt, New York Times bestselling author of Is This Tomorrow and Pictures of You
 
"At times heartbreaking yet full of hope, The House on Primrose Pond is a deeply moving portrait of grief, healing, and how the past often carries the secrets that can make us feel whole again."—Natalia Sylvester, author of Chasing the Sun  


Praise for the novels of Yona Zeldis McDonough
 
"A brilliantly original story told with charm and wit, compelling characters, and a fervent belief in the power of love."—Toby Devens 
 
"Emotional and evocative, hilarious and harrowing."—Pamela Redmond Satran
 
"Absorbing and soul-stirring."—#1 New York Times bestselling author Christina Baker Kline
Berkley, 9780451475381, 400pp.
Publication Date: February 2, 2016
About the Author
Yona Zeldis McDonough is the author of the novels You Were Meant For Me, Two of a Kind, A Wedding in Great Neck, Breaking the Bank, In Dahlia's Wake, and The Four Temperaments, as well as nineteen books for children. She is also the editor of two essay collections and is the Fiction Editor at Lilith magazine. Her award-winning short fiction, articles, and essays have been published in anthologies and in numerous magazines and newspapers. She lives in Brooklyn, New York, with her husband and two children.
or
Not Currently Available for Direct Purchase