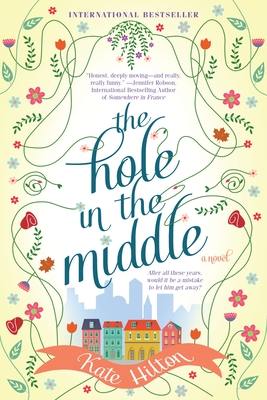 The Hole in the Middle
Paperback

* Individual store prices may vary.
Other Editions of This Title:
MP3 CD (12/5/2017)
Description
The heartfelt and hilarious, international bestselling debut about having it all without losing your mind.

Sophie Whelan is the kind of woman who prides herself on doing it all. In a single day, she can host a vegan-friendly and lactose-free dinner for ten, thwart a PTA president intent on forcing her to volunteer, and outwit her hostile 'assistant' in order to get her work done on time.

With her fortieth birthday looming, and her carefully coordinated existence beginning to come apart at the seams, Sophie begins feeling like she needs more from her life—and especially from her husband, Jesse.

The last thing Sophie needs is a new complication in her life. But when an opportunity from her past suddenly reappears, Sophie is forced to confront the choices she's made and decide if her chaotic life is really a dream come true—or the biggest mistake she's ever made…
Praise For The Hole in the Middle…
"Unexpectedly funny and remarkably wise."—Marissa Stapley, bestselling author of Mating for Life

"Unputdownable."—Roberta Rich, author of The Midwife of Venice

"I thoroughly enjoyed it. Kate Hilton has created a warm, memorable and insightful heroine."—Joy Fielding, author of Someone is Watching

"Honest, deeply moving—and really, really funny."—Jennifer Robson, international bestselling author of Somewhere in France

"Hilton's novel beautifully captures the daily grind and obstacles women face in a story that continually entertains…Accurate, humorous, and gentle."—Leah Eichler, columnist for the Globe & Mail

"Clever and compelling …with equal measures of hilarity and heartbreak."—Lori Nelson Spielman, Author of The Life List 
Berkley, 9780451476692, 304pp.
Publication Date: January 5, 2016
About the Author
Before turning to writing fiction, Kate Hilton worked in law, higher education, public relations and fundraising. She lives in Toronto. The Hole in the Middle is her first novel.
The Hole in the Middle takes place in two different time periods – 1994-1995 and 2012. How does this technique enrich our understanding of the characters and their actions?
Is The Hole in the Middle a contemporary fairy tale?
The character of Lillian Parker plays a key role in Sophie's life, both in the past and the present. What do you think motivates Lil's interest in Sophie? How do you feel about her interference in Sophie's choices?
Much of the novel is set in Sophie's office. Why do you think the author placed such an emphasis on Sophie's work relationships? What do these relationships tell us about Sophie? Are the power dynamics in Sophie's office typical of an average workplace? Why or why not?
Do you think that Sophie and Jesse have a good marriage? Do you think that Will poses a serious threat to their relationship at any point in the book? If so, do you think he continues to pose a threat at the end of the book?
Towards the end of the novel, Lil says: "The first half of life is about getting as far away from your past as you can. And then, just when you've established yourself as a full-fledged adult, a hole opens up in the middle of life and the past comes rushing back in. By the time you're my age, if you aren't careful, the past is more real than the present." Do you agree with her?
Does Sophie experience a true midlife crisis in the book? Do you feel that she is at a genuine crossroads in her life, or is she merely having a very difficult week?
Zoe tells Sophie: "Every woman has a 'what if' guy somewhere in her past." Do you think this is true? How do you think our past romantic relationships affect our sense of satisfaction with present-day choices, either positively or negatively?
What do you think of Zoe's 'romantic archetype' theory? How would Zoe characterize your romantic choices?
Sophie's journey is, in part, a search for work-life balance. Do you think that work-life balance is achievable? Does Sophie find it at the end of the novel?
Sophie bears far more responsibility for household management and childcare than Jesse does. Why do you think their family has evolved in this way? Do you think it is possible for men and women to share parenting equally?
Why do you think the author chose The Hole in the Middleas the title of the book?
Were you surprised by the twist at the end of the novel? Did it make you see any of the characters in a new light? In what way?
or
Not Currently Available for Direct Purchase