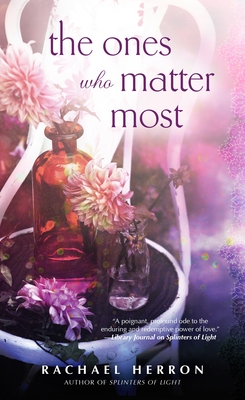 The Ones Who Matter Most
Paperback

* Individual store prices may vary.
Other Editions of This Title:
Hardcover, Large Print (8/17/2016)
Description
From the acclaimed author of Splinters of Light and Pack Up the Moon comes a beautiful novel about two very different women who are about to get a second chance at creating a family...

After her husband dies unexpectedly, Abby Roberts comes across something startling: wedding photographs of him with another woman, along with pictures of a baby boy. Shocked, Abby does something utterly impulsive: She embarks on a journey to discover the family her husband apparently left behind.

Money has always been tight for single mom Fern Reyes, and never tighter than now. But this month, in place of a child-support check, her ex's pretty, privileged wife appears on her doorstep with far too many questions. Unfortunately, her young son is so taken with Abby that Fern doesn't have the heart to send her away.

What begins as one woman's search for truth becomes a deep bond forged between the unlikeliest of people, and the discovery that there are many ways to make a family—as long as you take care...

CONVERSATION GUIDE INCLUDED
Praise For The Ones Who Matter Most…
Praise for The Ones Who Matter Most

"Herron cleverly creates in Abby and Fern two characters with emotional depth, weaving a vivid and moving story of unlikely connections. For fans of character-driven women's fiction such as books by Kristin Hannah."—Library Journal  

"Herron has done it again with this heartwarming story that is sure to please readers of emotional women's fiction."—Booklist

Praise for Splinters of Light

"Beautifully written and heartbreakingly real."—L. Alison Heller, author of The Never Never Sisters

"Profoundly moving."—Holly Robinson, author of Haven Lake

Berkley, 9780451476760, 432pp.
Publication Date: April 5, 2016
About the Author
Rachael Herron is the acclaimed author of Splinters of Light and Pack Up the Moon. She received her MFA from Mills College.
What role does Kathryn play in Abby's life? How has she helped shape Abby's life trajectory?
Do you think Abby will be able to carry this pregnancy to full term? What echoes do her past miscarriages present in her current life?
"Chosen family" is a theme of The Ones Who Matter Most. What other themes do you see in this novel?
How has Abby changed by the end of the novel? Is it for the better? How do her decisions as the book progresses affect this change?
Same question for Fern: How has she changed? Is it for the better? Is life pushing her? Is she pushing life back?
Fern thinks of herself as stubbornly independent and actively wants Scott to stay out of her and Matty's life, yet she's been taking checks from him since he left. Is this a contradiction? Why or why not?
Matty learns several skills through the course of his science project. What's the most important thing he learns? What will serve him the best as he grows up?
What do you think Matty will be like at sixteen? At twenty-five? At forty?
When Scott left Fern and Matty, his father, Wyatt, chose the ones left behind. Do you think he made the right decision? Why?
Estamos completos: "We are complete." Is there a complete family by the close of this novel? Is this something a family can truly attain, or is it a dream on Fern's part?
Is most of your family related to you by blood or by choice? Of course you wish for health and happiness for your family, but what else do you wish for the ones who matter most to you?
or
Not Currently Available for Direct Purchase