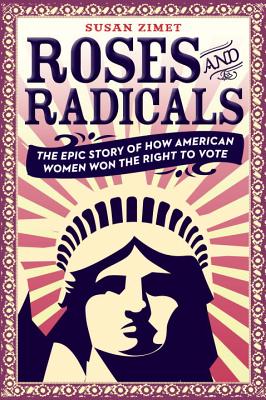 Roses and Radicals (Hardcover)
The Epic Story of How American Women Won the Right to Vote
Viking Books for Young Readers, 9780451477545, 168pp.
Publication Date: January 16, 2018
Other Editions of This Title:
Digital Audiobook (1/15/2018)
Paperback (1/7/2020)
* Individual store prices may vary.
Description
The United States of America is almost 250 years old, but American women won the right to vote less than a hundred years ago.

And when the controversial nineteenth amendment to the U.S. Constitution-the one granting suffrage to women-was finally ratified in 1920, it passed by a mere one-vote margin.

The amendment only succeeded because a courageous group of women had been relentlessly demanding the right to vote for more than seventy years. The leaders of the suffrage movement are heroes who were fearless in the face of ridicule, arrest, imprisonment, and even torture. Many of them devoted themselves to the cause knowing they wouldn't live to cast a ballot.
The story of women's suffrage is epic, frustrating, and as complex as the women who fought for it. Illustrated with portraits, period cartoons, and other images, Roses and Radicals celebrates this captivating yet overlooked piece of American history and the women who made it happen.
About the Author
Susan Zimet has dedicated her professional life to key public policy issues such as the environment and women's rights by serving as the executive director of the Hunger Action Network of New York State, the President of Zimet Group, Inc., and the President of 2020: Project Women, Inc. Roses and Radicals is her first book for young readers and she lives in New Paltz, New York, with her family.
Praise For Roses and Radicals: The Epic Story of How American Women Won the Right to Vote…
Praise for Roses and Radicals by Susan Zimet:

"My mother said, 'Struggle is a never ending process. Freedom is never really won, you earn it and win it in every generation.' Roses and Radicals is a must read about the history of the suffragist movement in America-the oppression of women-and the good, the bad, and the ugly relating to their struggle for the right to vote. It is not just a book for women, but for everyone, especially future generations because when we don't know our history, we may sadly repeat it." 
—Dr. Bernice A. King, CEO, The King Center, Daughter of Martin Luther King, Jr. and Coretta Scott King

"From Elizabeth Cady Stanton to Alice Paul and every crucial suffragist in between, Susan Zimet's Roses and Radicals offers a comprehensive and compelling account of a truly collective victory more than seventy years in the making. Zimet unpacks all of the intricacies of the suffrage movement, never shying away from its flaws, turbulent partnerships, and differing dogmas. For those tempted to label it an important book for young girls, think more broadly; it is an important book for all of us." 
—Tanya Lee Stone, Sibert Medalist and NAACP Image Award-winning auhtor of, most recently, Girl Rising: Changing the World One Girl at a Time

"The brave women and men who fought so hard for women's right to vote show us how to be brave when we need it the most. Which is always. Roses and Radicals is a must read for all kids and citizens!" 
—Andrea Beaty, award-winning author of Ada Twist, Scientist and Rosie Revere, Engineer

"It took more than seventy years for women to win the right to vote in the United States. Roses and Radicals shows the persistence and perseverance it took through the stories of the women who fought to make it happen. Now more than ever we all need to know this story."
—Deborah Heiligman, National Book Award Finalist and Printz Honor-winning author of Charles and Emma and Vincent and Theo
 
 "Susan Zimet, in her thoroughly researched Roses and Radicals, clearly and concisely lays down the huge complicated shocking thread of American history, while delivering a subtle yet inspiring message."
—Patricia Hruby Powell, Sibert and Boston Globe Horn Book Honor-winning author of Josephine: The Dazzling Life of Josephine Baker and of Loving vs. Virginia
 
"Roses and Radicals isn't just the story of women's journey to suffrage, it's completing history and how a few bold women made America fulfill its promise of democracy. Charming and full of detail, the book is like eavesdropping on friends from another era.
—Amy Richards, author of Manifesta: Young Women, Feminism & the Future and consulting producer of MAKERS
 
"An expert and exciting telling of one of the biggest stories in American history."
—Steve Sheinkin, three-time National Book Award Finalist and author of, most recently, Undefeated: Jim Thorpe and the Carlisle Indian School Football Team
 
 "Required reading for any young feminist—and everyone else, too."
—Vanessa Wruble, Co-founder, Women's March on Washington

★ "With the 100th anniversary of the amendment's passage coming up in 2020, the book is very timely."  —School Library Connection, starred review

★ "There are many books about the women's suffrage movement and the leaders who pushed, marched, insisted, and persisted until voting rights became a reality. But few offer such a comprehensive overview while still being appealingly accessible to a middle-grade audience." 
—Booklist, starred review 

"She [Zimet] reveals their complexities by discussing their marital and family choices, their racial backgrounds, their personality and generational differences, and their opinions on how efforts were to be organized. Readers will be captivated from beginning to end." —School Library Journal

"A timely, eye-opening history." —Kirkus Reviews

"A conversational tone. . .makes this primer all the more accessible and relevant, as does the observation that, with the proposed Equal Rights Amendment still in limbo, the struggle for women's rights is in no way over."  —Publishers Weekly

"Zimet's use of narrative techniques in this work of nonfiction brings this history to life and, often, it makes for an exciting read." —VOYA