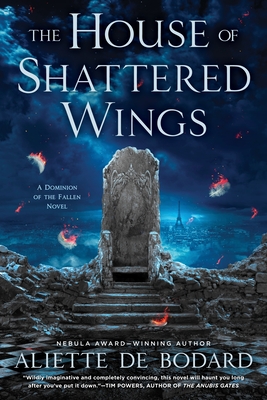 The House of Shattered Wings (A Dominion of the Fallen Novel #1) (Paperback)
Ace, 9780451477644, 416pp.
Publication Date: August 2, 2016
* Individual store prices may vary.
Description
Winner of the British Science Fiction Association Award for Best Novel

Multi-award winning author Aliette de Bodard, brings her story of the War in Heaven to Paris, igniting the City of Light in a fantasy of divine power and deep conspiracy…

In the late twentieth century, the streets of Paris are lined with haunted ruins, the aftermath of a Great War between arcane powers. Those that survived the carnage still retain their irrepressible appetite for novelty and distraction, and The Great Houses still vie for dominion over France's once grand capital.

Once the most powerful and formidable, House Silverspires now lies in disarray. Within its walls, three very different people must come together: a naive but powerful Fallen angel; an alchemist with a self-destructive addiction; and a resentful young man wielding spells of unknown origin. They may be Silverspires' salvation—or the architects of its last, irreversible fall. And if Silverspires falls, so may the city itself.
About the Author
Aliette de Bodard is a multi-award-winning author. She is a half-French, half-Vietnamese computer and history geek who lives in Paris and has a special interest in non-Western civilisations, particularly Ancient Vietnam, Ancient China and Ancient Mesoamerica.
Praise For The House of Shattered Wings (A Dominion of the Fallen Novel #1)…
"The devastated Paris of Aliette de Bodard's novel is especially haunting…A series of mysterious deaths turns the novel into a surprising but compelling murder mystery, which plays out according to the supernatural terms de Bodard has laid out so evocatively."—The Chicago Tribune
 
"The House of Shattered Wings exists in a rich, evocative Paris that is thick with magical history. Pathos and beauty intertwine in a novel filled with longing."—Mary Robinette Kowal, Multiple-Hugo award winning author of The Glamourist Histories
 
"A Gothic masterpiece of supernatural intrigues, loves and betrayals in a ruined and decadent future Paris—wildly imaginative and completely convincing, this novel will haunt you long after you've put it down."—Tim Powers, author of The Anubis Gates
 
"Lyrical, sophisticated, lush, suspenseful…brings to life an exciting world of deep magic and complex, layered characters."—Ken Liu, author of The Grace of Kings
 
"Fantastic! De Bodard's tale of a post-everything Paris, struggling toward an uncertain future beneath the burden of its imperial sins, burns with vengeful magic and subtle, shining prose."—Max Gladstone, author of the Craft Sequence

"De Bodard aptly mixes moral conflicts and the desperate need to survive in a fantastical spy thriller that reads like a hybrid of le Carré and Milton, all tinged with the melancholy of golden ages lost."—Publishers Weekly
or
Not Currently Available for Direct Purchase