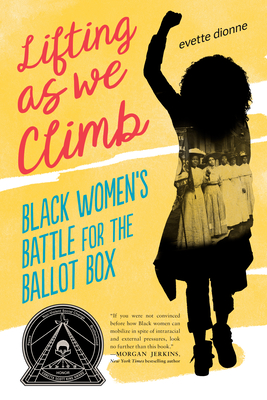 Lifting as We Climb
Black Women's Battle for the Ballot Box
Paperback

* Individual store prices may vary.
Other Editions of This Title:
Digital Audiobook (4/20/2020)
Hardcover (4/21/2020)
Prebound (1/4/2022)
Library Binding, Large Print (8/10/2021)
Description
For African American women, the fight for the right to vote was only one battle.

This Coretta Scott King Author Honor Book and National Book Award longlisted work tells the important, overlooked story of black women as a force in the suffrage movement—when fellow suffragists did not accept them as equal partners in the struggle.

Susan B. Anthony. Elizabeth Cady Stanton. Alice Paul. The Women's Rights Convention at Seneca Falls. The 1913 Women's March in D.C. When the epic story of the suffrage movement in the United States is told, the most familiar leaders, speakers at meetings, and participants in marches written about or pictured are generally white.

That's not the real story.

Women of color, especially African American women, were fighting for their right to vote and to be treated as full, equal citizens of the United States. Their battlefront wasn't just about gender. African American women had to deal with white abolitionist-suffragists who drew the line at sharing power with their black sisters. They had to overcome deep, exclusionary racial prejudices that were rife in the American suffrage movement. And they had to maintain their dignity--and safety--in a society that tried to keep them in its bottom ranks.

Lifting as We Climb is the empowering story of African American women who refused to accept all this. Women in black church groups, black female sororities, black women's improvement societies and social clubs. Women who formed their own black suffrage associations when white-dominated national suffrage groups rejected them. Women like Mary Church Terrell, a founder of the National Association of Colored Women and of the NAACP; or educator-activist Anna Julia Cooper who championed women getting the vote and a college education; or the crusading journalist Ida B. Wells, a leader in both the suffrage and anti-lynching movements.

Author Evette Dionne, a feminist culture writer and the editor-in-chief of Bitch Media, has uncovered an extraordinary and underrepresented history of black women. In her powerful book, she draws an important historical line from abolition to suffrage to civil rights to contemporary young activists—filling in the blanks of the American suffrage story.
Praise For Lifting as We Climb: Black Women's Battle for the Ballot Box…
CORETTA SCOTT KING AUTHOR HONOR BOOK
LONGLISTED FOR THE NATIONAL BOOK AWARD
2021 ORBIS PICTUS AWARD HONOR BOOK
SCHOOL LIBRARY JOURNAL'S BEST BOOKS OF 2020

★"Dionne provides a detailed and comprehensive look at the overlooked roles African American women played in the efforts to end slavery and then to secure the right to vote for women, arguing that black women worked consistently for their communities in all areas. A lively and critical addition as the United States commemorates the centennial of women's suffrage."      
—Kirkus Reviews (STARRED REVIEW)

★ "The identification of African American women activists and the parts they played in American history is the strength of Dionne's book...A must-purchase."     
—School Library Journal (STARRED REVIEW)

★ "Dionne pulls back the veil...offering up an essential work for middle graders that helps fill a gaping void."      
—Booklist (STARRED REVIEW)

"Dionne's meticulous research provides insight into how Black women maneuvered the intersectionality [of women's rights and African American rights]...She chronicles and champions each heroine who pushed through prejudice to contribute to the overall suffrage movement, as well as their contributions to their immediate communities."     
—Horn Book

"Evette Dionne is a seminal voice on our history, and a compelling writer on top of that. Every page feels like an urgent step toward learning the lessons of our past as they are terribly necessary today."
—Ashley C. Ford, culture journalist, podcast host, and author of Somebody's Daughter

"Evette Dionne's voice is the first streak of light that announces a new and exciting dawn. Lifting as We Climb is impressively researched, its structure crafted as a mosaic where characters weave in and out, their politics lacing their conversations and interactions with one another."
—Morgan Jerkins, NYT bestselling author of This Will Be My Undoing: Living at the Intersection of Black, Female, and Feminist in (White) America 

"Lifting as We Climb is the book everyone has been waiting for. Evette Dionne brings to life the stories of the African American suffragists and their immense impact on women gaining the right to vote."
—Susan Zimet, author of Roses and Radicals: The Epic Story of How American Women Won the Right to Vote

"This book is so much more about our future than about our past! Evette Dionne has created a more complete narrative of women's history in America and with that inspires readers to realize a future which catapults each woman's political potential."
—Amy Richards, author of We Are Makers and co-founder of Feminist Camp
Viking Books for Young Readers, 9780451481559, 176pp.
Publication Date: January 4, 2022
About the Author
Evette Dionne is a black feminist writer and the editor-in-chief of Bitch Media. Her writings about race, gender, and culture have appeared in Teen Vogue, Refinery29, Bustle, Self, The Guardian, and The New York Times, among other publications. Before becoming a writer and editor, Dionne taught eighth graders about social justice and tenth graders about world literature. Visit her at www.evettedionne.com.