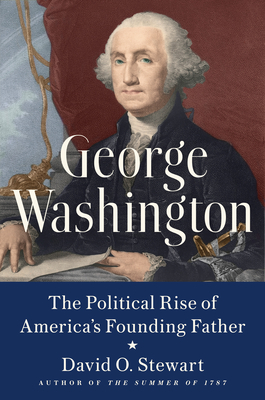 George Washington
The Political Rise of America's Founding Father
Hardcover

* Individual store prices may vary.
Other Editions of This Title:
Digital Audiobook (2/8/2021)
Paperback (2/8/2022)
Description
A fascinating and illuminating account of how George Washington became the dominant force in the creation of the United States of America, from award-winning author David O. Stewart

"An outstanding biography . . . [George Washington] has a narrative drive such a life deserves."—The Wall Street Journal

Washington's rise constitutes one of the greatest self-reinventions in history. In his midtwenties, this third son of a modest Virginia planter had ruined his own military career thanks to an outrageous ego. But by his midforties, that headstrong, unwise young man had evolved into an unassailable leader chosen as the commander in chief of the fledgling Continental Army. By his midfifties, he was unanimously elected the nation's first president. How did Washington emerge from the wilderness to become the central founder of the United States of America?

In this remarkable new portrait, award-winning historian David O. Stewart unveils the political education that made Washington a master politician—and America's most essential leader. From Virginia's House of Burgesses, where Washington mastered the craft and timing of a practicing politician, to his management of local government as a justice of the Fairfax County Court to his eventual role in the Second Continental Congress and his grueling generalship in the American Revolution, Washington perfected the art of governing and service, earned trust, and built bridges. The lessons in leadership he absorbed along the way would be invaluable during the early years of the republic as he fought to unify the new nation.
Praise For George Washington: The Political Rise of America's Founding Father…
Praise for George Washington
"Stewart has written an outstanding biography that both avoids hagiography and acknowledges the greatness of Washington's character, all while playing close attention to his rarely voiced but no less fierce political ambitions. . . . Mr. Stewart's writing is clear, often superlative, his judgments are nuanced, and the whole has a narrative drive such a life deserves."—The Wall Street Journal

"David O. Stewart brings his characteristic grace and skill to this portrait of the political George Washington, liberating the most elusive of our Founders from the mists of myth to discover a shrewd and approachable human being. At a time when politics seems beyond redemption, Stewart's book is a welcome reminder of the possibilities, however imperfect, of the public arena."—Jon Meacham, Pulitzer Prize–winning author of His Truth Is Marching On

"By focusing on the political genius of George Washington, David O. Stewart has produced an important new portrait of our first president. As Stewart demonstrates time and time again, with vivid prose and a wonderful sense of pacing, great leaders are also great learners. In this time of division and turmoil, this is the book we need."—Nathaniel Philbrick, National Book Award–winning author of In the Hurricane's Eye: The Genius of George Washington and the Victory at Yorktown

"David O. Stewart's innovative and important study of George Washington's political career succeeds because it places his successes as president of the United States within the context of his whole life and times. The most fascinating thing about Washington is not how he was great, but how he became great over the course of a dramatic career, compellingly chronicled in this book."—Edward G. Lengel, author of General George Washington: A Military Life

"In this lively and admirable study, Stewart offers a balanced and thoughtfully well-written appreciation of George Washington's life and leadership. A must for fans of biographies."—Library Journal (starred review)

"Engaging . . . Devotees of the Founding Fathers will not want to miss the volume about the master politician, and American history buffs will be amazed by Stewart's ability to hold your attention in this lengthy tome."—The Virginia Gazette
 
"Examines in detail and with excellent analysis how Washington developed the political skills that would serve him in both war and peace. . . . A truly fresh look at one of the most chronicled figures in American history."—New York Journal of Books
 
"Under Stewart's energetic hand, the cold-marble hero warms into a flawed yet remarkable person: ambitious, evenhanded, tender, callous, impetuous in his youth, wiser with age."—Washington Independent Review of Books
 
"One of the most insightful books about George Washington. [Stewart's] explanation of Washington as a masterful politician is important and convincing."—The Virginia Magazine of History and Biography
 
"Stewart addresses the political aptitude of the Father of the Nation . . .[in this] readable and revealing contemporary look at Washington."—Booklist (starred review)
Dutton, 9780451488985, 576pp.
Publication Date: February 9, 2021
About the Author
David O. Stewart turned to writing after a career practicing law in Washington, DC, defending accused criminals and challenging government actions as unconstitutional. He is a national bestselling and award-winning author of four previous books on American history. He is formerly the president of the Washington Independent Review of Books.