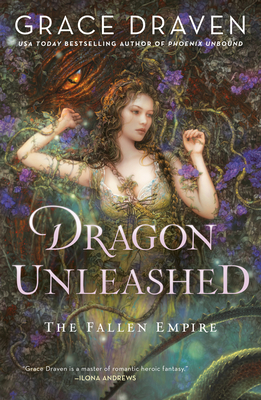 Dragon Unleashed (The Fallen Empire #2)
Paperback

* Individual store prices may vary.
Other Editions of This Title:
Digital Audiobook (6/8/2020)
Description
A dragon shapeshifter and a healer with power over the earth fight a corrupt empire in this thrilling and deeply emotional romantic fantasy from the USA Today bestselling author of Radiance.

Magic is outlawed in the Krael Empire and punishable by death. Born with the gift of earth magic, the free trader Halani keeps her dangerous secret closely guarded. When her uncle buys a mysterious artifact, a piece of bone belonging to a long-dead draga, Halani knows it's far more than what it seems.

Dragas haven't been seen for more than a century, and most believe them extinct. They're wrong. Dragas still walk among the denizens of the Empire, disguised as humans. Malachus is a draga living on borrowed time. The magic that has protected him will soon turn on him--unless he finds a key part of his heritage. He has tracked it to a group of free traders, among them a grave-robbing earth witch who fascinates him as much as she frustrates him with her many secrets.

Unbeknownst to both, the Empire's twisted empress searches for a draga of her own, to capture and kill as a trophy. As Malachus the hunter becomes the hunted, Halani must risk herself and all she loves to save him from the Empire's machinations and his own lethal birthright.
Praise For Dragon Unleashed (The Fallen Empire #2)…
"Grace Draven has outdone herself with Dragon Unleashed! She's deepened and enriched the world established in Phoenix Unbound, spinning new twists and turns on an already magically compelling mythology. An epic tale of deception and greed that tests the bonds of family loyalty, Dragon Unleashed is also deftly woven romance that burns with sexual tension, then becomes swooningly delicious. With an original, sexy take on dragon shifters and a smart, self-contained healer, Dragon Unleashed kept me mesmerized and longing for more. This may well be Draven's best book yet."--Jeffe Kennedy, award-winning author of The Orchid Throne

"Plenty of adventure, drama, and whirlwind romance along with a satisfyingly epic and world-changing final set piece."--Booklist

Praise for Grace Draven and The Fallen Empire series

"Grace Draven's exciting romantic fantasy features characters who are fresh and original. Their problems and triumphs will keep you reading into the night."—Charlaine Harris, #1 New York Times bestselling author

"Fierce and captivating, Phoenix Unbound is the story of a gladiator and a fire witch fighting for their freedom against an empire that wants them enslaved.  With impossible odds, breathtaking battles, terrifying magic, and an unlikely love, this book is a must read. Grace Draven is a master of romantic heroic fantasy."—Ilona Andrews, #1 New York Times bestselling author 

"Fabulous. Quite possibly Grace Draven's best book yet. I couldn't put it down, and I didn't want it to end!"—C.L. Wilson, New York Times bestselling author of The Sea King

"Must-read fantasy. . . . a wonderful story—full of romance, captivating characters and a fantasy world that's beguiling and easily understood."--USAToday.com 

"Draven's outdone herself with this magnetic heroine and a magical world readers will be eager to return to."--Publishers Weekly (starred review) 

"With exquisitely drawn characters and superb worldbuilding, Phoenix Unbound once again proves Grace Draven's mastery of fantasy romance. This is exactly the kind of sweepingly romantic adventure story that I've been yearning for—and I can't wait for more."—Meljean Brook, New York Times bestselling author of the Iron Seas Series

"Truly exceptional. Be prepared to fall under the spell of these fierce, passionate characters and to root for them with all your heart."—Amanda Bouchet, USA Today bestselling author of The Kingmaker Chronicles

"Grace Draven is one of the finest romantic fantasy writers out there....Tense, gripping, and entirely believable, it hooked me from the first page."—Thea Harrison, New York Times bestselling author

"Grace Draven weaves a spellbinding book that is impossible to forget....I can't give this book enough praise. I came into it with stupidly high expectations, and it exceeded them all."—Laura Thalassa, author of The Four Horsemen series

"Stunning! This book entices and mesmerizes to an astonishing degree. Like an intoxicating elixir, the more I read, the more I craved."—Darynda Jones, New York Times bestselling author 

"When it comes to fantasy romance, Draven is in a class by herself....A phenomenal start to what is sure to be an amazing series."—RT Book Reviews
Ace, 9780451489777, 416pp.
Publication Date: June 9, 2020
About the Author
Grace Draven is a Louisiana native living in Texas with her husband, kids, and a big doofus dog. She is the winner of the RT Reviewers' Choice Award for Best Fantasy Romance of 2016 and a USA Today bestselling author.