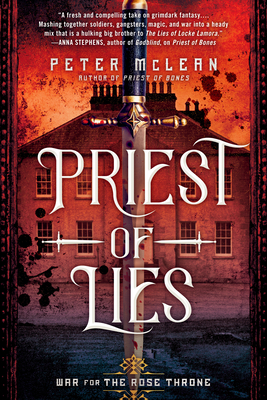 Priest of Lies (War for the Rose Throne #2)
Paperback

* Individual store prices may vary.
Other Editions of This Title:
Digital Audiobook (7/1/2019)
Description
Tomas Piety has been many things: soldier, priest, gangster...and spy. As Tomas's power grows, the nobility better watch their backs, in this dark and gritty epic fantasy series.

People are weak, and the poorer and more oppressed they are, the weaker they become--until they can't take it anymore. And when  they rise up...may the gods help their oppressors.

When Tomas Piety returned from the war, he just wanted to rebuild his empire of crime with his gang of Pious Men. But his past as a spy for the Queen's Men drew him back in and brought him more power than he ever imagined.

Now, with half of his city in ashes and the Queen's Men at his back, the webs of political intrigue stretch out from the capital to pull Tomas in. Dannsburg is calling.

In Dannsburg the nobility fight with words, not blades, but the results are every bit as bloody. In this pit of beasts, Tomas must decide once and for all whether he is truly the people's champion...or just a priest of lies.
Praise For Priest of Lies (War for the Rose Throne #2)…
"Thomas Piety is back, with machinations, mayhem and blood aplenty. If you like your fantasy with a side of dark and gritty you won't want to miss this."—Christina Henry, author of The Girl in Red

Praise for Priest of Bones
"A charismatic and very more-ish book with solid prose and a strong voice.  Priest of Bones is a story of organised crime with shades of The Godfather. It sounds grim and dark ... and it is ... but our priest of bones is quite the humanitarian for a ruthless crime lord. With high tempo action it's just very fun to read."--Mark Lawrence, author Red Sister

"I can safely say that this will be the book dark fantasy and grimdark fans will be raving about at the end of this year…[McLean] has presented a brilliant debut grimdark outing that is fascinating, gripping and has everything that I look for in a crime-focused novel."--Fantasy Book Review

"McLean's writing is punchy and fast-paced…Anyone itching to read a high-stakes story should pick up this delightful combination of medieval fantasy and crime drama."—Publishers Weekly

"A pitch-perfect blend of fantasy and organized-crime sagas like Puzo's The Godfather or Pileggi's Wiseguy, this novel….is very, very hard to put down. Expect word of mouth support from fantasy fans to turn this one into a genre hit."--Booklist

"Priest of Bones is sure to be among the favorite reads for grimdark fantasy fans this year."—Grimdark Magazine

 "An enjoyable read for lovers of small-scale fantasy, with a diverse cast of crooks. Priest of Bones can be effectively summarised as 'gangsters in fantasyville.' McLean manages to combine two of my most liked elements in fantasy – a quick moving plot, and characters with realistic relationships. Fans of Daniel Polansky's Low Town books, Mark Lawrence's Prince of Thorns or dare I say Blackwing will find a number of similar themes put forward and I feel that's the readership who will most appreciate this book."—Ed McDonald, author of Blackwing 

"Priest of Bones is a fresh and compelling take on grimdark fantasy and has done something I haven't before seen in the genre. Mashing together soldiers, gangsters, magic and war into a heady mix that is a hulking big brother to The Lies of Locke Lamora, this is the first in an unmissable series."—Anna Stephens, author of Godblind

"Priest of Bones is a fast paced fantasy filled with magic and combat, but with the intrigue and strategy of a crime thriller. McLean writes soldiers and their experience of returning from war like someone who has been there. There is excellent character development throughout; I'd follow the Piety brothers through any story."—Michael Mammay, author of Planetside

"Managing to be exciting, narratively taut, and a commentary on the terrible things war and violence do to people is no mean feat, but Peter McLean manages it with Priest of Bones. I wish I had written this."—RJ Barker, author of Blood of Assassins

"Absolutely sensational...The prose is smooth and easy to follow, and that combined with a flowing story, an even pace and a rising tempo, result in one of those books that you could easily read in one go. All in all, Priest of Bones is Low Fantasy at its finest, and I wouldn't hesitate to call it the Fantasy Debut of the Year."—Booknest

"If violence and planning, honor among thieves and treachery among lawmen, blood and profanity and spies and explosions are your thing, Priest of Bones is the book for you. Get it. Read it. Wait impatiently for the sequel."—J.C. Nelson, author of The Reburialist
Ace, 9780451490230, 368pp.
Publication Date: July 2, 2019
About the Author
Peter McLean lives in the UK, where he studies martial arts and magic, and volunteers at a prison, teaching creative writing. He is the author of the Burned Man urban fantasy series.
or
Not Currently Available for Direct Purchase