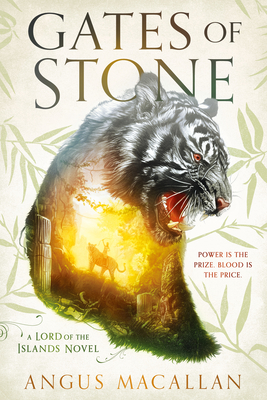 Gates of Stone (A Lord of the Islands Novel #1) (Paperback)
Ace, 9780451490278, 544pp.
Publication Date: February 19, 2019
* Individual store prices may vary.
Description
In a world of blood and magic, a powerful epic fantasy begins...

AN EMPEROR'S DAUGHTER WHO WILL NOT BE DENIED
Just before her sixteenth birthday, Princess Katerina is refused her rightful place as heir to the Empire of the Ice-Bear—solely because of her sex. Determined to regain her inheritance, she murders the foreign lord she's been ordered to marry and embarks on a perilous voyage to the lush, tropical islands of the Laut Besar in search of the vast wealth and power she needs to claim the Empire for herself. 

A PRINCE FORCED TO TAKE A STAND
On a small island kingdom, Prince Arjun's idyllic life is shattered when a malignant sorcerer invades, slaughters his people and steals the sacred sword of Jun's ancestors. With his royal father dead and his palace in ruins, Jun reluctantly tracks the sorcerer and the magical blade far across the pirate-infested waters of the Laut Besar. 

A SORCERER SEEKING TO DESTROY THE WORLD
Long ago the powerful relics known as the Seven Keys were used to safely lock away the terrifying evils of the Seven Hells. With Jun's ancient sword in his grasp, the sorcerer Mangku has claimed the first Key, and begun his mission to unleash catastrophe upon the land. 

As the destinies of these three entwine in the lawless islands of the Laut Besar, the fate of humanity hangs in the balance. For if the sorcerer cannot be stopped, the world itself will be unmade…
About the Author
Angus Macallan is a pseudonym for a British fiction writer and former journalist who is now based just outside London. He was born in China and lived, worked, and studied in Asia for much of his early adult life. He was awarded a masters degree with honors in social anthropology by the University of Edinburgh, partly based on his fieldwork in Indonesia, which led to a dissertation: "Magic, Sorcery and Society." He also worked as a journalist in Hong Kong, India, Pakistan, and Afghanistan.
Praise For Gates of Stone (A Lord of the Islands Novel #1)…
Praise for Angus Macallan and Gates of Stone


"With tense political drama and rip-roaring action in a fresh and believable Asian-inspired setting, Gates of Stone reads like a collaboration between Joe Abercrombie and James Clavell. Add ancient feuding sorcerers and a queen who would eat Cersei Lannister for breakfast, and you have the makings of an excellent fantasy debut. Angus Macallan is a compelling new voice in epic fantasy."—Peter McLean, author of Priest of Bones


"I meant to give Gates of Stone a quick look before I started reading it--and couldn't put it down. Angus Macallan is a brilliant storyteller!"—Taylor Anderson, New York Times bestselling author of the Destroyermen series

"Macallan . . . has created a solid fantasy debut with a strong yet brutal princess who recalls George R. R. Martin's Cersei Lannister. Epic worldbuilding with extensive Asian influences, especially Indonesian, meets bold characters and detailed battles across land and sea."--Library Journal