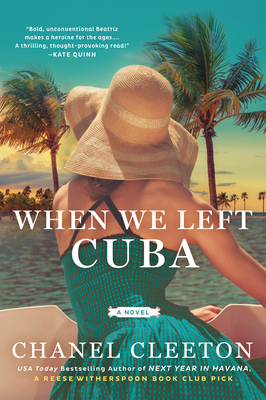 When We Left Cuba
Paperback

* Individual store prices may vary.
Other Editions of This Title:
Digital Audiobook (4/8/2019)
Library Binding, Large Print (9/11/2019)
Compact Disc (4/9/2019)
MP3 CD (4/9/2019)
Compact Disc (4/9/2019)
Description
Instant New York Times bestseller!

In 1960s Florida, a young Cuban exile will risk her life—and heart—to take back her country in this exhilarating historical novel from the author of The Last Train to Key West and Next Year in Havana, a Reese Witherspoon Book Club pick.

Beautiful. Daring. Deadly.

The Cuban Revolution took everything from sugar heiress Beatriz Perez—her family, her people, her country. Recruited by the CIA to infiltrate Fidel Castro's inner circle and pulled into the dangerous world of espionage, Beatriz is consumed by her quest for revenge and her desire to reclaim the life she lost.

As the Cold War swells like a hurricane over the shores of the Florida Strait, Beatriz is caught between the clash of Cuban American politics and the perils of a forbidden affair with a powerful man driven by ambitions of his own. When the ever-changing tides of history threaten everything she has fought for, she must make a choice between her past and future—but the wrong move could cost Beatriz everything—not just the island she loves, but also the man who has stolen her heart...
Praise For When We Left Cuba…
"You won't be able to put this one down."
—Cosmopolitan

"A thrilling story about love, loss, and what we will do to go home again. Utterly un-put-down-able."
—PopSugar

"Both a hard-earned love story and a visceral account of history. Cleeton's writing pulsates with passion and intimacy…. She's long since established herself as a remarkable writer, but with When We Left Cuba, she's written with a sublime force that keeps us tethered to her words."
—The Washington Post

"A beautiful and utterly transporting novel."
—Publisher's Weekly

"With rich historical detail, incisive dialogue and a firebrand heroine, Cleeton paints a vivid portrait of a woman caught in the currents of a turbulent time yet determined to make her own way."
—Shelf Awareness

"An exhilarating read with a fearless heroine."
—Woman's World

"Has sex, drama, suspense…and pairs perfectly with a mojito."
—People

"When We Left Cuba is chock full of espionage, murder, romance, politics, family drama, and themes of national identity...If you loved Next Year in Havana, read this straightaway!"
—Key Womans World

"Bold, unconventional Beatriz makes a heroine for the ages...A thrilling, thought-provoking read!"
—Kate Quinn, New York Times bestselling author of The Alice Network and The Huntress

"A gorgeously atmospheric homage to a country and a past that vibrates with emotion on every page.  Historic events, espionage, and a Kennedy-esque romance make this novel a rich read, but the addition of a formidable heroine truly makes it unputdownable.  This is not just historical fiction, but also an unrequited love story for a country and a way of life, as well as a journey of self-discovery for a woman torn between love and the two countries she calls home."
—Karen White, New York Times bestselling author  

"Cleeton once again delivers a masterful tale of political intrigue tinged with personal heartbreak. Her ferocity and fearlessness can be found on every page, and Beatriz's story—one of vengeance, betrayal, and bravery—astonishes and thrills."
—Fiona Davis, national bestselling author of The Masterpiece

"Atmospheric and evocative, When We Left Cuba captivates with its compelling portrayals of the glamorous Cuban exile community and powerful forbidden love set against the dangerous intrigue of the Cold War. Unforgettable and unputdownable!"
—Laura Kamoie, New York Times bestselling coauthor of My Dear Hamilton

"By turns a captivating historical novel, a sweeping love story, and a daring tale of espionage—I absolutely adored this gem of a novel."
—Jillian Cantor, author of The Lost Letter and In Another Time

"Oozing with atmosphere and intrigue, When We Left Cuba is an evocative, powerful and beautifully written historical novel which had me completely captivated from the first page to the last. Take a bow, Chanel Cleeton!"
—Hazel Gaynor, New York Times bestselling author of The Lighthouse Keeper's Daughter

"With a sure hand for historical detail, an impeccable eye for setting, and a heroine who grasps hold of your heart and never lets go, Chanel Cleeton has created another dazzlingly atmospheric and absorbing story of Cuba and its exiles. A beautiful and profoundly affecting novel from a writer whose work belongs on the shelves of every lover of historical fiction."
—Jennifer Robson, USA Today bestselling author of The Gown

"Powerful, emotional and oh so real. One woman's fight to reclaim her own country, against all odds and no matter what the cost is intertwined with the real history of our lifetime and creates an unforgettable story."
—Rhys Bowen, New York Times and #1 Kindle bestselling author of The Tuscan Child and the Royal Spyness mysteries

"Scintillating....An intriguing dive into the turbulent Cuban-American history of the 1960s, and the unorthodox choices made by a strong historical woman."
—Marie Benedict"Rich in historic detail, When We Left Cuba has it all—the excitement of a page-turning thriller, the sizzle of a steamy romance and the elegant prose of a master storyteller."
—Renée Rosen, author of Park Avenue Summer

"Cleeton draws you into the glamour, intrigue, and uncertainty of the Cuban exile community just after Castro's coup through a heroine who could give Mata Hari a run for her money....You'll be rooting for Beatriz to change the course of history—and find her own hard-won happily ever after."
—Lauren Willig, New York Times bestselling author of The English Wife

"With a richly imagined setting and a heroine worth rooting for from the start, When We Left Cuba is thrilling and romantic, and timely to boot."
—Michelle Gable, New York Times bestselling author of The Summer I Met Jack

"A compelling unputdownable story of love—for a man, for a country, for a past ripped away, and a future's tenuous promise. When We Left Cuba swept me away."
—Shelley Noble, New York Times bestselling author of Lighthouse Beach.

"Electric and fierce. Beatriz Perez's romance with a handsome, important senator will sweep you away, but it's her profound loyalty to Cuba and her formidable determination to be her own woman despite life-and-death odds that will really hold you in thrall."
—Kerri Maher, author of The Kennedy Debutante

"In a tale as tempestuous as Cuba itself, When We Left Cuba is the revolutionary story of one woman's bold courage and her many sacrifices for her beloved country. An absolutely spectacular read!"
—Stephanie Marie Thornton, author of American Princess

"Beatriz Perez's brand of vintage-Havana glamour dazzles with equal parts intrigue, rebellion, and romance to make for an unforgettable story."
—Elise Hooper, author of The Other Alcott

"When We Left Cuba is a breathtaking book, and it captures what I love best about historical fiction."
—Camille Di Maio, author of The Way of Beauty

More Praise for Chanel Cleeton

"A beautiful novel that's full of forbidden passions, family secrets and a lot of courage and sacrifice."
—Reese Witherspoon

"A sweeping love story and tale of courage and familial and patriotic legacy that spans generations."
—Entertainment Weekly

"This Cuban-set historical novel is just what you need to get that ~extra-summery~ feeling."
—Bustle

"The Ultimate Beach Read"
—Real Simple
 
"Next Year in Havana reminds us that while love is complicated and occasionally heartbreaking, it's always worth the risk."
—NPR

"A flat-out stunner of a book, at once a dual-timeline mystery, a passionate romance, and paean to the tragedy and beauty of war-torn Cuba. Simply wonderful!"
—Kate Quinn, New York Times bestselling author of The Alice Network

"Cleeton has penned an atmospheric, politically insightful, and highly hopeful homage to a lost world. Devour Next Year in Havana and you, too, will smell the perfumed groves, taste the ropa vieja, and feel the sun on your face."
—Stephanie Dray, New York Times bestselling coauthor of America's First Daughter

"Don't miss this smart, moving, and romantic story."
—HelloGiggles.com
Berkley, 9780451490865, 368pp.
Publication Date: April 9, 2019
About the Author
Chanel Cleeton is the New York Times and USA Today bestselling author of The Last Train to Key West, When We Left Cuba, and the Reese Witherspoon Book Club pick Next Year in Havana. Originally from Florida, she grew up on stories of her family's exodus from Cuba following the events of the Cuban Revolution. Her passion for politics and history continued during her years spent studying in England where she earned a bachelor's degree in international relations from Richmond, the American International University in London, and a master's degree in global politics from the London School of Economics and Political Science. Chanel also received her Juris Doctor from the University of South Carolina School of Law. She loves to travel and has lived in the Caribbean, Europe, and Asia.