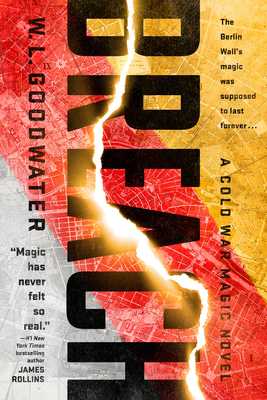 Breach (Cold War Magic novel, A #1)
Paperback

* Individual store prices may vary.
Other Editions of This Title:
Digital Audiobook (11/5/2018)
Description
The first novel in a new Cold War fantasy series, where the Berlin Wall is made entirely of magic. When a breach unexpectedly appears in the wall, spies from both sides swarm to the city as World War III threatens to spark.

AFTER THE WAR, THE WALL BROUGHT AN UNEASY PEACE.

When Soviet magicians conjured an arcane wall to blockade occupied Berlin, the world was outraged but let it stand for the sake of peace. Now, after ten years of fighting with spies instead of spells, the CIA has discovered the unthinkable...

THE WALL IS FAILING.

While refugees and soldiers mass along the border, operatives from East and West converge on the most dangerous city in the world to either stop the crisis, or take advantage of it.

Karen, a young magician with the American Office of Magical Research and Deployment, is sent to investigate the breach in the Wall and determine if it can be fixed. Instead, she discovers that the truth is elusive in this divided city--and that even magic itself has its own agenda.

THE TRUTH OF THE WALL IS ABOUT TO BE REVEALED.
Praise For Breach (Cold War Magic novel, A #1)…
"Magic has never felt so real. W.L. Goodwater's debut Breach presents an alternate world that feels as authentic as true history, even when steeped in spellcraft and magic. It reminded me of the best of Jim Butcher, but charts a path all its own."—James Rollins, #1 New York Times bestseller of The Demon Crown

"Breach is a Cold War fantasy that nails the period flavor of a divided Berlin haunted by the horrors of the past, with a great cast and plenty of magic.  Fans of Tim Powers' Declare or Charles Stross' The Atrocity Archives will like this one!"—Django Wexler, author of The Infernal Battalion

"W. L. Goodwater delivers one surprise after another in his high-octane magical spy thriller Breach. It's like Lev Grossman's The Magicians meets John Le Carré's classic The Spy Who Came in From the Cold, but with more action and better one-liners. Goodwater is a kick-ass new voice in the modern-fantasy arena!"—David Mack, New York Times bestselling author of the Dark Arts series

"Breach is a galloping, cutthroat thrill ride with characters you can root for, even if you sometimes want to slap them."—Lara Elena Donnelly, author of Amberlough

"With a vintage vibe and modern magic, Breach is a perfectly unique spy thriller, with an exceptional cast and a killer setting that's colder than the Cold War ever dreamed of being. It's one hell of a mystery, yes. But it's also a whole lot of fun."—Cherie Priest, author of Brimstone

"Goodwater sprinkles powerful truths about the nature of power into this entertaining tale of magic and espionage…[a] well constructed world and thrilling vibe."—Publishers Weekly

"Goodwater's debut is a fantastic alternate version of the Cold War era…Magic, espionage, and history combine in this thrilling, fast-paced fantasy."--Booklist


"Breach combines the magical world building of The City and the City with the suspense of Cold War thrillers like Bridge of Spies, resulting in a cinematic suspense story that will keep readers on the edge of their seats until the very last page."---Book Page

"John Le Carre mets The Magicians…Goodwater combines elements of spy noir with adult fantasy to create an entirely new magical world that remains very much grounded in our own."—Den of Geek

"Balancing pace, character development, plot points, and information reveals, Breach delivers a hell of a read. This spy thriller crossed with a fantasy novel brings to life the tensions surrounding the Berlin Wall…Goodwater is an author to watch."—Primmlife

Ace, 9780451491039, 368pp.
Publication Date: November 6, 2018
About the Author
W. L. Goodwater lives with his wife and son on the coast. He designs software, teaches fencing, and writes novels -- though not necessarily in that order. Breach is his debut novel.