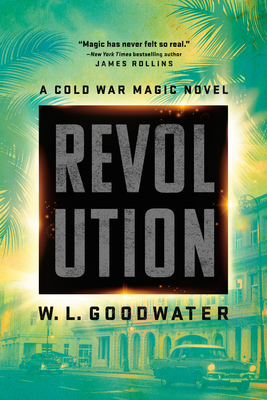 Revolution (Cold War Magic novel, A #2)
Paperback

* Individual store prices may vary.
Description
In the second novel in a thrilling Cold War fantasy series, American magician Karen O'Neil travels to Cuba to find a missing young girl intertwined with a new kind of magic that threatens to upend the balance of power of the whole world.

AFTER THE WALL FELL, NOTHING COULD BE THE SAME.

In Cold War Berlin, American magician Karen O'Neil defeated the ghosts of Germany's past and sealed the breach that threatened the whole world, but in doing so she learned a terrible truth: Magic cannot be trusted.

Despite her wariness of the new and growing powers she gained in Germany, Karen agrees to help an old friend and is drawn to Cuba, a world of opulence run by a corrupt government and ruthless, magic-obsessed mobsters.

In Havana, while the fires of revolution kindle, Karen searches for a missing girl whose fate is intertwined with impossible and deadly magic. And she knows she's being watched; both the Soviets and the CIA have designs on this island paradise, and their eyes are everywhere. But spies and rebels aren't the only dangers hiding in Havana's long shadows, and Karen will learn that the future can be just as dangerous as the past.

MANKIND WILL ALWAYS FIND NEW WAYS TO CREATE MONSTERS.
Praise For Revolution (Cold War Magic novel, A #2)…
Praise for Revolution

"This series really hits its stride in this thrilling sequel to BREACH...the mysteries are deeper, the stakes more personal..I can't wait to see what happens to Karen O'Neil next."—Christina Henry, author of The Girl in Red

"This supernatural spy thriller...hits all the right notes. The fun and thrilling fantasy/thriller mashup will remind readers of Jim Butcher or Lev Grossman with a little Robert Ludlum or John le Carré thrown in."—Library Journal

"By turns humorous, suspenseful, and deeply disquieting, this meaty thriller will keep readers on the edges of their seats."—Publishers Weekly

Praise for Breach

"Magic has never felt so real. W. L. Goodwater's debut, Breach, presents an alternate world that feels as authentic as true history, even when steeped in spellcraft and magic. It reminded me of the best of Jim Butcher, but charts a path all its own."--James Rollins, #1 New York Times bestselling author of The Demon Crown

"Goodwater's debut is a fantastic alternate version of the Cold War era....Magic, espionage, and history combine in this thrilling, fast-paced fantasy."--Booklist

"Goodwater sprinkles powerful truths about the nature of power into this entertaining tale of magic and espionage...[a] well-constructed world and thrilling vibe."--Publishers Weekly


"Goodwater delivers one surprise after another in his high-octane magical spy thriller Breach. It's like Lev Grossman's The Magicians meets John le Carré's classic The Spy Who Came in from the Cold, but with more action and better one-liners."--David Mack, New York Times bestselling author of the Dark Arts series

"With a vintage vibe and modern magic - Breach is a perfectly unique spy thriller, with an exceptional cast and a killer setting that's colder than the Cold War ever dreamed of being. It's one hell of a mystery, yes. But it's also a whole lot of fun."—Cherie Priest, author of Brimstone
 
"John Le Carre meets The Magicians…Goodwater combines elements of spy noir with adult fantasy to create an entirely new magical world that remains very much grounded in our own...A blend of fast-paced magical thrills and character-driven drama that also provides some much-needed catharsis based on a the very real anxieties of the world that exists outside the pages of a book."—Den of Geek
 
"Breach is a Cold War fantasy that nails the period flavor of a divided Berlin haunted by the horrors of the past, with a great cast and plenty of magic."—Django Wexler, author of The Infernal Battalion
Ace, 9780451491053, 336pp.
Publication Date: November 12, 2019
About the Author
W. L. Goodwater is the author of the Cold War Magic series. He lives on the California coast with his wife, kids, and cats. When he's not writing books, he's usually reading them. Or thinking about them. Or just staring lovingly at them. His wife might like books even more than he does, and she finds his vain attempts to organize their bookshelves endearing; they are a perfect couple.
or
Not Currently Available for Direct Purchase