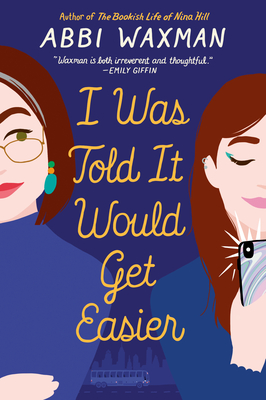 I Was Told It Would Get Easier
Paperback

* Individual store prices may vary.
Other Editions of This Title:
Digital Audiobook (6/15/2020)
Library Binding, Large Print (7/14/2021)
Description
"Abbi Waxman is both irreverent and thoughtful."—#1 New York Times bestselling author Emily Giffin

Squashed among a bus full of strangers, mother-daughter duo Jessica and Emily Burnstein watch their carefully mapped-out college tour devolve into a series of off-roading misadventures, from the USA Today bestselling author of The Bookish Life of Nina Hill.

Jessica and Emily Burnstein have very different ideas of how this college tour should go.

For Emily, it's a preview of freedom, exploring the possibility of her new and more exciting future. Not that she's sure she even wants to go to college, but let's ignore that for now. And maybe the other kids on the tour will like her more than the ones at school. . . . They have to, right?

For Jessica, it's a chance to bond with the daughter she seems to have lost. They used to be so close, but then Goldfish crackers and Play-Doh were no longer enough of a draw. She isn't even sure if Emily likes her anymore. To be honest, Jessica isn't sure she likes herself.

Together with a dozen strangers--and two familiar enemies--Jessica and Emily travel the East Coast, meeting up with family and old friends along the way. Surprises and secrets threaten their relationship and, in the end, change it forever.
Praise For I Was Told It Would Get Easier…
"Known for her charming and comical novels, Abbi Waxman's latest book stirs up all of the signature smiles and laughs."
—Woman's World

"Waxman shines at creating characters that feel like best friends, inspiring compassion, laughs, and cheers, and fans of Katherine Center and Linda Holmes' Evvie Drake Starts Over (2019) will adore this."
—Booklist

"Waxman expertly navigates the fraught shoals of college admissions in this spot-on tale…. Waxman's alternating first-person narration from Jessica and Emily rings true, while a memorable supporting cast…provide excellent support…This sweet treat doesn't require a college-bound child to enjoy, though anyone who has helped their offspring weather the admissions process will definitely appreciate this sharp send-up."
—Publishers Weekly

"Funny and insightful."
—BookRiot

"We're forever fans of Abbi Waxman's sweet, witty, feel-good novels. Her latest, about a mother and daughter making college visits along the East Coast, is her best yet."
—HelloGiggles

"An aptly and hilariously titled novel…Waxman again delivers with her signature wit and laugh-out-loud writing, offering us authentic characters who feel like people we've met and loved in our own lives — all while offering sly commentary on the roller coaster that is the college application process for parents and their college-hopefuls."
—Shondaland

"This book's strengths are the exploration of the mother-teen daughter dynamics and relationship and the author's remarkable gift for realistic, witty dialog. VERDICT: Recommended for fans of mother-daughter fiction with both lighthearted and serious moments."
—Library Journal

"Abbi Waxman's warm, quippy novels explore familial dynamics with sarcastic wit and plenty of heart…. Being a teenager--or parenting one--is tricky territory, but Waxman steers her characters through it with compassion, snappy dialogue and the right dose of zany humor. Things may (or may not) get easier for the Burnstein women, but the ride, literal and otherwise, is highly enjoyable."
—Shelf Awareness

Praise for The Bookish Life of Nina Hill

"Move over on the settee, Jane Austen. You've met your modern-day match in Abbi Waxman. Bitingly funny, relatable and intelligent, The Bookish Life of Nina Hill is a must for anyone who loves to read."
—Kristan Higgins, New York Times bestselling author of Life and Other Inconveniences

"Meet our bookish millennial heroine—a modern-day Elizabeth Bennet, if you will… Waxman's wit and wry humor stand out."
—The Washington Post

"Abbi Waxman offers up a quirky, eccentric romance that will charm any bookworm…. For anyone who's ever wondered if their greatest romance might come between the pages of books they read, Waxman offers a heartwarming tribute to that possibility."
—Entertainment Weekly

 "It's a shame The Bookish Life of Nina Hill only lasts 350 pages, because I wanted to be friends with Nina for far longer."
—Refinery29

"I hope you're in the mood to be downright delighted, because that's the state you'll find yourself in after reading The Bookish Life of Nina Hill."
—PopSugar

"The Bookish Life of Nina Hill will put a smile on your face the entire time you're reading it. It's a light, fun summer read with a cast of colorful and lovable characters that you wish were real and that you had on your trivia team. This book is the perfect beach read or pick-me-up for a cloudy day."
—Hypable

"[A] quirky, sweet story."
—Woman's World

"In this love letter to book nerds, Waxman introduces the extraordinary introvert Nina Hill…. With witty dialogue and a running sarcastic inner monologue, Waxman brings Nina to vibrant life as she upends her introverted routine and becomes part of the family. Fans of Jojo Moyes will love this."
—Publishers Weekly

"Waxman has created a thoroughly engaging character in this bookish, contemplative, set-in-her ways woman. Be prepared to chuckle."
—Kirkus Review (starred review)

"Book nerds will feel strong kinship with the engaging, introverted Nina Hill, who works in a bookstore, plays pub trivia, and loves office supplies… Readers will be captivated by Nina's droll sense of humor."
—Booklist (starred review)

"...charming and relatable for any introvert who would rather pass time with fictional characters than people, but will rise to the occasion with the right support."
—BookTrib

"Book lovers will absolutely relate to the central character in Abbi Waxman's third novel."
—O, The Oprah Magazine

"If you relate to staying in and JOMO (joy of missing out), you'll relate to Nina."
—Betches

"[F]ast, light, and fun."
—Modern Mrs. Darcy


Praise for Abbi Waxman

"Brilliant. Simply brilliant. The Garden of Small Beginnings is funny, poignant, and startling in its emotional intensity and in its ability to make the reader laugh and cry on the same page . . . I loved this book!"
—Karen White, New York Times bestselling author of the Tradd Street Novels

"This is my favorite kind of book—hilarious, sad, joyful. Beautifully written. Fun. I dare you not to enjoy it."
—Julia Claiborne Johnson, author of Be Frank With Me

"Meet your new favorite writer."
—The Daily Beast

"Waxman's skill at characterization . . . lifts this novel far above being just another 'widow finds love' story. Clearly an observer, Waxman has mastered the fine art of dialogue as well. Characters ring true right down to Lilian's two daughters, who often steal the show."
—Kirkus Reviews (starred review)

"Kudos to debut author Waxman for creating an endearing and realistic cast of main and supporting characters (including the children). Her narrative and dialog are drenched with spring showers of witty and irreverent humor."
—Library Journal (starred review)

"The Garden of Small Beginnings is a quirky, funny, and deeply thoughtful book."
—HelloGiggles

"Waxman's voice is witty, emotional, and often profound."
—InStyle (UK)

"This novel is filled with characters you'll love and wish you lived next door to in real life."
—Bustle 
Berkley, 9780451491893, 352pp.
Publication Date: June 16, 2020
About the Author
Abbi Waxman is the USA Today bestselling author of I Was Told It Would Get Easier, The Bookish Life of Nina Hill, Other People's Houses, and The Garden of Small Beginnings. She lives in Los Angeles, California, with her husband and three children.