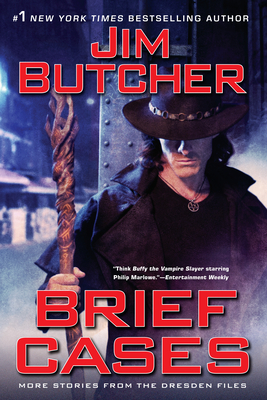 Brief Cases (Dresden Files)
Paperback

* Individual store prices may vary.
Other Editions of This Title:
Digital Audiobook (6/4/2018)
Hardcover (6/5/2018)
Description
An all-new Dresden Files story headlines this urban fantasy short story collection starring the Windy City's favorite wizard.

The world of Harry Dresden, Chicago's only professional wizard, is rife with intrigue—and creatures of all supernatural stripes. And you'll make their intimate acquaintance as Harry delves into the dark side of truth, justice, and the American way in this must-have short story collection.

From the Wild West to the bleachers at Wrigley Field, humans, zombies, incubi, and even fey royalty appear, ready to blur the line between friend and foe. In the never-before-published "Zoo Day," Harry treads new ground as a dad, while fan-favorite characters Molly Carpenter, his onetime apprentice, White Council Warden Anastasia Luccio, and even Bigfoot stalk through the pages of more classic tales.

With twelve stories in all, Brief Cases offers both longtime fans and first-time readers tantalizing glimpses into Harry's funny, gritty, and unforgettable realm, whetting their appetites for more to come from the wizard with a heart of gold.

The collection includes:

  •  "Curses," from Naked City, edited by Ellen Datlow
  •  "AAAA Wizardry," from the Dresden Files RPG
  •  "Even Hand," from Dark and Stormy Knights, edited by P. N. Elrod
  •  "B is for Bigfoot," from Under My Hat: Tales from the Cauldron, edited by Jonathan Strahan. Republished in Working for Bigfoot.
  •  "I was a Teenage Bigfoot," from Blood Lite III: Aftertaste, edited by Kevin J. Anderson. Republished in Working for Bigfoot.
  •  "Bigfoot on Campus," from Hex Appeal, edited by P. N. Elrod. Republished in Working for Bigfoot.
  •  "Bombshells," from Dangerous Women, edited by George R. R. Martin and Gardner Dozois
  •  "Jury Duty," from Unbound, edited by Shawn Speakman
  •  "Cold Case," from Shadowed Souls, edited by Jim Butcher and Kerrie Hughes
  •  "Day One," from Unfettered II, edited by Shawn Speakman
  •  "A Fistful of Warlocks," from Straight Outta Tombstone, edited by David Boop
  •  "Zoo Day," a brand-new novella, original to this collection
Praise For Brief Cases (Dresden Files)…
Praise for Jim Butcher and the Dresden Files
 
"Think Buffy the Vampire Slayer starring Philip Marlowe."—Entertainment Weekly
 
"Superlative."—Publishers Weekly (starred review)
 
"One of the most enjoyable marriages of the fantasy and mystery genres on the shelves."—Cinescape
 
"Butcher...spins an excellent noirish detective yarn in a well-crafted, supernaturally charged setting. The supporting cast is again fantastic, and Harry's wit continues to fly in the face of a peril-fraught plot."—Booklist (starred review)
 
"What's not to like about this series?...It takes the best elements of urban fantasy, mixes it with some good old-fashioned noir mystery, tosses in a dash of romance and a lot of high-octane action, shakes, stirs, and serves."—SF Site
 
"A tricky plot complete with against-the-clock pacing, firefights, explosions, and plenty of magic. Longtime series fans as well as newcomers drawn by the SciFi Channel's TV series based on the novels should find this supernatural mystery a real winner."—Library Journal
 
"What would you get if you crossed Spenser with Merlin? Probably you would come up with someone very like Harry Dresden, wizard, tough guy and star of [the Dresden Files]."—The Washington Times
Ace, 9780451492111, 448pp.
Publication Date: June 4, 2019
About the Author
A martial arts enthusiast whose résumé includes a long list of skills rendered obsolete at least two hundred years ago, #1 New York Times bestselling author Jim Butcher turned to writing as a career because anything else probably would have driven him insane. He lives mostly inside his own head so that he can write down the conversation of his imaginary friends, but his head can generally be found in the Rocky Mountains of Colorado. Jim is the author of the Dresden Files, the Codex Alera novels, and the Cinder Spires series, which began with The Aeronaut's Windlass.