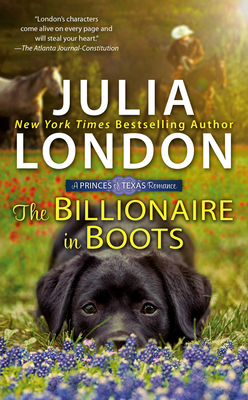 The Billionaire in Boots (The Princes of Texas #3) (Mass Market)
Berkley, 9780451492395, 368pp.
Publication Date: March 3, 2020
Other Editions of This Title:
Library Binding, Large Print (5/1/2020)
* Individual store prices may vary.
Description
New York Times and USA Today bestselling author Julia London delivers a sexy new contemporary western, where a lonesome rancher and a no-nonsense cowgirl learn that you don't choose who you fall for--love lassos you....

As the firstborn son, it's been drilled into Nick that he is the heir apparent to the Prince family empire. But cattle ranching has never been his true passion. Nick wants to be a pilot.  However, when his father dies, leaving Nick to clean up the mess, he knows he must do his duty before following his heart.

Charlotte Bailey can't believe that Nick is back to run the ranch. As the office manager, she knows it's her responsibility to help him. If only he wasn't so brooding and cranky--and so hot it's a wonder his chaps don't melt right off him. But when sparks fly between them, she's adamant about staying away from a cowboy on his way out the door.

Nick knows the ranch's pretty, smart, and capable office manager is off-limits, but he needs her. And working in such close proximity to Charlotte every day is making Nick crazy. She smells good, she looks good, she makes him laugh, but most of all she makes him want to stay....
About the Author
Julia London is the New York Times, USA Today, and Publishers Weekly bestselling author of numerous romance novels and women's fiction. She is also the recipient of the RT Bookclub Award for Best Historical Romance and a six-time finalist for the prestigious RITA Award for excellence in romantic fiction.
Praise For The Billionaire in Boots (The Princes of Texas #3)…
Praise for The Billionaire in Boots

"The sweeping emotions and down-to-earth protagonists of this fast-paced love story make it a must-read."—Publishers Weekly (Starred Review)

Praise for The Devil in the Saddle 
 
"London beautifully captures the essence of the couple's friendship and the depth of their emotions, making the lovemaking that much more intense."—Publishers Weekly (Starred Review)
 
"London deftly dishes up another irresistible mix of zingy humor, engaging characters (including a funny and feisty heroine and a smoking hot hero with a heart-of-gold), and sexy romance in the second not-to-be-missed addition to her A Princes of Texas series, following The Charmer in Chaps (2019), making this an excellent suggestion for fans of Susan Elizabeth Phillip's brilliant contemporary romances."—Booklist
 
"London's characters are good people with grown-up problems, and readers will root for them to take a chance on each other. This is an emotionally mature modern-day romance with a touch of Texas sparkle."—BookPage

Praise for The Charmer in Chaps

"Breezy banter, lively dialogue, crackling sexual chemistry, and plenty of sassy charm propel the engaging, fabulously fun, first book in London's new Princes of Texas series."—Booklist (Starred Review)

"Self-discovery and personal growth are at the core of this romantic heartstring-tugger, and the intense chemistry and emotional connection between the lovers make it a must-read."—Publishers Weekly

"Fun and lighthearted...delivers a satisfying happily-ever-after…. This new contemporary western series promises lots of laughs and cute animal friends while following the Prince family's path to love."—Shelf Awareness
 
Praise for the novels of Julia London
 
"A passionate, arresting story that you wish would never end."—Robyn Carr, New York Times bestselling author
 
"Julia London writes vibrant, emotional stories and sexy, richly-drawn characters."—Madeline Hunter, New York Times bestselling author
 
"London's characters come alive on every page and will steal your heart."—Atlanta Journal-Constitution 
 
"A novelist at the top of her game."—Booklist
 
"London's writing bubbles with high emotion as she describes sexual enthusiasm, personal grief and familial warmth. Her blend of playful humor and sincerity imbues her heroines with incredible appeal."—Publishers Weekly