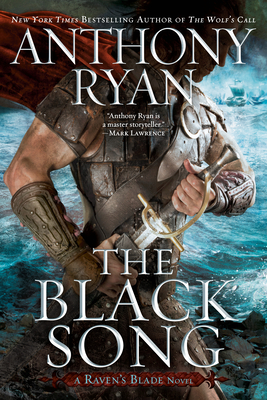 The Black Song (Raven's Blade Novel, A #2)
Paperback

* Individual store prices may vary.
Other Editions of This Title:
Digital Audiobook (8/3/2020)
Description
A matchless warrior is pitted against a near-God in the second epic installment of the Raven's Blade series.
 
 It has long been our lot in life, brother, to do what others can't.
 
Vaelin Al Sorna was known across the realm as the greatest of warriors, but he thought battles were behind him. He was wrong. Prophecy and rumor led him across the sea to find a woman he once loved, and drew him into a war waged by the Darkblade, a man who believes himself a god—and one who has gathered a fanatical army that threatens all of the known world.
 
After a costly defeat by the Darkblade, Vaelin's forces are shattered, while the self-proclaimed immortal and his army continue their terrible march. But during the clash, Vaelin regained some of the dark magic that once gave him unrivaled skill in battle. And though the fight he has been drawn into seems near unwinnable, the song that drives him now desires the blood of his enemy above all else…
Praise For The Black Song (Raven's Blade Novel, A #2)…
"Both returning readers and those new to the series will be drawn in by the expert worldbuilding, crackling dialogue, gripping action, and subtle shifts of the political chessboard." – Publishers Weekly (starred review)

"Gripping and exciting."—The Quill to Live

Praise for The Wolf's Call

"Though the book is characterized by breakneck pacing, deeply developed characters, and impressively intricate plotlines, it's Ryan's subtle focus on vivid worldbuilding (particularly on varied sensory descriptions) that makes this such an immersive read…Readers who enjoy their fantasy fast and furious will find Ryan's latest to be an immensely satisfying, top-notch adventure fantasy." –Kirkus Reviews
 
"Features everything that we've come to love in Ryan's books…from well-crafted and fascinating characters to a masterfully established world…The Wolf's Call is everything a fantasy fan could ever wish for."—Booknest.eu
 

Praise for the Raven's Shadow novels
 
"Fans of broadscale epic fantasy along the lines of Robert Jordan's Wheel of Time series and George R. R. Martin's Song of Ice and Fire novels should find this debut much to their liking."--Library Journal
 
"[Blood Song] certainly has it all: great coming-of-age tale, compelling character and a fast-paced plot. If [Ryan's] first book is any indication of things to come, then all fantasy readers should rejoice."--Michael J. Sullivan, author of the Riyria Revelations series
 
"Ryan hits all the high notes of epic fantasy--a gritty setting, ancient magics, ruthless intrigue, divided loyalties and bloody action."--Publishers Weekly
 
"A top contender for most impressive debut of the year...A thick, meaty novel of substance...A powerful epic."--SFFWorld.com
 
"Heroic epic fantasy."--Fantasy Book Critic
 
"A page-turner."--Booklist
Ace, 9780451492555, 448pp.
Publication Date: July 6, 2021
About the Author
Anthony Ryan is the author of the Raven's Shadow novels, including Blood Song, Tower Lord and Queen of Fire, and the Draconis Memoria novels, including The Waking Fire, The Legion of Flame and The Empire of Ashes.