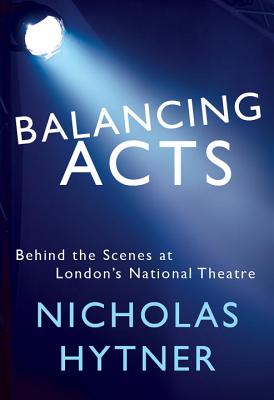 Balancing Acts
Behind the Scenes at London's National Theatre
Hardcover

* Individual store prices may vary.
Other Editions of This Title:
Paperback (12/4/2018)
MP3 CD (8/4/2017)
Hardcover (4/26/2017)
Description
From the Tony Award and Laurence Olivier Award-winning former director of London's National Theatre--this is a fascinating, candid, eloquent memoir about his career directing theater, producing films and opera, and working closely with some of the world's most celebrated actors.

The list of Nicholas Hytner's accomplishments is long and distinguished: as Artistic Director of London's National Theatre from 2003-2015, he directed and produced a great number of their most popular and memorable plays and musicals, many of which have come to Broadway: Carousel, Richard Bean's One Man, Two Guvnors, David Hare's Stuff Happens among them. He directed both the London and Broadway productions of Miss Saigon, each of which ran for ten years. He directed Alan Bennett's The Madness of George III on both stage and screen. In short: He is one of today's most successful and admired theatrical impresarios.

In Balancing Acts, Hytner gives us a detailed behind-the-scenes look at his creative process. From reviving classic musicals and mastering Shakespeare to commissioning new plays, he shows theater making to be a necessarily collaborative exercise, and he writes insightfully about the actors and playwrights he's worked with: Derek Jacobi, Richard Griffiths, Helen Mirren, Maggie Smith, Michael Gambon, Harold Pinter, and Tom Stoppard among them. With a cultural range that spans from The Mikado to The Lady in the Van, Balancing Acts is not only a memoir but a gathering of illuminating notes on the art of directing and a thoughtful meditation on the purpose of theater.
Praise For Balancing Acts: Behind the Scenes at London's National Theatre…
"Hytner is indisputably one of the best theater directors in the world…his approach to Shakespeare and the classics is compelling and nuanced…His grasp of low comedy is equally impressive…[Hytner writes] fully realized scenes that are funny and immediate and ring true."
—Alex Witchel, The New York Times Book Review

"This exquisitely written memoir of Hytner's time running the National (2003-15), when he produced more than 100 new plays, is a revelatory exegesis of finding balance at all levels of artistic, technical, philosophical, and commercial production. The pages sparkle with luminaries with whom the author has worked…The elements Hytner so adroitly strived for in his stewardship of the National is manifested throughout this memoir…The theater crowd is the obvious audience for this book, but the intelligence, wit, and humor throughout expands the scope of readership to anyone interested in the arts."
–Library Journal *starred review
 
"A detailed and stimulating look at the state of the art. [Hytner] is candid as he shares fun and intimate stories of working with such luminaries as Arthur Miller, Helen Mirren, Magie Smith, Tom Stoppard…He wasn't always able to achieve his goals, and those failures are given just consideration and make for a captivating narrative."
–Publisher's Weekly
 
"[A] witty memoir…the many backstage stories, as well as [Hytner's] reminiscences about his flirtation with Hollywood, make this an entertaining read…a pleasant peek behind the scenes during a transformative period of British theater history."
–Kirkus Reviews
 
"Vivid anecdotes about some of the greatest figures in modern British theater will delight any theater buff...[An] entertaining and insightful memoir."
–Shelf Awareness

"Entertaining…Hytner has a writer's instinct for detail, drawing you into the room with luminaries such as Arthur Miller, John Gielgud, Alan Bennett…He balances wit with intellectual gravitas, gossip with self-deprecation, and mischief with serious insight."
–Sarah Hemming, The Financial Times (UK)
 

"Vivid, engaging, alive with anecdotes and continually invigorated by ideas."
–John Carey, The Sunday Times (UK)
 
 
"Absorbing…a memoir melded with lessons learned from three decades at the hard end of the directing/producing business. The central dictum, repeated more than once, is that "high-minded can also be showbiz gold", and the book aims to unveil the formula of this mysterious alchemy. It should be read not simply by anyone who has an interest in British theatre, but anyone interested in that oldest of questions: how you make art that sells…Engagingly open…astute and unsentimental…His insights on Shakespeare and Bennett are worth the price of the book alone."
–Andrew Dickson, The Guardian (UK)
 
 
"The qualities of Hytner's writing are the qualities of his work as a director —he's specific, he's detailed, he's witty and entertaining, and he's able to tell a good story. Balancing Acts is both history and illumination…Hytner illuminates what a director does in a rehearsal room and he reveals both the ecstasy and the agony of staging large and ambitious shows with complicated scenery…You don't have to be interested in theatre or even in culture to enjoy this book."
–Richard Eyre, The Evening Standard (UK)
 
 
"Hytner brings alive the pressures and rewards of running that concrete Oz on the South Bank and giving us brisk pen-portraits of actors."
–Benedict Nightingale, The Times (UK)

 
"A tremendous book about life in the theatre — and theatre, and life. Honest, shrewd and heartfelt. A classic of its kind."
–William Boyd, author of Sweet Caress 
 
 
"Balancing Acts is fueled by the same clarity and intellectual pizzazz that are the hallmarks of [Hytner's] productions…full of handy tips for actors and directors…It's a wonderful book: stimulating, intelligent, gossipy, heartfelt, affectionate, honest and, perhaps above all, fun."
–Craig Brown, The Mail on Sunday (UK)
 
 
"Revelatory … full of anecdotes about the terrifying art of bringing a play alive, and full of insight about the sheer daredevil tightrope act that running the National Theatre involves … A vital reminder both of what theatre can do – and what is at stake if we take it for granted."
–Sarah Crompton, What's On Stage (UK)
 
 
"Hytner has produced a rare thing: an absorbing memoir by a director-turned-arts-administrator... The insouciance of Balancing Acts is magic dust, sprinkled by a master Oberon." 
–Anne McElvoy, Standpoint (UK)
Knopf, 9780451493408, 320pp.
Publication Date: November 14, 2017
About the Author
NICHOLAS HYTNER is a theatre director and producer. He was director of London's National theatre from 2003 to 2015 and co-founded the London Theatre Company, whose first theatre, The Bridge, opened in October 2017
or
Not Currently Available for Direct Purchase