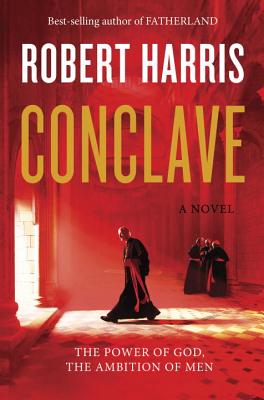 Conclave
A novel
Hardcover

* Individual store prices may vary.
Other Editions of This Title:
Digital Audiobook (11/21/2016)
Paperback, Large Print (11/22/2016)
CD-Audio (11/22/2016)
Paperback (10/25/2016)
MP3 CD (6/1/2017)
Hardcover (10/25/2016)
Description
The best-selling author of Enigma and Fatherland turns to today's Vatican in a ripped-from-the-headlines novel, and gives us his most ambitious, page-turning thriller yet--where the power of God is nearly equaled by the ambition of men.

The pope is dead. Behind the locked doors of the Sistine Chapel, one hundred and eighteen cardinals from all over the globe will cast their votes in the world's most secretive election. They are holy men. But they have ambition. And they have rivals. Over the next seventy-two hours one of them will become the most powerful spiritual figure on Earth.
Praise For Conclave: A novel…
"Harris has written a gripping, smart book. . . . This could become the Catholic version of The Satanic Verses."
—Vanessa Friedman, The New York Times Book Review
 
"Splendid . . . Harris does not disappoint. . . . Whether you have faith in God, the Church, or neither, Conclave will keep you richly entertained."
—Dennis Drabelle, The Washington Post
 
"Triumphant . . . I am about to use a word I have never knowingly  used in any review of any book ever. During my 25-odd years of writing about books I have done my best to avoid clichés, slipshod summaries, oracular pronouncements and indeed anything else that might appear emblazoned on a book jacket. Nonetheless, there is only one possible word to describe Robert Harris's new novel, and it is this: unputdownable."
—Ian Sansom, The Guardian
 
"A gripping read in the authentic Harris mould . . . Conclave, though, is more than a crime novel, it is also a psychological and political thriller . . . The more one looks, the more cunning the book seems. Conclave is a triumphant addition to Harris's acclaimed output."
—David Grylls, The Sunday Times
 
"A gripping read. There are plenty of plot twists, revelations and high politicking to hook readers in. . . . An ecclesiastical version of House of Cards . . . Conclave is admirably brisk—and its final twist is great fun."
—Robbie Millen, The Times
 
"A slick and fast-paced thriller . . . This entertaining and satisfying page-turner tells the tense story of the Machiavellian machinations of ambitious men, locked in a power-struggle that can only end in a puff of white smoke and power."
—Huston Gilmore,  The Daily Express
 
"Ambition and intrigues are familiar ground to a former political journalist . . . gripping."
—Rachel Cooke, The Observer
 
"Fast-written and suspenseful, it's elegantly written entertainment from a first-rate storyteller."
—Simon Humphreys, The Mail on Sunday
 
"Despite papal fiction being such a crowded church, Harris, in Conclave, contrives a twist involving the number of cardinal-electors that seems to me completely new."
—Mark Lawson, The Guardian
 
"The novel begins to grip like a vice and manages to convey all the drama of an election without resorting to melodrama. He pulls off the difficult trick of making his cardinals seem no less holy for all their human foibles and, although this ruminative and low-key novel is very different from Harris's other books, it is well up to their standard."
—Charlotte Heathcote, Sunday Express
 
"The smartest bestselling author at work today . . . [Conclave is] a modern-day story that explores the power, glory and skullduggery behind the process of electing a new pope."
—Richard T. Kelly, Esquire (UK)
 
"Another high-class Harris thriller."
—James Walton, Reader's Digest (UK)
 
"An impressive outing from an extremely versatile author."
—Publishers Weekly

"Robert Harris, creator of grand, symphonic thrillers from Fatherland to An Officer and a Spy, scores with a chamber piece of a novel set in the Vatican in the days after a fictional pope dies....An illuminating read for anyone interested in the inner workings of the Catholic Church; for prelate-fiction superfans, it is pure temptation." –Kirkus Reviews, starred review
Knopf, 9780451493446, 304pp.
Publication Date: November 22, 2016
About the Author
ROBERT HARRIS is the author of ten best-selling novels: Fatherland, Enigma, Archangel, Pompeii, Imperium, The Ghost Writer, Conspirata, The Fear Index, An Officer and a Spy, and Dictator. Several of his books have been adapted to film, most recently The Ghost Writer, directed by Roman Polanski. His work has been translated into thirty-seven languages. He lives in the village of Kintbury, England, with his wife, Gill Hornby.
or
Not Currently Available for Direct Purchase