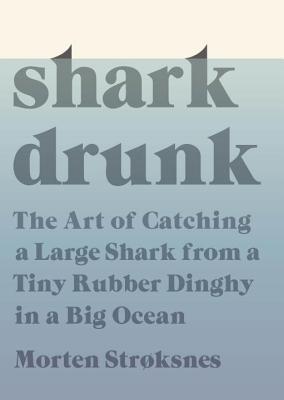 Shark Drunk (Hardcover)
The Art of Catching a Large Shark from a Tiny Rubber Dinghy in a Big Ocean
Knopf, 9780451493484, 320pp.
Publication Date: June 27, 2017
Other Editions of This Title:
Digital Audiobook (6/26/2017)
Paperback (6/12/2018)
* Individual store prices may vary.
Description
A salty story of friendship, adventure, and the explosive life that teems beneath the ocean
 
The Lofoten archipelago, just North of the Arctic Circle, is a place of unsurpassed beauty—the skyline spikes with dramatic peaks; the radiant greens and purples of the Northern Lights follow summers where the sun never sets. It's a place of small villages, where the art of fishing, though evolving, is still practiced in traditional ways.

Beneath the great depths surrounding these islands lurks the infamous Greenland shark. At twenty-four feet in length and weighing more than a ton, it is truly a beast to behold. But the shark is not known just for its size: Its meat contains a toxin that, when consumed, has been known to make people drunk and hallucinatory. Shark Drunk is the true story of two friends, the author and the eccentric artist Hugo Aasjord, as they embark on a wild pursuit of the famed creature—all from a tiny rubber boat.

Together they tackle existential questions and encounter the world's most powerful maelstrom as they attempt to understand the ocean from every possible angle, drawing on poetry, science, history, ecology, mythology, and their own—sometimes intoxicated—observations, meanwhile pursuing the elusive Greenland shark. By turns thrilling, wise, and hilarious, Shark Drunk is a celebration of adventure, marine life, and, above all, friendship.

Winner of the Norwegian Brage Prize 2015
Winner of the Norwegian Critics' Prize for Literature 2015
Winner of the Norwegian Reine Ord Prize at Lofoten International Literature Festival 2016
About the Author
MORTEN STRØKSNES is a Norwegian journalist and writer. He has published eight critically acclaimed books of literary reportage and contributed to several others.

Translated by Tiina Nunnally.
Praise For Shark Drunk: The Art of Catching a Large Shark from a Tiny Rubber Dinghy in a Big Ocean…
"Strøksnes beautifully describes the midnight sun, majestic fjords and moody stretches of sea…[and] brings a little-known world to life…. A homage to the sea and a call to arms to protect the ecosystem that humans treat so abysmally yet rely on so much." —The Economist

"Melville's Ahab and Hemingway's Old Man spring to mind. . . . Rich and fascinating. . . . Morten Strøksnes's clever trick is to remind us for one last time that the catching of the big fish is the least important part of the story." —The Wall Street Journal

"Utterly engrossing… A triumph… A work of meditation and wonder with a horizon as wide and open as the far Nordic coastlines that [Strøksnes] so beautifully evokes." —The Spectator (London)
 
"Strøksnes follows his capacious curiosity…. The end result reads a bit as if Geoff Dyer had written 'Jaws.'" —The New York Times
 
"Its beauty, undemanding science and soothing, musing qualities have made [Shark Drunk] a bestseller in Norway and beyond. In vexed times, gently informative escapism is a winner for publishers and a refuge for readers. Strøksnes nails the appeal." —The Guardian
 
"Strøksnes's erudition, salty humor, and unfussy prose yield a fresh, engrossing natural history." —Publishers Weekly
 
"Outré cool . . .  [A] chromatic, investigative work . . .  There is [a] wonderful radiance [to] these two gents out chasing their curiosity [and] that romantic mingling of terror and beauty, the sublime." —San Francisco Chronicle
 
"Accomplished Norwegian historian, journalist, and photographer Strøksnes invites readers into the fantastical ocean environment of his quest to capture a Greenland shark. . . Readers will happily devour this smorgasbord of delights." —Kirkus
"Move over, Ishmael. Move over, Jonah. Move over, Izaak Walton and Norman Maclean. Make room for a fish tale, wry and fantastical, weird and melancholy, that must now take its rightful place among our classic existential stories about the denizens of the deep." —Hampton Sides, author of In the Kingdom of Ice

"The Greenland shark is the bait, but the point is not to catch the fish. Shark Drunk is a phantasmagoric journey, both ultra-vivid and laconic, through the history and natural history of a remarkable region, its teeming seas and tough, resourceful locals. Strøksnes weaves his tale from a dense wool of close observation, fishing yarns, erudition lightly worn, and a helpless, consuming love of the ocean." —William Finnegan, author of Barbarian Days

"A beautifully crafted, slyly funny meditation on friendship, nature, history, literature, and most of all, the sea. That, and a gripping adventure tale about a hunt for a flesh-eating, razor-skinned sea monster. I don't know how Strøksnes makes it work, but he does, brilliantly." —Mitchell Zuckoff, author of 13 Hours

"Gorgeously written and thoroughly addictive. With the open-minded inquisitiveness of Charles Darwin and the obsession of Captain Ahab, Strøksnes heads out to sea, chasing a monster of the deep known as the Greenland shark. Every page feels like a cabinet of curiosities, filled with head-scratching surprises, nuggets of wisdom, and wondrous insights." —Michael Finkel, author of The Stranger in the Woods

"Some great quests defy any logical explanation but by virtue of their whimsical turns lead to unexpected wonder and enlightenment. This is one such quest—it transports us with humor and insight to forbidding coasts and unexplored depths." —Peter Stark, author of Astoria

"An epic fishing trip reels in fascinating sea lore in this briny eco-adventure. . . .  The author ponders everything related to the ocean, including bizarre luminous squids of the inky depths, frolicking orca pods and sperm whales, ancient disquisitions on maritime monsters, flinty islanders who live off the sea, and the close, testy relationships between fishing friends. Strøksnes's erudition, salty humor, and unfussy prose yield a fresh, engrossing natural history." —Publishers Weekly (Starred Review)

"Accomplished Norwegian historian, journalist, and photographer Strøksnes invites readers into the fantastical ocean environment of his quest to capture a Greenland shark. . . . readers will happily devour this smorgasbord of delights." —Kirkus
or
Not Currently Available for Direct Purchase