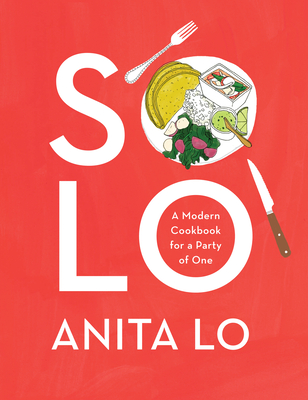 Solo
A Modern Cookbook for a Party of One
Hardcover

* Individual store prices may vary.
Description
EATER'S COOKBOOK OF THE YEAR

From the Michelin-starred chef and Iron Chef America and Top Chef Masters contestant—a hilarious, self-deprecating, gorgeous new cookbook—the ultimate guide to cooking for one. With four-color illustrations by Julia Rothman throughout.

The life of a chef can be a lonely one, with odd hours and late-night meals. But as a result, Anita Lo believes that cooking and dining for one can, and should, be blissful and empowering. In Solo, she gives us a guide to self-love through the best means possible—delicious food—in 101 accessible, contemporary, and sophisticated recipes that serve one. 

Drawn from her childhood, her years spent cooking around the world, and her extensive travels, these are globally inspired dishes from Lo's own repertoire that cater to the home table. Think Steamed Seabass with Shiitakes; Smoky Eggplant and Scallion Frittata; Duck Bolognese; Chicken Pho; Slow Cooker Shortrib with Caramelized Endive; Broccoli Stem Slaw; Chicken Tagine with Couscous; and Peanut Butter Chocolate Pie—even a New England clambake for one. (Pssst! Want to share? Don't worry, these recipes are easily multiplied!)
Praise For Solo: A Modern Cookbook for a Party of One…
A Washington Post, San Francisco Chronicle, The Atlantic, Epicurious, Grub Street, The Forward, Newsday, Mother Jones, and Food52 Best Cookbook of the Year

"There is no smarter cookbook out this year, filled with personality and grace, that's better at nudging us into the kitchen, in the midst of tumultuous times, to nourish ourselves. . . . Unlike many cookbooks that promise chef-driven techniques adapted for the home cook, Solo actually delivers." —Eater
 
"A book celebrating the simple act of cooking for yourself. . . . A cookbook that speaks directly to a growing proportion of single Americans. . . . [Lo] carefully stocks her own kitchen with kimchi, tahini and dried anchovies. A touch of any of these ingredients can change the direction of a dish." —Tejal Rao, The New York Times
 
"Lo knows that cooking for oneself is an important aspect of self-care. . . . The recipes serve as a meaningful reminder that cooking for one can be delicious and fun." —San Francisco Chronicle

"Anita Lo is my hero. Her weeknight recipes challenge you to eat better, treat yourself better, and find comfort in meals made by your own hand. . . . This is the cookbook that made my heart sing in 2018." —Alex Beggs, Bon Appetit

"Bold and joyous." —The Atlantic

"A small book packed with big ideas. . . . [Lo] combines humor . . . a well-stamped passport and an instinctual distaste for waste into a global roster of uncomplicated, chef-driven dishes that are a far cry from microwaved frozen dinners." —Minneapolis Star Tribune

"Those of us who've improvised sad solo dinners of microwaved frozen corn or boxed mac and cheese with hot sauce understand that learning how to cook decent meals for one is a real and urgent need. . . . [Solo] provides elegant, knife-sharp solutions. Recipes employ toaster ovens, electric pressure cookers, grill pans, and other small-format energy-savers—and the food is flat-out beautiful." —Helen Rosner, The New Yorker
 
"Solo is a testament to celebrating all of the reasons we find ourselves alone at the table with knife and fork—and never apologizing for any of them." —Food52
 
"[Lo] has humor in her well-stocked arsenal. . . . Fans of the Franco-Yankee dishes in Judith Jones's The Pleasures of Cooking for One will be jazzed to spin the globe with Lo, whose travels and culinary background have made her fluent in Chinese, Korean, Thai and Japanese cuisines, among others. Lo never stints on flavor, often adapting restaurant-y techniques for the toaster oven (amen)."—Christine Muhlke, The New York Times Book Review
 
"A very good cookbook. . . . The recipes [in Solo] are complex, personal, comforting." —Epicurious

"[Lo's] guide to solo cooking is peppered with stories, illustrations, and recipes for dishes like salt-broiled Spanish mackerel with broccoli rabe and orange, twice-cooked sweet potatoes with kale, mushrooms, and parmesan, and mac and two cheeses (yes, please!)." —Food & Wine
 
"Anita Lo is exactly the person we want teaching us to cook at home for ourselves. . . . The recipes are downsized and oh-so-practical . . . though they can easily be doubled (or tripled) should guests suddenly show up once they hear about the meals you're making for yourself." —New York

"[A] compendium of smart recipes. . . . Lo gives everyone, from lovelorn singles to people who prefer the company of their pets, instructions on how to fly solo efficiently in the kitchen." —Taste

"[Los'] writing is engaging, filled not only with linguistic factoids but also vivid personal stories and self-deprecating humor." —Edible Manhattan

"A book of compelling and approachable recipes that waste neither ingredients nor time. . . . [Lo] peppers the book with valuable tips and brief vignettes that will take readers along with her to Vietnam, Alaska or France." —Milwaukee Journal Sentinel
 
"A book after this forever-single guy's heart. It gives me joy to think that, from a single chicken, I can make Lo's smothered chicken leg and a biscuit, Thai white curry with chicken, and chicken tagine with couscous, and still have bird to spare." —Wendell Brock, The Atlanta Journal-Constitution

"In Lo's hands, solitary dining becomes almost sexy, from hand rolls of mackerel, cucumber and avocado to braised short rib with caramelized endive and cauliflower chat with onions." —Newsday

"As someone who struggles to do anything well-rounded that's not also overly complicated, I really admire Lo's tight, mindful style." —Vivian Howard, Food52

"The lesson here is that cooking for yourself is tantamount to loving yourself. . . . It can be surprisingly difficult for single young professionals to cook meals for themselves. . . . Luckily, Anita Lo, the chef and owner of the late restaurant, Annisa, has done a lot of the hard work for us, drawing on her decades of experience as a professional chef, her upbringing as a child of immigrants, and her extensive travels for a delectable guide on cooking for 'a party of one.'" —Grub Street
Knopf, 9780451493606, 256pp.
Publication Date: October 30, 2018
About the Author
ANITA LO is an acclaimed chef who worked at Bouley and Chanterelle before opening the Michelin-starred restaurant annisa in the heart of Manhattan's Greenwich Village in 2000, which she ran until it closed in 2017. Food & Wine named her one of ten Best New Chefs in America, and The Village Voice proclaimed her Best New Restaurant Chef. She has appeared on Top Chef Masters, Iron Chef America, and Chopped; in 2015, she became the first female guest chef to cook at the White House. She lives in New York City and on Long Island.
Coverage from NPR