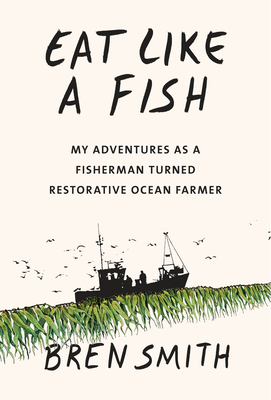 Eat Like a Fish (Hardcover)
My Adventures as a Fisherman Turned Restorative Ocean Farmer
Knopf, 9780451494542, 320pp.
Publication Date: May 14, 2019
Other Editions of This Title:
Paperback (4/14/2020)
* Individual store prices may vary.
Description
In the face of apocalyptic climate change, a former fisherman shares a bold and hopeful new vision for saving the planet: farming the ocean.
 
In Eat Like a Fish, Bren Smith—a restorative ocean farmer—introduces the world of sea-based agriculture, a groundbreaking solution to the global climate crisis.
 
The ocean is a vast, untapped opportunity, home to thousands of edible plants. Using simple DIY techniques, we can grow more than enough delicious and nutritious food—without the use of fresh water or fertilizers—to feed the planet and filter carbon from seawater, to boot.

A groundbreaking "climate memoir," Eat Like a Fish interweaves Smith's own story—from sailing the high seas aboard commercial fishing trawlers to pioneering new forms of ocean farming to surfing the frontiers of the food movement—with actionable food policy and practical advice on ocean farming.

It is a powerful story of environmental renewal, and a must-read guide to cleaning the oceans, feeding the world, and—by creating new jobs up and down the coasts—putting working class Americans back to work.
About the Author
Bren Smith is a former commercial fisherman turned ocean farmer who pioneered the development of restorative 3D ocean farming. Born and raised in Newfoundland, he left high school at the age of 14 to work on fishing boats from the Grand Banks to the Bering Sea. His writing has appeared in The New York Times, National Geographic, The Atlantic, and elsewhere; his ocean farm won the Buckminster Fuller Challenge for ecological design, and, in 2017, was named one of TIME magazine's Best Inventions. He is the owner of Thimble Island Ocean Farm, and Executive Director of the non-profit Greenwave, which trains new ocean farmers.
Praise For Eat Like a Fish: My Adventures as a Fisherman Turned Restorative Ocean Farmer…
"Bren Smith's book on seaweed farming is something I've been looking forward to for years." —Mark Bittman, author of How to Cook Everything

"A perfect balance between personal storytelling and blueprint for a new way to harvest our seas that can create meaningful jobs while simultaneously combatting climate change." —Forbes

"Bren Smith is a hero of ours—not just for his ingenious vertical farming of kelp and shellfish in the Thimble Islands, but for facing squarely the root causes of one crisis with many symptoms: climate change, desertification, obesity and hunger. This book shows us new ways to grow food and make a living that can both heal the planet and make life more satisfying." —Yvon Chouinard, Founder of Patagonia

"What a remarkable book! Bren Smith has a (wild) life story to recount, a novel food-growing technique to describe, and a planet to help save. He's a deft enough writer to pull it all off, with a wry joy that left me (more than usually) hopeful about our future." —Bill McKibben, New York Times bestselling author of Eaarth: Making a Life on a Tough New Planet and Radio Free Vermont

"Seaweed is the food of the future; it's a powerhouse of nutrition and holds a world of untapped flavor and deliciousness. Bren's underwater kelp farms can feed us for years to come and the more we eat, the more we also give back to the ocean. This book leads the way." —René Redzepi, Head Chef & Co-owner Restaurant noma
 
"Part memoir, part treatise on the life of a professional fisherman, part manual for the future of eating worldwide, this unique book cannot help but make readers think long and hard about the fate of the earth as it faces the challenges of global warming and the outlook for feeding the planet. . . . Smith has now become a visionary leader in cultivating what may turn out to be a primary source of the world's food. This is a book about a man as well as a book about an idea. . . . Readers will learn more about ocean farming here than they learned about whaling from Moby Dick, and will walk away with a handful of practical, tasty seaweed recipes to boot." —Booklist (starred review)
 
"Smith is an articulate, very human ambassador for sustainable, ethical and environmentally beneficial mariculture, weaving his plea for changing the way we eat with solid proof of why it's so necessary. He includes a global history here as well, spanning coastal cultures from China and Japan to Scotland and Atlantic Canada, all rich with best practices and viable traditions…If this new age of 'climate cuisine' needs an introduction, Eat Like a Fish is surely it." —BookPage
 
"A thoughtful . . . eco-agro-pescatorial manifesto. . . . [Smith] describes how he came to realize that overfishing, climate change, ocean acidification, and other forces are making it impossible to extract a living from the sea—at least the sea as it is now. Instead, he has been busily working a stretch of Long Island Sound, raising shellfish and kelp, both of which are restorative. . . . Smith harbors a big vision of lots of little oceanic farms producing tons of seaweed and hundreds of thousands of crustaceans per acre—an economic revolution, he ventures, that could create 50 million direct jobs and a whole host of related ones. The author is no purist—he allows that he has a weakness for McDonald's fish sandwiches and once lived a life of 'stealing, dealing, fighting'—but it's clear that he's found a place among the back-to-the-landers, foodies, and greenies whom he might have made fun of back in the day but whom he now sees as allies." —Kirkus Reviews