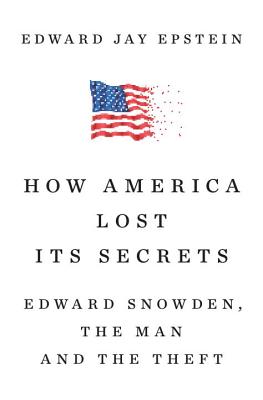 How America Lost Its Secrets
Edward Snowden, the Man and the Theft
Hardcover

* Individual store prices may vary.
Other Editions of This Title:
Digital Audiobook (1/16/2017)
Paperback (11/28/2017)
Description
A groundbreaking exposé that convincingly challenges the popular image of Edward Snowden as hacker turned avenging angel, while revealing how vulnerable our national security systems have become--as exciting as any political thriller, and far more important.

After details of American government surveillance were published in 2013, Edward Snowden, formerly a subcontracted IT analyst for the NSA, became the center of an international controversy: Was he a hero, traitor, whistle-blower, spy? Was his theft legitimized by the nature of the information he exposed? When is it necessary for governmental transparency to give way to subterfuge? Edward Jay Epstein brings a lifetime of journalistic and investigative acumen to bear on these and other questions, delving into both how our secrets were taken and the man who took them. He makes clear that by outsourcing parts of our security apparatus, the government has made classified information far more vulnerable; how Snowden sought employment precisely where he could most easily gain access to the most sensitive classified material; and how, though he claims to have acted to serve his country, Snowden is treated as a prized intelligence asset in Moscow, his new home.
Praise For How America Lost Its Secrets: Edward Snowden, the Man and the Theft…
"Meticulous and devastating... Mr. Epstein is a formidable investigative journalist and his quarry is worthy of his talents. He has unearthed many new details and assembles them, with the publicly known information, into a coherent and largely damning account... Nobody reading this book will easily retain faith in the Hollywood fable of Mr Snowden's bravery and brilliance." —The Economist

"Gripping and devastatingly even-handed… Epstein's revelations hit hard and don't stop." —The Washington Post
 
"Epstein reminds readers of one unsettling detail after another from the Snowden story, details that tend to get airbrushed from more celebratory accounts. The popular characterization of Snowden—as an idealist motivated by patriotism even at great personal risk—takes an unrecoverable pounding in these pages... Against the simplistic Hollywood narrative of a lone hero 'speaking truth to power,' How America Lost Its Secrets now poses an indispensable counterpoint." —Christian Science Monitor

"Mr. Epstein shows that much in Mr. Snowden's story simply does not add up... The picture [of Snowden] that emerges is of an odd, deeply resentful young man motivated less by high moral purpose than personal revenge." —The Wall Street Journal
 
"Vivid… Epstein not only exposes Snowden as a callow self-aggrandizer who, in the interests of his own liberal virtue, has made a Faustian deal, but the media as his protector." —USA Today

"Epstein is a voracious researcher and presents many intriguing aspects of the Snowden case. He is especially good at tracing a series of flaws in CIA and NSA security that facilitated Snowden's theft… Epstein amply demonstrates that the NSA should have been minding its own shop." —SF Gate

"Throughout this detailed and engrossing book, Epstein's reporting is meticulous and his writing dispassionate. And it arrives at an opportune moment." —Commentary

"Important and compelling... Epstein performs the important public service of toppling the myths that Edward Snowden and his acolytes have spun to justify conduct that, as this book persuasively documents, had devastating consequences for American security." —The Weekly Standard

"[Epstein's] narrative is immensely readable and carries with it the dark sense of inevitability that flavors all good spy stories." —BookPage

"Powerful and convincing." —The Hollywood Reporter

"Epstein is credentialed. Experienced… An enemy of inconsistency… With meticulous research and great attention to detail, he has created a portrayal of glaring inconsistencies and gaps that have largely been unexplored by what should be an inquiring press." —The Cipher Brief

"In addition to giving a full and nuanced portrait of the man himself, Epstein details the shattering impact Snowden's theft and famous June 9, 2013, video announcement has had on the agency and the intelligence community worldwide. A riveting and informative work for both Snowden watchers and espionage buffs." —Booklist *starred review*

"Nuanced… A wild and harrowing detective story and impressively evenhanded portrait of a very sticky case." —Kirkus *starred review*

"With exactness and authority, Edward Jay Epstein exposes the hoaxes that continue to ennoble Edward Snowden. Whatever patriotic service he performed, Snowden purposefully and fatefully compromised our nation's security, to the eventual benefit of his friends and protectors in Russia. Epstein understands and explains it all expertly, with a spymaster's respect for mystery as well as fact." —Sean Wilentz, author, The Politicians and the Egalitarians

"Ed Epstein's startling, powerfully argued book on the Edward Snowden affair is a true game changer. One of the great investigative journalists of our time, Epstein has laid down a powerful challenge to the common view, embraced by much of the press and by Hollywood, of Snowden as a civil rights hero. He asks the questions others haven't asked, and he provides disturbing answers that his just-the-facts-ma'am approach makes it impossible to ignore." —Richard Bernstein, coauthor, The Coming Conflict with China

"How America Lost Its Secrets reads like a thriller, yet poses the most critical public policy question of the modern era: Can we maintain a robust democracy while still protecting our interests and our citizens in an increasingly dangerous world?" —Randall Rothenberg, former CMO, Booz Allen Hamilton
Knopf, 9780451494566, 368pp.
Publication Date: January 17, 2017
About the Author
EDWARD JAY EPSTEIN is an investigative journalist who earned his PhD under James Q. Wilson and Edward Canfield at Harvard. He has taught political science at MIT and UCLA. He is the author of many books, including Inquest: The Warren Commission and the Establishment of Truth, News From Nowhere: Television and the News, and Dossier: The Secret History of Armand Hammer, and has written for publications including The New York Review of Books, The Wall Street Journal, The Atlantic, and The New Yorker.
or
Not Currently Available for Direct Purchase