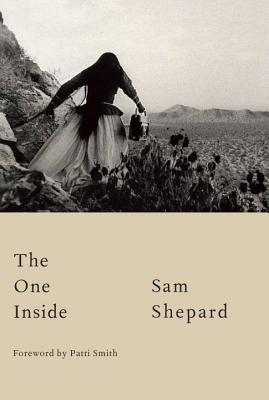 The One Inside
Hardcover

* Individual store prices may vary.
Other Editions of This Title:
Digital Audiobook (2/6/2017)
Paperback (1/16/2018)
Description
The first work of long fiction from the Pulitzer Prize-winning playwright—a tour de force of memory, mystery, death, and life.
 
This searing, extraordinarily evocative narrative opens with a man in his house at dawn, surrounded by aspens, coyotes cackling in the distance as he quietly navigates the distance between present and past. More and more, memory is overtaking him: in his mind he sees himself in a movie-set trailer, his young face staring back at him in a mirror surrounded by light bulbs. In his dreams and in visions he sees his late father—sometimes in miniature, sometimes flying planes, sometimes at war. By turns, he sees the bygone America of his childhood: the farmland and the feedlots, the railyards and the diners—and, most hauntingly, his father's young girlfriend, with whom he also became involved, setting into motion a tragedy that has stayed with him. His complex interiority is filtered through views of mountains and deserts as he drives across the country, propelled by jazz, benzedrine, rock and roll, and a restlessness born out of exile. The rhythms of theater, the language of poetry, and a flinty humor combine in this stunning meditation on the nature of experience, at once celebratory, surreal, poignant, and unforgettable.
Praise For The One Inside…
"As his friend Patti Smith writes in a foreword, this character ('a loner who doesn't want to be alone') is, simultaneously, Shepard, 'sort of him, not him at all.' Like so many of Shepard's plays and short stories, this narrative explores the confusions of identity, the pull between freedom and roots, and the hard-to-erase dissonances of family life. . . . Memories of these women—along with memories of acting jobs, travels and childhood exploits—are woven together here, along with dreams, fantasies and Bosch-like hallucinations. The overall effect recalls Fellini's 1963 masterpiece 8 ½, in which the real, the surreal and the imagined converge, as its film director hero thinks back upon the women in his life. . . . Will remind Shepard fans of the surreal images that bloom in his plays—at once feverish projections of his characters' imaginations, and richly complex symbols used by the author to create a metaphorical, Bunuel-like landscape. The One Inside . . . provides a sharp-edged distillation of the themes that have preoccupied him throughout his career, and serves as a kind of Rosetta stone to such remarkable plays as Fool for Love, A Lie of the Mind, Buried Child and True West."
—Michiko Kakutani, The New York Times
 
 "[The One Inside] takes it place as a satisfying chapter in the autobiographical stream of consciousness that flows through his plays. Masculinity and its perils, the primitive drama of sibling and father-son rivalry, are the wellsprings of Shepard's work. Here the narrator realizes he's a year older than his father was when he died, but the man still looms over the present. The bomber pilot of World War II figures in hallucinatory portraits, vignettes that are the son's way of steer-wrestling him to earth. . . . The narrator wrestles with phony parts, dons costumes in an agony, as if they were medieval torture instruments. He seeks authenticity, even as he creates art and artifice as a métier. He's a man of the West, of feedlots and ramshackle cabins, of a silence punctuated only by the sound of crickets, but a man of words as well. He's conflicted, the intellectual versus the Marlboro man, or, as Patti Smith says in her introduction, 'he's a loner who doesn't want to be alone, grappling with the incubus.'"
—Molly Haskell, The New York Times Book Review
 
 "Feels less like a novel than a collection of prose poems, tied together not so much by plot as by theme and mood, a certain bleak but vital vision of the world, and by the presiding consciousness of the book's unnamed central character. It is, at any rate, an interesting late-career move—something new, and at the same time something quite familiar—for a writer who has already established himself as an essential modern American playwright. . . . The book's characters, and the expansive, desolate, mildly surrealistic landscape they inhabit—Shepard's version of the American Southwest, still mythic and romantic in a post-modern way, but also tawdry and brutal—will be recognizable to anyone who has experienced his plays. . . . Its dreamlike imagery, its vision of the inherent instability of human existence and its occasional flashes of humor are frequently compelling, and there is something not only admirable but magnetic about its obstinacy, a kind of integrity manifest in its refusal to give readers the easy answers we so often seek, or the sense of resolution we so often crave."
—Troy Jollimore, Chicago Tribune
 
"Moving . . . limns these universal, if particularly masculine, questions of sex and death. . . . When Shepard sets himself more earnestly to the idea of producing self-profundities, he's remarkably successful at rendering his long career of storytelling in relief. On a movie set, readying himself for a scene, the narrator contemplates his character's essentialism, seizing on the idea of 'exile. The sense of being apart as a way of life. How it comes to pass that a human is set adrift." He's uniquely prepared for this role: 'My whole life was a preamble.'"
—Molly Boyle, Santa Fe New Mexican
 
"Meditative and valedictory. . . . Since this is Shepard, the protagonist is riding a sharp and polished knife's edge as he muses; he's trying to persuade a young woman not to publish some dark and damning phone conversations they've had together. Memories of his father, especially during wartime; of his father's girlfriend, with whom he also became involved (with tragic consequences); and of the vibrant American landscape inform the narrative. Reflections on how acting, writing, and filmmaking really feel make this more than a novel about plot. Another plus: Patti Smith provides the introduction."
—Barbara Hoffert, Library Journal
Knopf, 9780451494580, 192pp.
Publication Date: February 7, 2017
About the Author
Sam Shepard was the Pulitzer Prize–winning author of more than fifty-five plays and three story collections. As an actor, he appeared in more than sixty films, and received an Oscar nomination in 1984 for The Right Stuff. He was a finalist for the W. H. Smith Literary Award for his story collection Great Dream of Heaven. In 2012 he was awarded an honorary doctorate from Trinity College, Dublin. He was a member of the American Academy of Arts and Letters, received the Gold Medal for Drama from the Academy, and was inducted into the Theater Hall of Fame. He died in 2017.
or
Not Currently Available for Direct Purchase