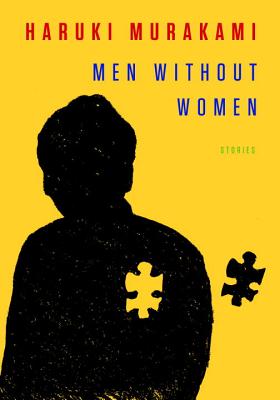 Men Without Women (Hardcover)
Stories
Knopf, 9780451494627, 240pp.
Publication Date: May 9, 2017
Other Editions of This Title:
Digital Audiobook (5/8/2017)
Paperback (5/1/2018)
CD-Audio (5/9/2017)
Paperback, Chinese (11/3/2014)
* Individual store prices may vary.
Description
"Haruki Murakami's Men Without Women examines what happens to characters without important women in their lives; it'll move you and confuse you and sometimes leave you with more questions than answers." —Barack Obama

A dazzling new collection of short stories--the first major new work of fiction from the beloved, internationally acclaimed, Haruki Murakami since his #1 best-selling Colorless Tsukuru Tazaki and His Years of Pilgrimage.

Across seven tales, Haruki Murakami brings his powers of observation to bear on the lives of men who, in their own ways, find themselves alone. Here are vanishing cats and smoky bars, lonely hearts and mysterious women, baseball and the Beatles, woven together to tell stories that speak to us all.

Marked by the same wry humor that has defined his entire body of work, in this collection Murakami has crafted another contemporary classic.
About the Author
Haruki Murakami was born in Kyoto in 1949 and now lives near Tokyo. His work has been translated into more than fifty languages, and the most recent of his many international honors is the Hans Christian Andersen Literature Award, whose previous recipients include J. K. Rowling, Isabel Allende, and Salman Rushdie.
Praise For Men Without Women: Stories…
One of the Best Books of the Year: The Washington Post, NPR, and Esquire

"[A] beguilingly irresistible book. Like a lost lover, it holds on tight long after the affair is over. . . . Part allegory, part myth, part magic realism, part Philip Marlowe, private eye. . . . Murakami puts the performance in performance art." —The New York Times Book Review

"Time and again in these seven stories, Murakami displays his singular genius. . . . The stories in this collection find their power within the confines of common but momentous disturbances that linger on in memory." —Los Angeles Times
 
"Mesmerizing tales of profound alienation. . . . Murakami is a master of the open-ended mystery." —The Washington Post
 
"Beautifully rendered. . . . Murakami at his whimsical, romantic best. . . . [He] writes of complex things with his usual beguiling simplicity—the same seeming naivety found in the Beatles songs that are so often his reference points. The stories read like dirges for 'all the lonely people' but they are strangely invigorating to read." —Financial Times
 
"Classic Murakami. . . . [His] voice—cool, poised, witty, characterized by a peculiar blend of whimsy and poignancy, wit and profundity—hasn't lost its power to unsettle even as it amuses." —The Boston Globe
 
"A whimsical delight. . . . The seven stories in his fourth story collection present another captivating treasure hunt of familiar Murakami motifs—including cats, jazz, whiskey, certain cigarettes, the moon, baseball, never-named characters, and—of course—the many men without women. . . . Murakami always manages to entertain, surprise, and satisfy. . . . Sanity might be overrated, but Murakami is surely not." —The Christian Science Monitor
 
"Wise stories. . . . Moody and melancholic as [they] can be, some of them offer comparable hope that these men without women might emerge from their long and isolating loneliness, acknowledging the hurt, pain and even rage they feel rather than folding in on themselves and ceasing to fully live." —Milwaukee Journal Sentinel
 
"Men Without Women has the familiar signposts and well-worn barstools that will reconnect with longtime readers of Murakami: magical realism, Beatles tracks and glasses of whiskey. Yet, except for a few tales, the magic is watered down and it's reality that is now poured stiff. . . . This collection is a sober, clear-eyed attempt to observe the evasion and confrontation of suffering and loss, and to hope for something better." —New York Daily News
 
"It's been a few years since we've gotten something new from Japan's master of magical realism, but this new seven-story collection draws us right back into his signature realm—one of lonely men with wandering imaginations, mysterious cats, and subtle-yet-surreal narratives that reveal the supernatural layer operating beneath our everyday lives." —W Magazine
 
"Vintage Murakami. . . .  Compellingly odd. . . . A glimpse into the strange worlds people invent by the always inventive [author]. . . . Elegant." —Kirkus Reviews
 
"Thought-provoking." —Pittsburgh Post-Gazette
 
"Superb." —SF Weekly
 
"A new Haruki Murakami book is always cause for celebration. . . . These stories are filled with all of the luminous, magical elements that make Murakami's writing so fascinating." —Bustle
 
"Funny and surreal." —io9
 
"A funny, lovely, unmistakably Murakami collection." —BuzzFeed