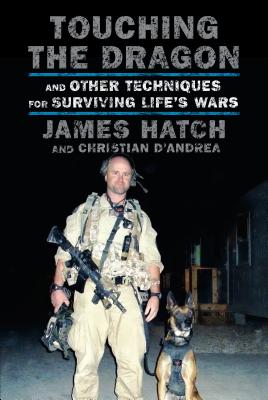 Touching the Dragon
And Other Techniques for Surviving Life's Wars
Hardcover

* Individual store prices may vary.
Other Editions of This Title:
Digital Audiobook (5/14/2018)
Paperback (4/9/2019)
Description
"Jimmy Hatch is a personal hero of mine."
—Anderson Cooper

"Irresistible. . . . A wounded SEAL's shame becomes a salvation." 
—J. Ford Huffman, Military Times

James Hatch is a former special ops Navy SEAL senior chief, master naval parachutist, and expert military dog trainer and handler. On his fateful final mission in Afghanistan, his SEAL team was sent to recover Bowe Bergdahl—the soldier who deserted his post and fell into the hands of Al-Qaida and the Taliban. The mission went south, and Hatch was left with a shattered femur from an AK-47 round and the SEAL dog who fought alongside him was dead. As a result of his horrific leg wound, his twenty-four-year military career came to an end—and with it the only life he'd ever known. 
   In Touching the Dragon, we witness his long road to recovery. Getting well physically required eighteen surgeries, twelve months of recovery, and learning to walk again. But getting well mentally would prove to be much tougher, as he fought through the depths of despair, alcoholism, and the pull to end his own life. What emerges is a different kind of hero's journey, one in which Hatch shows the courage it takes to confess, confront, and overcome his own brokenness. Through the love of family, friends, and his military dogs, Hatch learned remarkable tools and found his purpose, and now he wants to share this wisdom with the rest of us because we all have wounds.
Praise For Touching the Dragon: And Other Techniques for Surviving Life's Wars…
Acclaim for James Hatch's Touching the Dragon
"Hatch spent nearly 25 years in the military, mostly with the Naval Special Warfare Development Group, or SEAL Team Six. Hatch had to deal with his guilt, pain, and the emotional damage from years of fighting. He refers to cognitive behavioral therapy as 'Touching the Dragon'; a reminder that he would not get burned by reliving the brutal memories. In the vein of many recent memoirs about survival after combat, this important account will touch readers and likely help other veterans learn how to live after war."--Library Journal (starred review)
"Jimmy Hatch has managed to write a love story out of a war story. The love he has found for those he protected, those he fought with, the dogs he depended on. And finally he found a way to love himself."--Kenny Mayne, ESPN anchor; host, Kenny Mayne's Wider World of Sports
"This book touched me like no other personal account of battle I've read. Though a special operator who saw more engagements than most, Jimmy Hatch offers no boast or bravado. Instead he describes his unique experiences--and the wars that have shaped this generation of fighting men and women--with provocative insight, calm stoicism, and thoughtful but frustrated understanding. But it is how he has taken those experiences and applied them to his post-trauma life that makes this comparable to Sajer's The Forgotten Soldier. An exceptional read."--Mark Hertling, LTG, US Army, retired
"Jimmy Hatch is heroic, not just for what he has done on the battlefield, but for breaking the silence surrounding the battles many service members face when they return home. He is a warrior who read Neruda and Epictetus by chemlite on blacked out helicopters on his way back from secret nighttime missions in faraway lands. He is a writer whose descriptions of the 'clean, shining edges of time' he experienced on the battlefield haunt me. He is a survivor and though some of his wounds are visible, his deepest wounds, and his greatest strengths, are only revealed in the pages of Touching the Dragon. There are plenty of books full of daring wartime exploits, but I haven't come across any book that reveals with such honesty and openness, the 'second war' that Jimmy and other special operators must fight when they come back to a society that seems so alien to them, a society completely divorced from the purity of combat."--Anderson Cooper
Knopf, 9780451494689, 336pp.
Publication Date: May 15, 2018
About the Author
JAMES HATCH is a retired member of the Naval Special Warfare Development Group. He is the founder of Spike's K9 Fund as a way to pay back the debt he owes to working K9s. He lives in Virginia. CHRISTIAN D'ANDREA grew up in Minnesota. He graduated from Harvard and Magdalen College, Oxford. He is a documentary filmmaker and writer. He lives in Virginia.
or
Not Currently Available for Direct Purchase