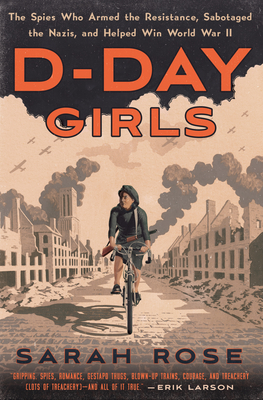 D-Day Girls
The Spies Who Armed the Resistance, Sabotaged the Nazis, and Helped Win World War II
Hardcover

* Individual store prices may vary.
Other Editions of This Title:
Digital Audiobook (4/22/2019)
Paperback (3/17/2020)
Paperback, Chinese (6/4/2020)
Library Binding, Large Print (7/17/2019)
Description
NATIONAL BESTSELLER • The dramatic, untold history of the heroic women recruited by Britain's elite spy agency to help pave the way for Allied victory in World War II

"Gripping. Spies, romance, Gestapo thugs, blown-up trains, courage, and treachery (lots of treachery)—and all of it true."—Erik Larson, author of The Devil in the White City and Dead Wake

In 1942, the Allies were losing, Germany seemed unstoppable, and every able man in England was on the front lines. To "set Europe ablaze," in the words of Winston Churchill, the Special Operations Executive  (SOE), whose spies were trained in everything from demolition to sharpshooting, was forced to do something unprecedented: recruit women. Thirty-nine answered the call, leaving their lives and families to become saboteurs in France.

In D-Day Girls, Sarah Rose draws on recently de­classified files, diaries, and oral histories to tell the thrilling story of three of these remarkable women. There's Andrée Borrel, a scrappy and streetwise Parisian who blew up power lines with the Gestapo hot on her heels; Odette Sansom, an unhappily married suburban mother who saw the SOE as her ticket out of domestic life and into a meaningful adventure; and Lise de Baissac, a fiercely independent member of French colonial high society and the SOE's unflap­pable "queen." Together, they destroyed train lines, ambushed Nazis, plotted prison breaks, and gathered crucial intelligence—laying the groundwork for the D-Day invasion that proved to be the turning point in the war.

Rigorously researched and written with razor-sharp wit, D-Day Girls is an inspiring story for our own moment of resistance: a reminder of what courage—and the energy of politically animated women—can accomplish when the stakes seem incalculably high.

Praise for D-Day Girls

"Rigorously researched . . . [a] thriller in the form of a non-fiction book."—Refinery29

"Equal parts espionage-romance thriller and historical narrative, D-Day Girls traces the lives and secret activities of the 39 women who answered the call to infiltrate France. . . . While chronicling the James Bond-worthy missions and love affairs of these women, Rose vividly captures the broken landscape of war."—The Washington Post

"Gripping history . . . thoroughly researched and written as smoothly as a good thriller, this is a mesmerizing story of creativity, perseverance, and astonishing heroism."—Publishers Weekly (starred review)
Praise For D-Day Girls: The Spies Who Armed the Resistance, Sabotaged the Nazis, and Helped Win World War II…
"Inspiring and empowering—there were countless moments that gave me full-body chills. I have never read a book like this. Even if you think you don't like nonfiction, pick up this book."—Sarah J. Maas on NBC's Today

"Comprehensive and compelling . . . Readers get to know these amazing women as individuals as their duties unfold against the backdrop of the war. . . . Rose smoothly integrates developing events with biographical details and glimpses into French wartime society, creating a digestible and easy-to-follow story. This satisfying mix of social history and biography . . . should engage a wide audience."—Booklist (starred review)

"D-Day Girls, written with novelistic detail, weaves together five women's narratives using historical research from contemporary periodicals, archives, and interview records. . . . [D-Day Girls is part of] a new library and a more robust approach to analyzing women's essential role in war."—Foreign Policy

"D-Day Girls brims with detail, akin to the nonfiction narratives of Erik Larson and Laura Hillenbrand."—Women's Wear Daily

"The mission is this: Read D-Day Girls today. Not just for the spy flair—code names, aliases, and operating covers—but also because this history feels more relevant than ever, as an army of women and girls again find themselves in a fight for the common good."—Lily Koppel, author of The Astronaut Wives Club

"Sarah Rose's D-Day Girls is not only a page-turning spy story that reads like fiction, it's a highly relevant account that will, at long last, inscribe the names of three remarkable female spies—Andrée Borrel, Odette Sansom, Lise de Baissac—into our history books."—Susannah Cahalan, author of Brain on Fire

"With skill and heart, Sarah Rose captures the adventures of an extraordinary group of women who kept the resistance alive during the darkest days of World War II, risking everything to liberate their loved ones, their nations, and democracy itself. Spies and saboteurs, high explosives, ingenious deceptions, dirty poems transformed into cryptologic keys—I couldn't stop reading."—Jason Fagone, author of The Woman Who Smashed Codes

 "Sarah Rose's edge-of-the-seat spy thriller weaves the incredible stories of World War II's forgotten heroines—daring, modern, and key to defeating the Nazis in France. Brilliantly researched and gorgeously written—with a cameo from Winston Churchill—this is the D-Day book the world has been waiting for."—Karen Abbott, author of Sin in the Second City and Liar, Temptress, Soldier, Spy

"Sarah Rose has worked wonders to provide a fresh, thrilling account of the female spies whose courage and audacity helped win the day on June 6, 1944."—Alex Kershaw, author of The Bedford Boys and Avenue of Spies

"Rose delivers a swift moving . . . expert blow-by-blow account. . . . A readable spy thriller that fights against the idea of 'the original sin of women at war.'"—Kirkus Reviews
Crown, 9780451495082, 400pp.
Publication Date: April 23, 2019
About the Author
Sarah Rose is the author of For All the Tea in China: How England Stole the World's Favorite Drink and Changed History. She has written for the Wall Street Journal, Outside, The Saturday Evening Post, and Men's Journal. In 2014, she was awarded a Lowell Thomas Prize in Travel Writing.